Home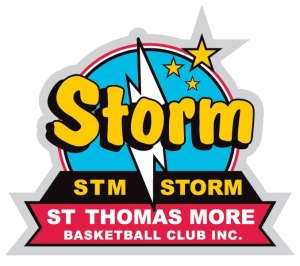 St. Thomas More Storm Basketball Club extends to you and your child a very warm welcome. Basketball is a great sport to play, watch, coach or referee, and we welcome any suggestions, comments or questions. We encourage you to get involved and look forward to your participation whilst being a member of Storm.
STORM CLUB GOAL
To promote, develop and encourage the enjoyment and fun of Basketball
STM Storm is a not for profit based club run entirely by volunteers with the aim of providing those in the community with the opportunity to play basketball.
Our teams train in the school gym at St Thomas More primary school, Canadian Bay Road.
The Committee meets 7.30pm on the first Wednesday of each month at the School Gym. All members are welcome and encouraged to attend.
To keep this club running successfully, we need parents to consider taking Coaching, Team Manager and Committee Roles. It is a great way to be involved with your children and our local community. The club is run entirely by volunteers. We wish to acknowledge and thank all those who currently coach, manage and represent their teams on our committee.