Crackers' Double Ton
This Sunday, Craig Emmett will run out for his 200th senior game for the club.

Crackers debut out of the Under 18s in 2004 and stepped into one of the most successful periods of the clubs history. The senior team partaking in 4 consecutive Grand Finals from 2005-2008, winning the last 2.

Although he was not a part of the 2007 win due to travelling overseas, Crackers was back in the all-conquering 2008 Premiership winning team. It's no surprise this is Craig's most treasured memories at the club.

"2008 was a fantastic year for the club, I'll never forget it." He recalled.

"It was such a great team we had, great players all over the field – I was lucky to be a part of it"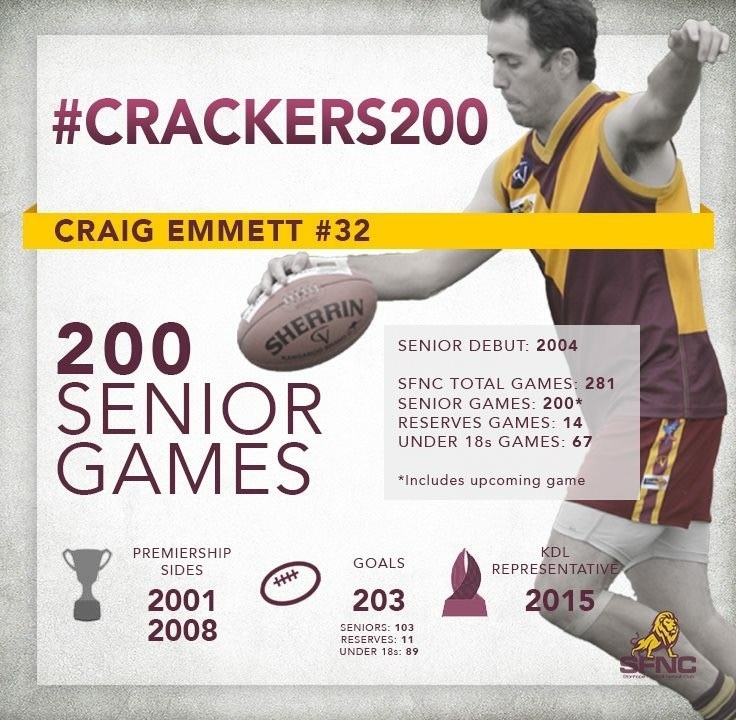 Crackers is the one player that gets thrown around into every position imaginable, and yet doesn't shirk at the job at hand. He just does his bit for the team week-in, week-out and pulls off some "Crackers' Magic" from time to time commanding Fritz to yell "Well done Crackers, Well done!"

This milestone hasn't been reached by many at the club, and at just 28, he isn't finished yet.

Congratulations Crackers!
Last Modified on 09/09/2015 14:25