Successful 2016 Season for the Hawks On and Off the Field
The Waverley Park Hawks recently celebrated the end of the 2016 season with their Annual Presentation and Family day at Columbia Park.
It was a very successful season for the club both on and off the field. The club fielded a record 20 teams including for the first time an Under 9 Girls team, enabling 430 boys and girls to play football each and every Sunday.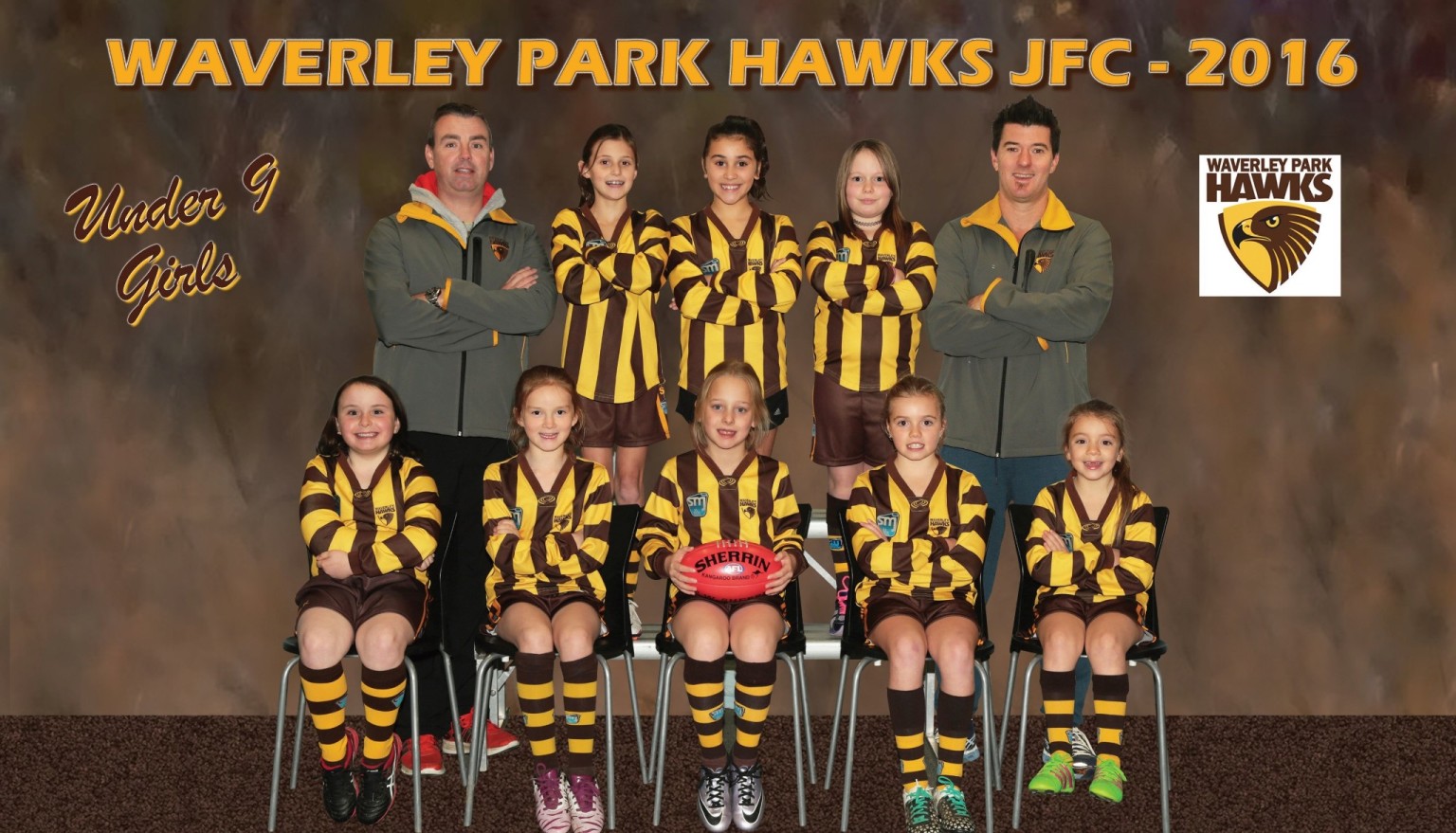 Under 9 Girls 2016
Of the club's 14 teams that play in competitive divisions, 9 played in finals, 6 in grand finals with the Under 12 side winning the premiership. Under 11 Division 3, Under 12 Girls, Under 13 Division 1, Under 15 Division 4 and Under 16 Division 1 teams were all runners up.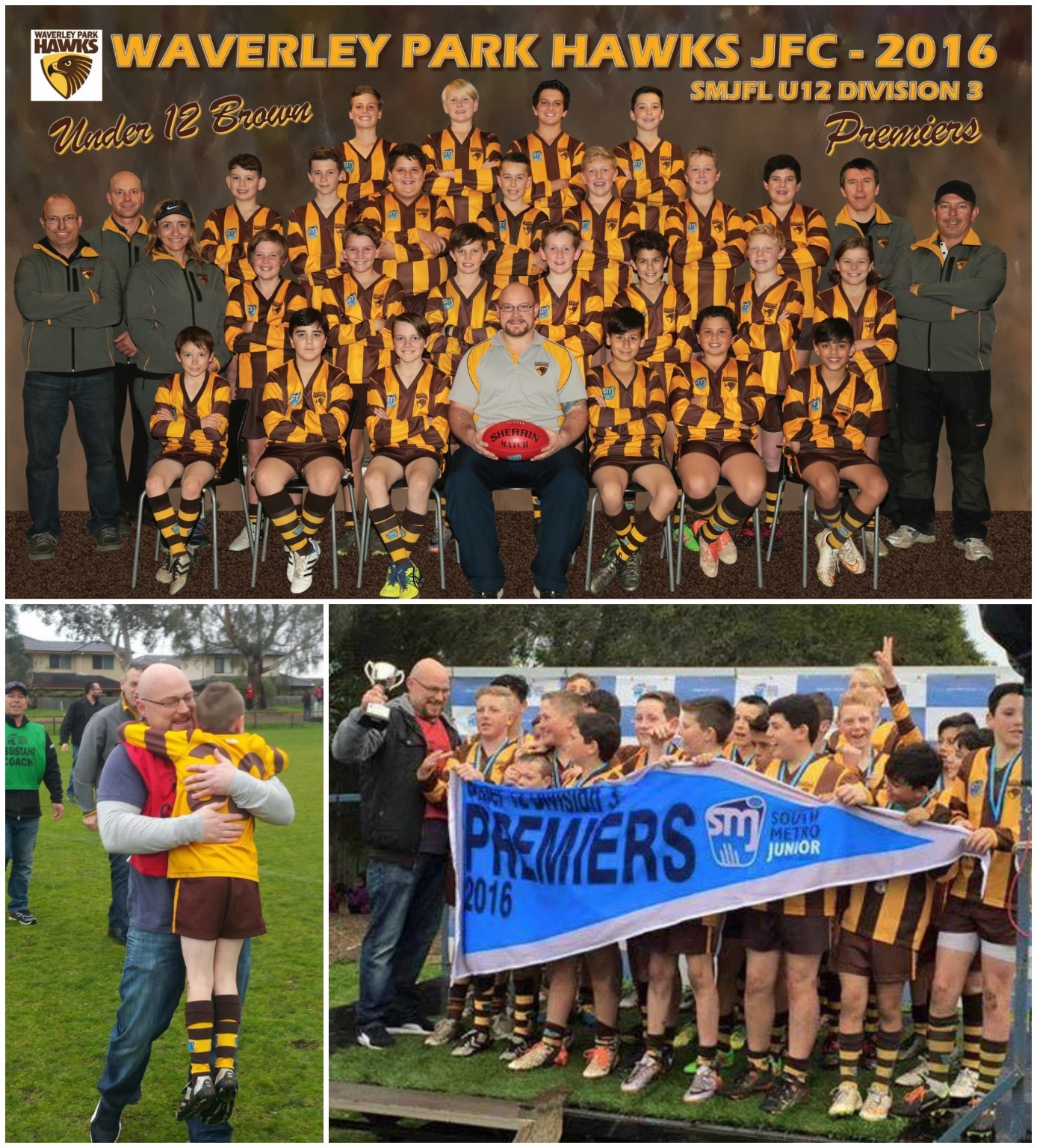 Under 12 Premiership team, coached by Nick Thompson
There were a number of players who had outstanding individual seasons. At the recent South Metro Junior Football League Presentation Night, the club had 10 players finish top 3 in the league's Best and Fairest Awards, including 4 winners - Jessica Nguyen Under 15 Girls, Ethan Plaza Under 13 Division 1, Eric Jackson Under 15 Division 4 and Jake Gasper Under 16 Division 1. Luke Gaudion Under 13 Division 1 and Fabian Stelatto Under 15 Division 1 also won Most Valuable Player awards for their performances in the SMJFL inter-league teams during the 2016 Victorian Metro Junior Championships.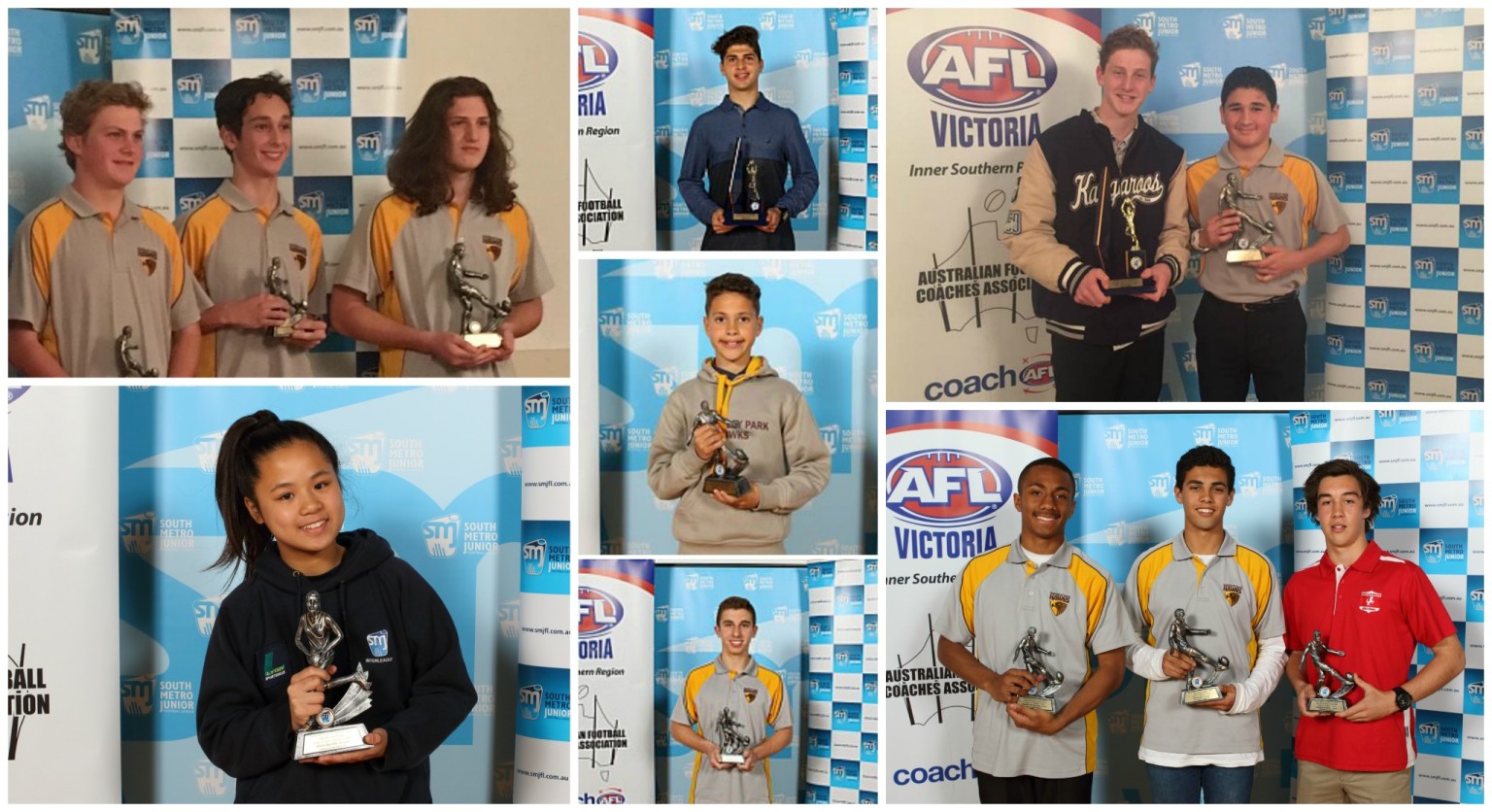 Our SMJFL award winners
The club also had Under 16 Division 1 player, Jack Ross selected in and appointed captain of the Under 16 Vic Metro Team which competed in the 2016 NAB AFL Under-16 Championships in Queensland. This is the first time the club has had a representative in these championships.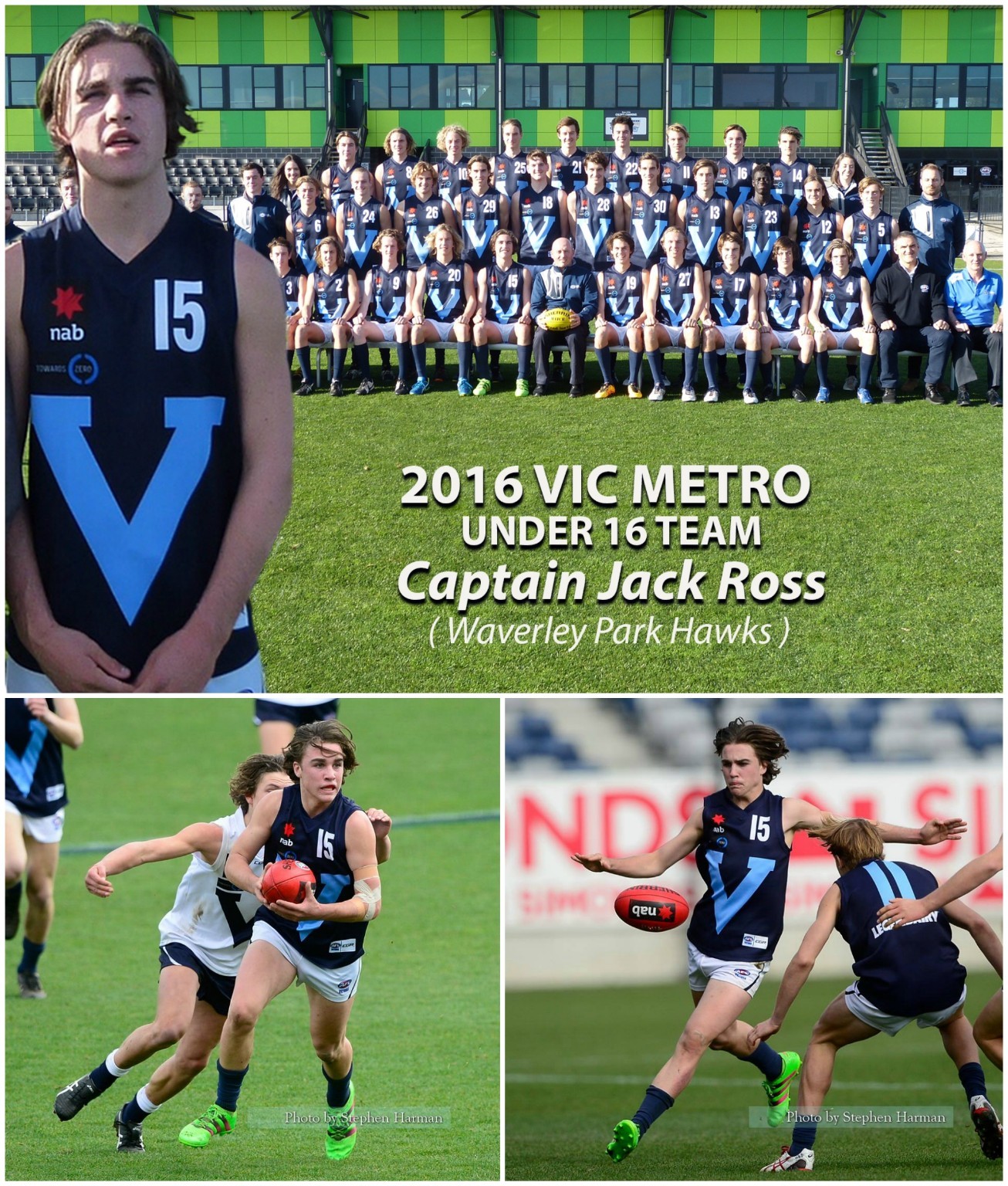 Under 16 Gold player Jack Ross, Vic Metro Captain
Jake Gasper and Atu Bosenavulagi from our Under 16 Division 1 team were also included in the Next Generation Academy of the Collingwood Football Club. And on a slightly different note, we have had 3 of our Under 16 Division 1 players, Jake Gasper, Jack Ross and James "Bobby" McGivern, who were part of the Victorian Blue team that won Australasian Gaelic Minors Championship in September and were selected in the Australian team.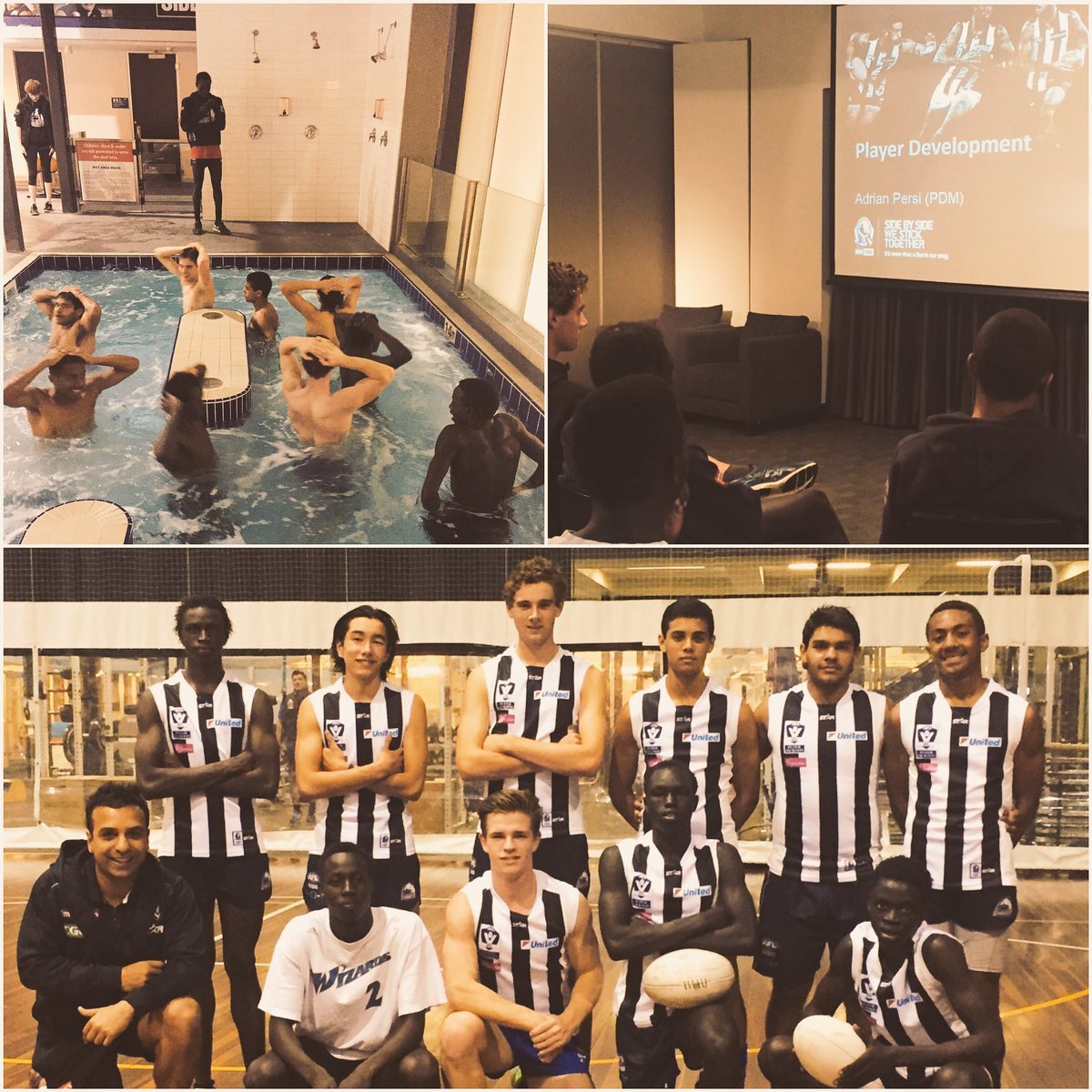 Jake Gasper and Atu Bosenavulagi in the Next Generation Academy of the Collingwood Football Club
All the clubs Under 9 and 10 players as well as the Under 12 Girls receive participation awards and the following were the winners of the club's various Best & Fairest awards:
Under 11 Brown: Liam O'Rourke
Under 11 Gold: Shilo Hele
Under 12: Tommy Warner
Under 13 Gold: Zac Delahunty
Under 13 Brown: Jake Soligo
Under 14 Gold: Angus Bailey/Jordon McDonnell (tied)
Under 14 Brown: James Mucha
Under 15 Gold: Eric Jackson
Under 15 Brown: Fabian Stellato
Under 15 Girls: Mackenzie Suppa
Under 16 Gold: Lachlan McDonnell
Under 16 Brown: Thomas Mannix
Under 17: Nathan Decleva
Off the field it has been a highly successful season for the club. With the help of AFL Victoria the club successfully merged the Waverley Park Hawks and Wheelers Hill/St Justin's Auskick centres to form the Waverley Park Hawks JFC Auskick Centre which boasts more than 220 participants.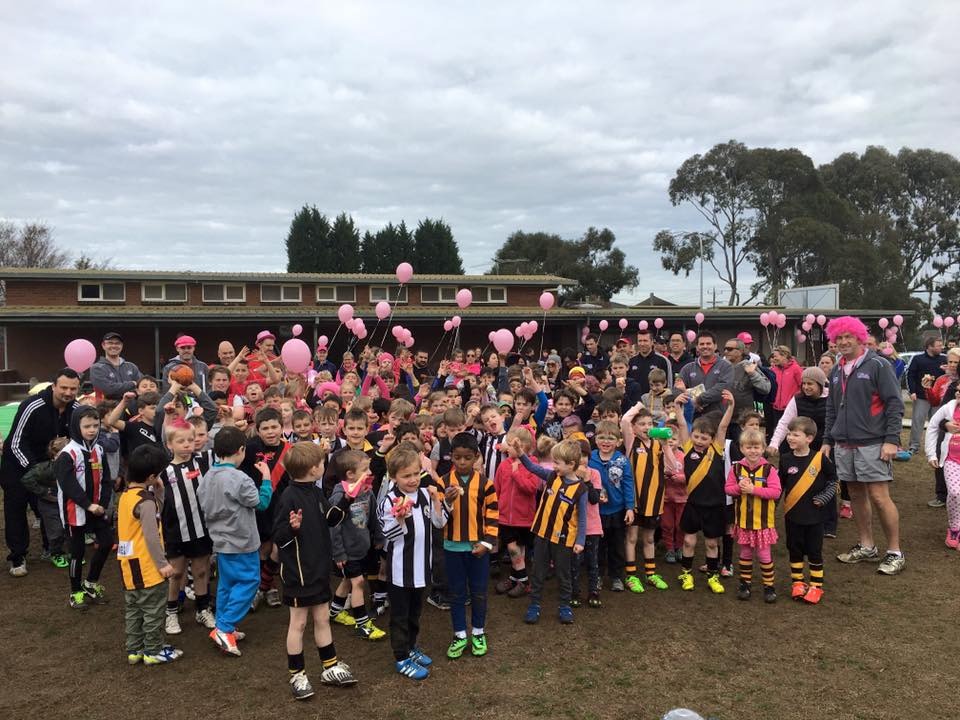 Waverley Park Hawks JFC Auskick Centre's "Pink Day" for breast cancer awareness
The club is also advanced discussions with Council to redevelop the club's Columbia Park pavilion. The club is about to sign off on Council's initial design concept for a new $1.7M pavilion. This would see the redevelopment works commence at Columbia Park in September 2017 and be completed in 2018.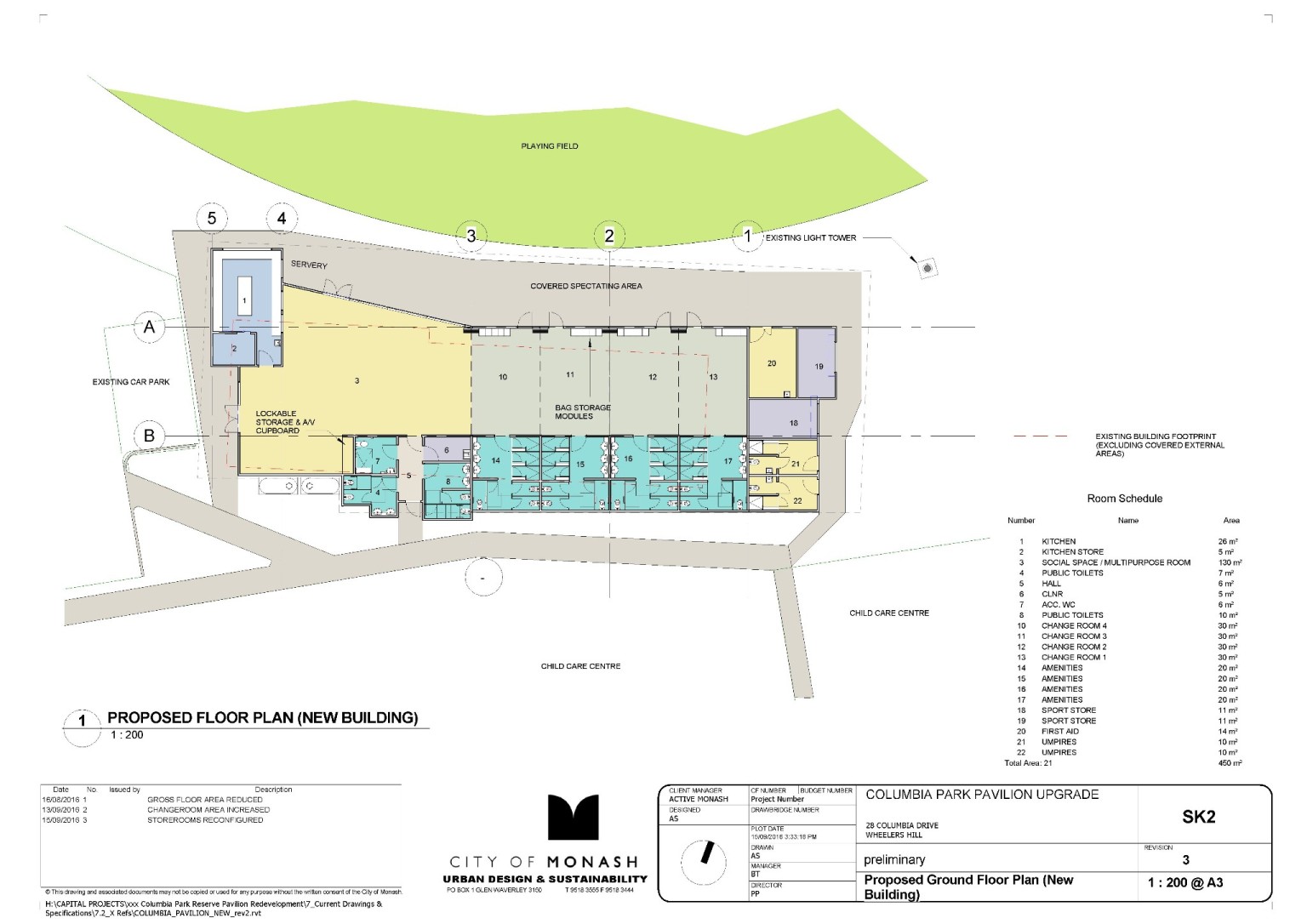 The concept plan for the new pavilion at Columbia Park
The club believes it is set for a big year in 2017 and planning is already underway to have 4 girls' teams at Under 10, 12, 14 and 16 age groups and the club is looking to have 2 Under 17 teams for the first time in the club's history. Anyone interested in joining a club that welcomes boys and girls of all ages and of all skills levels and backgrounds, please contact Club President, Tony Ferracane on 0419 367 593.
Last Modified on 11/10/2016 10:51