Connor's Beanie Round This Sunday July 30th
The RCD Foundation-Robert Connor Dawes is the charity partner of the South Metro Junior Football League and this weekend's round will be "Connor's Beanie Round".
The RCD Foundation raises funds for research for a cure and improved treatment options for children and young adults with brain cancer.
The aim of "Connor's Beanie Round" is to raise awareness about brain cancer - the #1 cancer killer of kids in Australia and to raise much needed funds to help produce better outcomes for kids and young adults with brain cancer.
For "Connor's Beanie Round" the club is asking all participants including players (during their pre-game warm up), coaches, team managers, runners, trainers, goal umpires, and supporters to wear a beanie (or buy an RCD Beanie) and make a gold coin donation.
RCD Beanies will be available to purchase at After Match or are available via the RCD online store - http://rcdstore.tictail.com/. There will also be collection tins at Columbia Park and Lum Reserve canteens this weekend as well as at After Match.
Please spread the word about the inaugural "Connor's Beanie Round" this Sunday July 30th.
For more information about RCD : http://rcdfoundation.org/
#KickingGoalsForBrainCancer #ConnorsBeanieRound #RCDFxSMJFL #Beanies4BrainCancer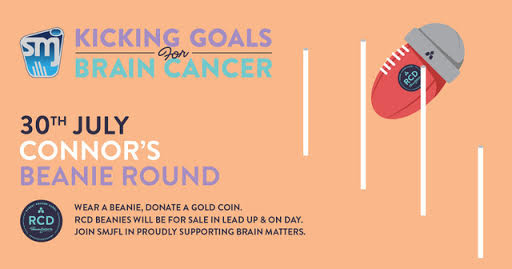 Last Modified on 27/07/2017 10:16