Register Now for 2017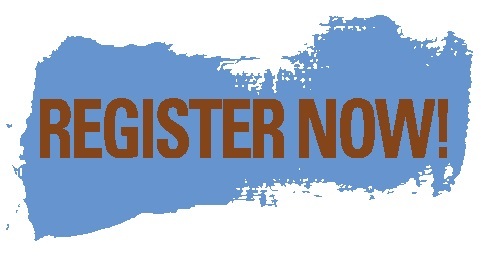 To register click HERE or on the image above.
If you have any registration enquires email registrar@ormondjfc.com.au
Last Modified on 28/02/2017 23:20
Merchandise & Training Kit Pickup
Venue : OJFC Club-rooms, EE Gunn Reserve, Malane St, Ormond
When : Monday 6th Mar 5.00-7.00pm, & Saturday 25th Mar 10.00-12.00
Pick-up your Free Training Top and membership pack.
Home & Away Player Kit (Shorts and socks) will be available for purchase.
- Blue (Home) & White (Away) Shorts - $25each
- Socks - $10
- Bags, Hoodies, track pants, and other Merchandise will also for purchase
Mouthguards available for purchase.
Our Mouthguard partner SportSafe will be there to professional fit your new mouthguard for 2017.
Only $90 (depending on colours and designs) and if you have Private Health you may be entitled to a 100% rebate.
A % of all sales go to the club, so please help them support us.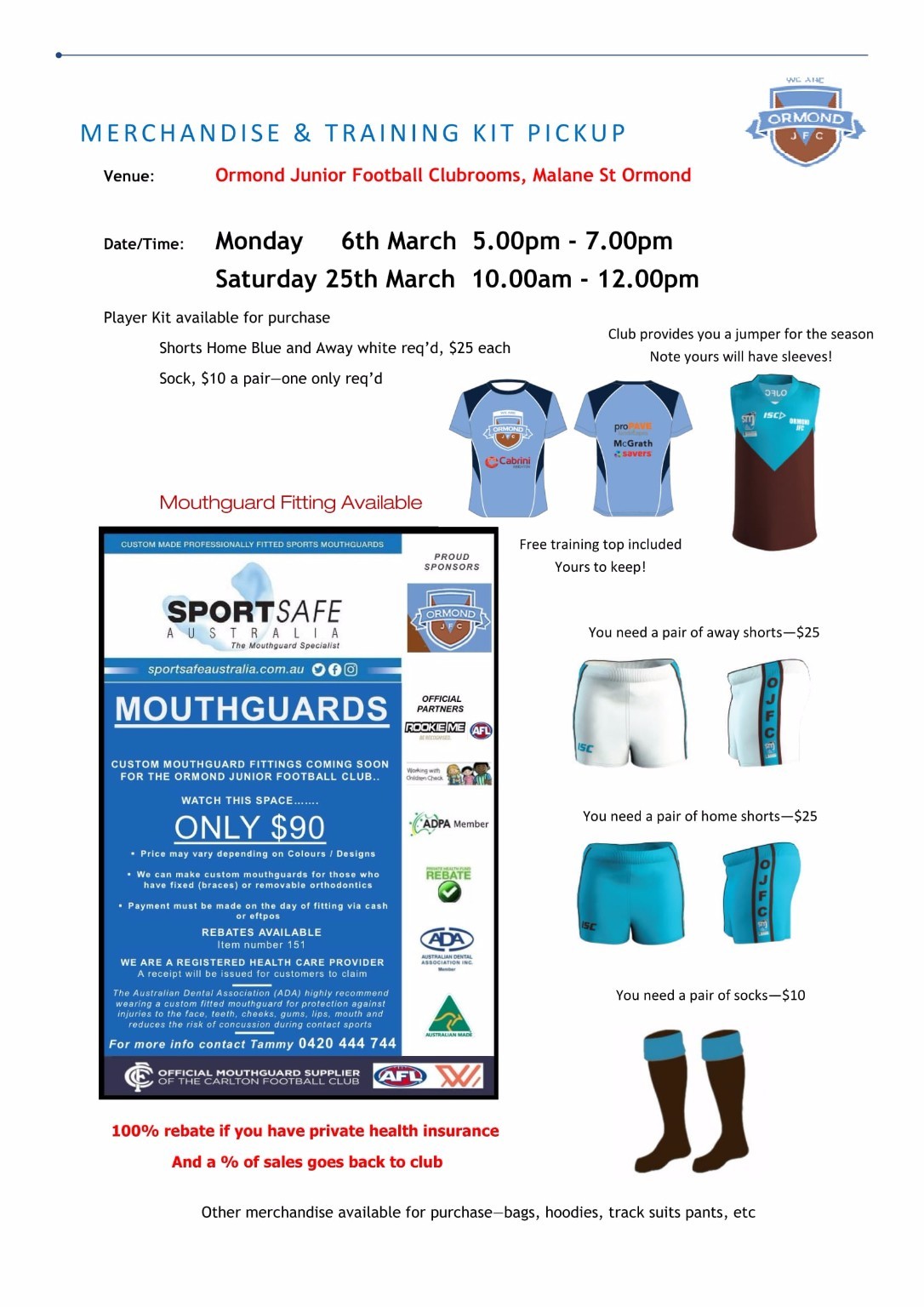 Last Modified on 01/03/2017 00:58
2017 Coaches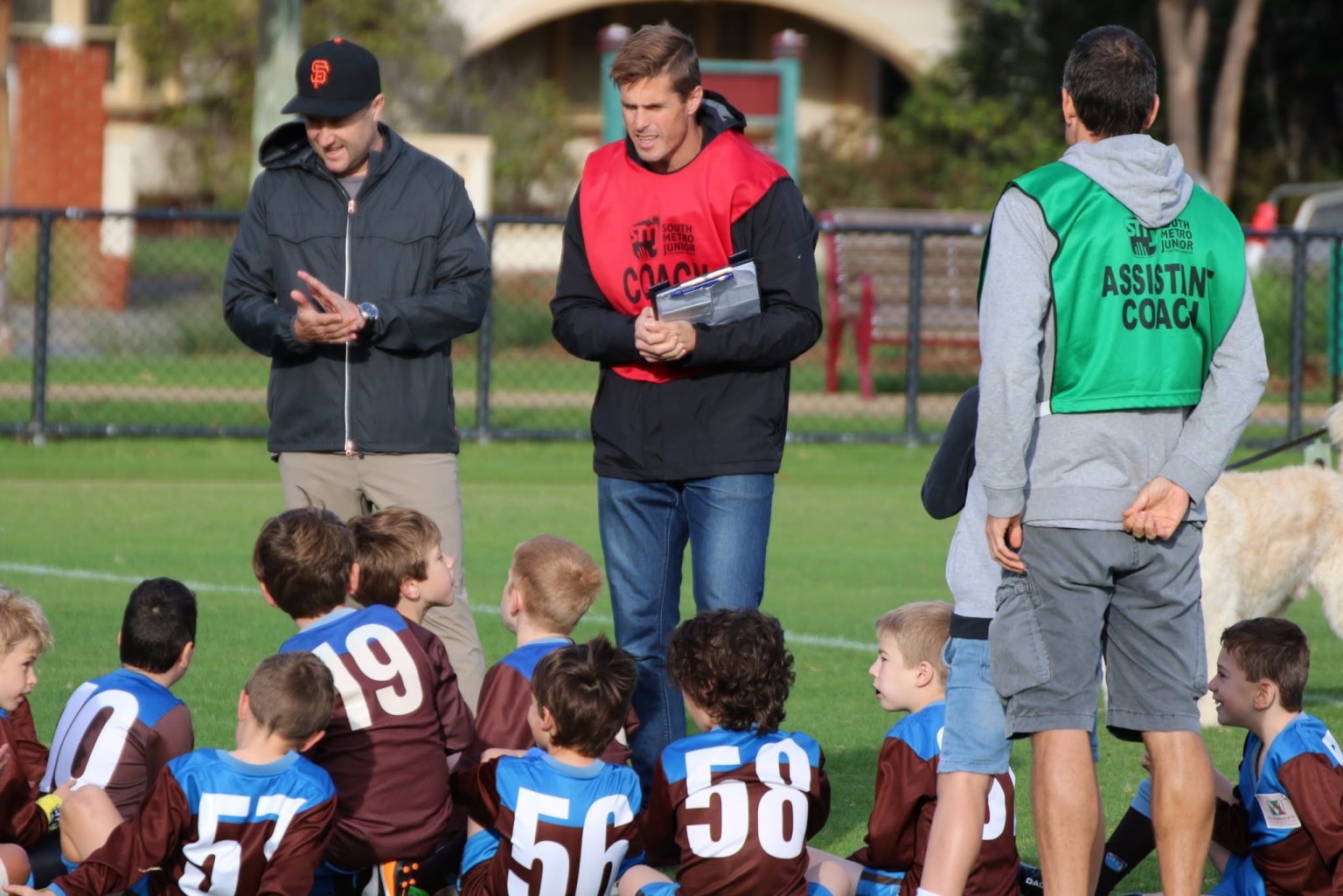 I would like to take this opportunity to thank the following people for taking on coaching roles with Ormond in 2017.
As we all know the role requires a great deal of time and effort; not just turning up on gameday. Without your dedication we would not be successful in training and developing our youth in the skills of playing football.
I am looking forward to another great year in all areas: team & skills development, social events and enjoying football with you - the Ormond JFC Family.
The coaches for 2017 are:
| | |
| --- | --- |
| U9 | Scott Rowlands (Interim) |
| U10 | Simon Huntington |
| U10 Girls | Ben McCrae |
| U11 | Darren Seymour |
| U12 | Allan Evans |
| U13 | Gavan Dwyer (interim) |
| U14 | Paul Buckeridge |
| U14 Girls | Matt Johnson |
| U15 | Zac Hanson |
| U16 | Steve Dunn |
| U17 Div1 | Will Robertshaw / Jason Burt |
| U17 Div3 | Greg Maclaren / Jonty Sharman Smith |
We will be working with the parents of the U8 playing group to finalise coaching arrangements.
Further coaching appointments will be announced in the coming weeks as registration numbers are confirmed in some age groups.
We are also working to fill all Assistant Coach and Team Manager positions and hope to annouce these soon. If you are interested in taking on one of these roles, please let me know.
Hans Harms
President
Ormond Junior Football Club
President@OrmondJFC.com.au
M: 0408552173
Last Modified on 17/02/2017 21:24
Register Now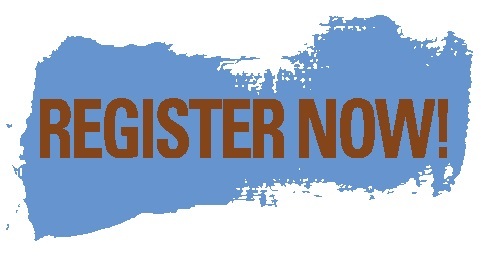 Registrations for the 2017 season are now open.
Round 1 (Sunday 23rd April) is getting closer, team submissions to the SMJFL need to be finalized by mid-February. To help us confirm team numbers, we encourage you to register NOW!
We encourage you to introduce NEW players to join Ormond in what is going to be another great year, with teams in all age groups from under 8 – 17. We especially ask you to spread the word that we are looking to expand on our girls teams and field all girl teams in U10, U12, U14, U16 and Youth (U17 1/2).
With new sponsors identified for season 2017, the club will be issuing a new look training top this year.
To register click HERE or on the image above.
If you have any registration enquires email registrar@ormondjfc.com.au
Last Modified on 07/02/2017 23:19
Junior Coaching application
Junior Coaching

Open Letter to our 2016 U15,16 & U17 Players
Dear Season U15, U16 and U17 Players,

Thank you for all your efforts during the 2016 home and away season – we hope you had a great year. And so on to next year — preparations are now under way for the 2017 season.
We are now considering Coach and Assistant Coach Positions across all age groups.
This year we hope to grow our coaching capacity and deepen player development by encouraging senior OAFC club players and older OJFC players (U16 & U17 in season 2017) to assist with roles. Building on last year, the Club would like you to consider taking on a coaching role in 2017 for age groups up to U15.
For example in prior years,
Matthew Johnson who was playing U17's coached one of our U9 sides in 2015
Ulysses Urban, U17 player was coach of one our U10 sides in season 2016.
Will Robertshaw and Jonty Sharman-Smith from the senior club also coached our U16 sides in conjunction with Jason Burt in season 2016
Key Points
The club will fund your Coach Training and Accreditation – AFL Level 1 coaching qualification. A great qualification to add to your CV for your future employment prospects post schooling.
We are also putting appropriate supports in place to make sure you will have a good network in partner coaching staff, team managers and so forth.
Damian Trusler will be our new junior coach mentor for season 2017 and he will be there along with me to assist you through the year.
Application Process
I would grateful if you could let me know by return email if you would like a role next year.
The President, Secretary and I intend to meet with each prospective coach in the next few weeks so that we can confirm final positions before the end of December.
Season 2017 Preparation
It is important we continue to be the destination club for footballers in our area.
In some age groups there is already large interest from new players wishing to join Ormond.
If you haven't already done so — I encourage you and your team mates commence work on numbers for 2017.
It is important we are proactive— retaining old and attracting new players — registrations for 2017 are now online. Click here to Register.
As we confirm positions and grow teams we will work on pre-season training arrangements and have these confirmed shortly.
I look forward to your response and meeting with you to discuss your vision of success for your players, team, club and self. Previous experience shows that the U8, U9, U10's boys love the involvement and input of you older boys. By putting your hand up to be a coach you not only give yourself the opportunity to develop personally but you can play a real role in the attracting, developing and retaining junior footballers at Ormond.

Kind Regards
Gavan Dwyer
OJFC 2017 Season Coaching Coordinator
Coaching@ormondjfc.com.au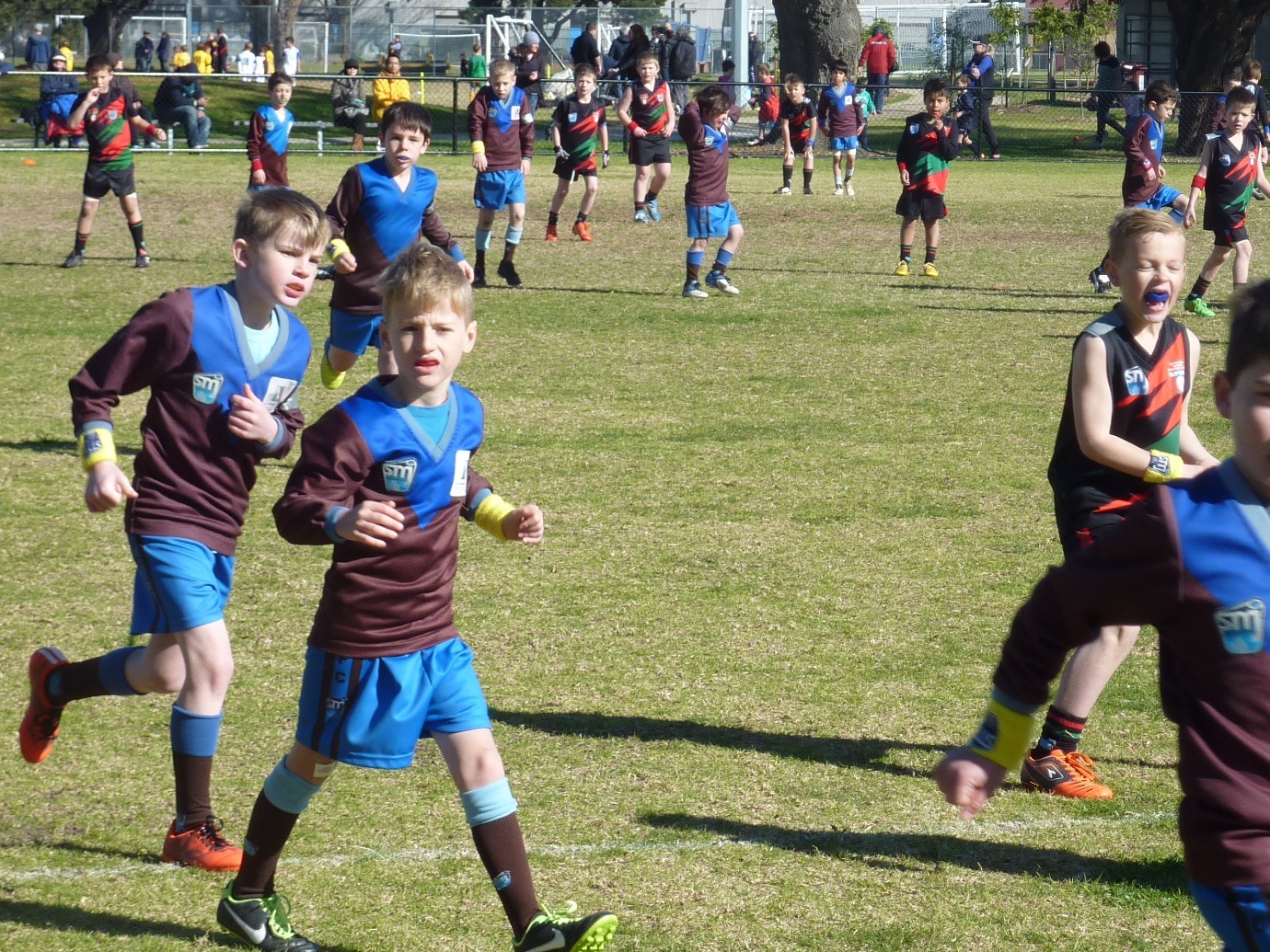 Last Modified on 06/12/2016 00:42
Join the team at ORMOND JFC
The Players are Children
The Coaches are Volunteers
The Referees are Human
This is not the AFL Grand Final
Show Respect to Everyone
And remember, we are all here to have FUN
Ormond Junior Football Club is an inclusive, community sporting club established in 1958. We have a close association with co-tenant and senior club, the Ormond Amateur Football Club.
We are a proud and successful suburban club with a commitment to support our local community, footballers, businesses and other organisations.
We are founded on the following key goals:
To develop and foster junior football in the local area
To contribute to the overall development of youth in the local area
To field teams up to Under 17 years and teach the basic skills and fundamentals of Australian Rules Football
To teach boys and girls sportsmanship and discipline they can carry with them through their lives
We field junior football teams from Under 8s through to Under 17s as well as Girls Teams. In addition, we provide a Fair Go Footy program for children with disabilities, as well as a thriving Auskick program.
Ormond is a great Junior Football Club and we warmly welcome new players.
Register Now
Registrations for the 2017 season are now open. You can only register online through the Member Access on the right hand side of this page.
The opening round will be on the 23rd April.
We encourage you to introduce new players to join what will be another great year with teams in all age groups from under 8 – 17.
We especially ask you to spread the word that we are looking for star recruits to join girl's teams.
Welcome to the Ormond Blues.
Last Modified on 29/11/2016 22:29
ORMOND JFC - Girls Teams
The Ormond JFC was proud to be part the SMJFL Female Under 9 competition in 2016.
We are looking to expand on this year's success and field additional girls teams in 2017.
If you, or someone you know, is interested in playing girls football with a team of like-minded and enthusiastic girls, please contact the Ormond Girls Co-Ordinator Allan Evans on 0400 993 597 or email Girls@OrmondJFC.com.au
Last Modified on 29/11/2016 22:41
ORMOND JFC - Fair Go Footy
2017 Committee
Congratulations, and thanks, to the following people for taking roles on the commitee
Hans Harms - President
Jo Harty - Vice President
Lyndon Loader - Secretary
Michael Lewis - Treasurer
Rita Portelli - Registrar
Gavan Dwyer - Coaching Coordinator
Michael Whitney - Sponsorship and Fundraising
Alan Evans - Girls Coordinator
Rosy Renwick - Team Managers Coordinator
Clare Barton - Social Events & Functions
Hans Harms - Medical Co-ordinator
Phil DeAth - Ground Operations Manager
Chris Howley - Auskick Coordinator
Fran Harms - Property Steward & Merchandise
Gary Clarkson - Wesite & Communications
Last Modified on 06/12/2016 01:17
Join us on Social Media
The Junior Football Club and Auskick both have Facebook pages to help keep you inform of all the latest happenings.
The Junior Football Club also has Twitter and Instagram accounts where you can follow us.
Don't forget to tag your posts, tweets and grams with #ORMONDJFC so we can all enjoy them.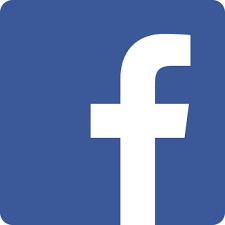 Facebook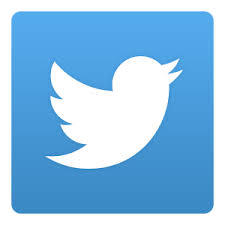 Twitter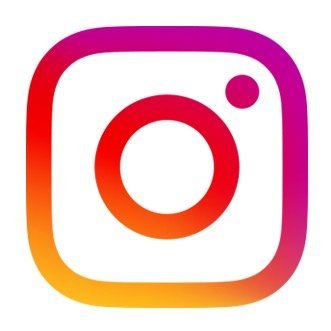 Instagram
Last Modified on 17/05/2016 17:46
Fair Go Footy is back
Fair Go Footy is back again this year, starting Saturday May 14 at 9.30am @ EE Gunn Reserve, Ormond
for more details go to the Teams menu above and select Fair Go Footy or click here
Last Modified on 02/05/2016 23:41
WE WANT YOUR PHOTOS
The OJFC Gallery is always looking for new images. We love to see...
the team celebration
the run and carry
bursting through a pack
and what about that spekkie
Help keep our website fresh and interesting with the latest Ormond footy action by sending us your best photos for the OJFC Gallery.
To avoid our gallery turning into Uncle Arthur's slide show there is a limit of 2 pics per person per round.
Please ensure your images are less than 3MB and supplied in JPG format. It would also make life easier if you could label your files with the Round, Age Group and Division E.g. R1U15Div1
then email your images to
web@ormondjfc.com.au
Last Modified on 07/05/2015 13:35
ORMOND JFC website
This is our Web Site,
BRING IT TO LIFE!
Celebrate and share your news with the Ormond JFC community
Its simple, just provide the following
Title: This is the headline, make it punchy to get our attention

Short Description: (optional) 400 characters that only appear on the Home page
Article Content: Give us the story, but don't turn it into War & Peace, as this will display when you follow the link. We can also attach a prepared file, e.g. Newsletter or Flyer
Image: (optional) A picture tells a 1,000 words just keep the file size down, no bigger than 2mb
Activation Date: When do you want your the article to appear, you can prepare your news in advance
Expiry Date: Don't be the news that wouldn't leave, it's time to give somebody else a go

We will prepare your information and endeavour to post your news promptly.
So to save time check that have you got everything, don't forget your spelling?
then email the lot to web@ormondjfc.com.au
Last Modified on 07/05/2015 17:39
Last Modified on 11/02/2017 22:41