A tribute to an Eagles Legend
Sadly this week's final will bring the curtain down on one of the finest players to don the illustrious green and gold. That's right, Simon Carden will run out on Northwood for the last time this Saturday.
Simon began playing for the Eagles back in 2008 when he was talked into playing by his flat mate (most likely while intoxicated). After only picking up one win (our first ever against the Blues) in his first two seasons as an Eagle, Simon's hunger for the game and Eagles only grew. After a string of solid performances for the Eagles in 2009 Simon was named captain of the Canterbury under 20 team and was also named in the Canterbury team for the NPC.
With a couple of tough seasons behind him and his added experience of leading the Junior Cobras, Simon was named captain of the Eagles in 2010 (it also helped he lived with the coach/president). The Eagles started the 2010 season with a hiss and a roar under Simon's leadership (which is often compared to a Reuben Thorne type approach) with a big win over the Blues. The Eagles were on a high, the beers were cold and it was going to take an act of god to stop our momentum and on 4/9/2010 that act of god happened. The Earthquakes and all the aftershocks cancelled all footy on the Saturday and in turn all of the Eagles momentum; we failed to win another game in 2010.
Simon retained the captaincy in 2011 as back then a one win season was considered all right this was all going to change. After attracting a couple of high profile recruits with lucrative contracts (a cold beer after the game) the Eagles went into 2011 as title contenders. Simon was also among a quartet of Eagles to represent NZ at the International Cup (World Cup less Australia) in 2011. As we all know 2011 was the year the All Blacks won back the William Web Ellis trophy but it is also the year the Eagles soared from wooden spooners to CAFL Premiership winners, a feat that would not have been possible without Simon's leadership and his token 5 behinds per game.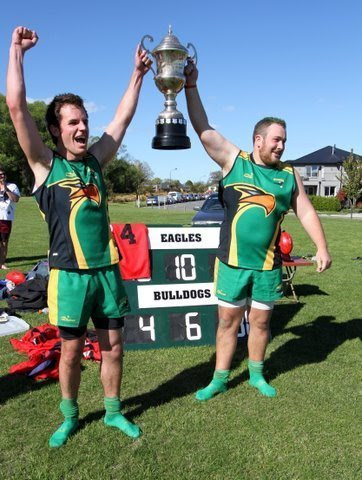 After lifting the CAFL trophy aloft for the first time in 2011 Simon retained his captaincy in 2012. After losing some key players (Andrew Howison and Steven Howard) 2012 was going to be a lot tougher than 2011. Simon was aware of this and lifted his token 5 behinds to 7 and threw in a cheeky goal or 2 from 60m out. With Simon's mega boot the Eagles were able to once again drink the nectar of the gods from the CAFL trophy.
In 2013 Simon stood down as captain to allow a younger play to step up and take over (Josh Robles). Simon only lasted one game in 2013 before being struck down by a torn ACL. Despite not being able to run Simon played 5mins in the last game of the season and even scored a goal. Simon returned midway through 2014 but only lasted 5mins as once again he was struck down by injury.
Fully fit and raring to go, Simon returned to a new look Eagles side in 2015 and his return has coincided with our flight back to the top, along with our poor kicking accuracy. Simon's leadership and experience is going to be critical if we are to win the cup for a third time.
Along with leading the Eagles on the park, Simon has put in plenty of hours off it: coaching, washing gear and filling up water bottles to name a few. Needless to say without people like Simon the Eagles wouldn't be where they are today without them. The Eagles are a club built on good sorts who enjoy a beer, a yarn and a bit of a kick around whilst not taking ourselves too seriously and Simon Carden typifies this.
So this Saturday win or lose take solace in the fact you can have a beer with one of the true legends of the Eagles. (Hopefully we win and it's from the cup)
#EGHB
Last Modified on 27/10/2015 08:41