Junior Club Volunteer of the Year Award
AFLQ awards night
Mid November and the off season produced a huge weekend of footy administration and personal development along with recognition being afforded to the many fine coach and administration volunteers whom are about this great game in this great state.
This weekend saw many coaches undertaking their level 2 training and our umpire leaders map out their course going forward whilst further developing their knowledge and skill set, this done at the new AFL Queensland headquarters at Yeronga.
Back in town, league leaders from across the state were gathered for their biennial "Affiliates Conference" gaining knowledge to AFLQ's "Vision to 2030" which maps out the course the game wishes to go in the coming 20 years to best maximize the advances made over the past 10 years in game development. Also on their agenda were topics of communication, tribunals, constitution rewrite, insurance, umpiring, brand guidelines and most importantly a "what works and issues" session – a session for junior leagues to share their success and find some guidance to any concerns through a simple open forum. Generally all the things that good governance requires to be adhered to, to make our clubs tick.
After a lengthy day all gathered for an evening of recognition that many fine club volunteers had delivered to their members over the course of the past year and in some cases over the past 49 years as one John Round of Capricornia has delivered to the game, his league and the umpiring fraternity.
The Sunshine Coast at its Junior Presentation evening in late August, paid due recognition to many fine nominees and eventual regional winners in categories of coaching (Auskick Coordinator, AFL Junior, Youth, Senior) and volunteering (Junior Club, Junior League and Senior League). These regional winners were then invited to the State Awards dinner to be recognised and most worthy state winners to be named.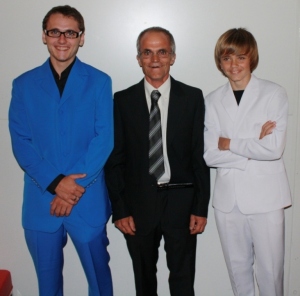 So the gala evening presented a Sunshine Coast table of Joe and Sharon Brennan, Chris and Vicki Hunt, Paul and Kylie Menti, Steve Moody, Peter Bradford with his two flash looking body guards in sons Lewis and Damian (pictured right) with Paul Tresise. Much laughter was generated with some footy stories exchanged whilst still opportunity for the league navigators to discuss core business – I wonder what Mister's Hunt, Brennan, Moody and Bradford have come up with? Lucky the two Paul's were too busy looking to enjoy themselves with a few beverages and some idle non-footy chat.
The awards part of the evening began with a bang as MC Richard Champion got things started, the Sunshine Coast region straight out of the box grabbed the State "Auskick Coordinator of the Year" Award (it was a tie but we will claim all the glory) in winner Paul Menti of Kawana Park Eagles.
Paul was instrumental in going hammer and tongs with setting up an ideal model of the "In Season Auskick" program for 5 and 6 year olds. The club had 32 participants in its inaugural season whom came together in April and participated in much activity, developed footy skills, developed team work ethic and finally put all into match play scenario for the final 6 weeks of a 15 week season. Paul was instrumental with AFLQ SC development staff to get the message out to his clubs local schools of this program taking place in 2010. All players were placed into one of the four teams with varying footy jumpers, shorts and socks making the players look the real deal. The other great thing this program bore out was that the dads got involved and many coaches, team managers, umpires and general helpers were found – many expressing that they are up for the job next year as half the players look to move into under 8 club footy.
Well done Paul Menti and the Kawana Park Eagles and we trust that other clubs of the Sunny Coast will look to further their "In Season Auskick" in 2011.
The "Youth Coach of the Year" was named shortly thereafter and Maroochydore coach Steve Moody was rightly named as the worthy winner of this prestigious award. Steve coached one of the clubs division 1 under 14 teams, this done with the belief that all players had to be challenged to play the game to their peak level, so it was a no brainer and very well supported and managed by Steve that the club would have two division 1 teams and also stretch to two division two teams maximizing opportunity for participation. Player development and team ethic were the main cornerstones to Steve's teams' season of footy.
Whilst being heavily involved with a club team, Steve was head coach of the regions under 15 Schoolboys team, who had training commitments over a number of months on most nights of the week as all teams continued to be prepared in the best manner. Well done Moods!
The third state winner produced from the Sunshine Coast table was North Shore's Peter Bradford; Peter was duly crowned the States "Junior Club Volunteer of the Year". Peter has been involved for many years in the game as a key volunteer at the clubs (Cairns and Sunshine Coast) he has been involved with and never short of aiding the Junior Leagues where support is also needed.
In 2010 Peter was a main player in the re-establishment of the North Shore Jets JAFC and what a successful year the Jets had as the playing venue of Mudjimba Multi Sports Complex was put back to AFL after a five year hiatus. Much work was needed to get this facility back in order and Peter was the man who was always a driving force through working bees and facility maintenance and finding extra personal time after hours.
This not enough, much else was done by Peter off the ground including acting as club secretary, canteen and gear steward whilst also a club delegate to the League. Great job Peter!
Other key club and League persons from the Sunshine Coast were duly recognised within the award presentation;
· outgoing Junior League President Joe Brennan was nominated in the "Junior League Volunteer of the Year" award for his fine commitment to the game over many years
· Our "AFL Junior Coach" regional nominee in Jarrod Ross, under 10 coach at Nambour & Hinterland AFC
· Steve Williams of Maroochy North Shore Roo's AFC as "Senior Club Volunteer"
· And "AFL Senior Coach of the Year" Peter Somerville, also of the Roos
We extend huge congratulations to State Coach and Volunteer 2010 award winners in Paul Menti, Steve Moody and Peter Bradford. These three are just the tip of the ice berg of the many fantastic club coach and administration volunteers whom tirelessly give to the game of AFL on the Sunshine Coast and across the State of Queensland.
Last Modified on 21/11/2010 11:07