News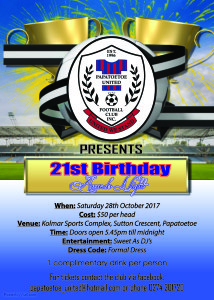 Club Photos – Coaches - if photo's not yet collected, please bring to prizegiving on the 24th September.

Upcoming Events
Junior/Youth Prize-giving
To be held on Sunday 24th September 2017 at Kolmar Sports Centre in the main function room upstairs as follows:
4-8 yr olds + Adapted Programme from 8.45am to 10.00am
9-11 yr olds from 10.45am to 12.30pm
12-17 yr olds from 1.00pm to 2.30pm
Fundraiser BBQ for 17th Grade to attend the Taupo Tournament in October.
Please support us on 24th September - Halal Sausages - $2 each.

Senior Prizegiving/21st Celebration Dinner - Saturday 28th October.
Tickets will be on sale at Junior Prizegiving 24th September 2017.
Contact Anil 0274 201 720.

See Flyer attached.
Summer Soccer – This will start from Saturday 28th October 9am – details to follow re: age groups and times.
Outstanding Fees - please transfer to the following bank accounts:
ASB Bank
Junior and youth account #: 12-3044-0414225-00
Senior account:#: 12-3044-0414225-02
Please reference the payment with the player/s last name and date of birth.
Our Adapted Programme featured on a new series on Youtube - called Kick'n-it.
Here is the online link to Episode 1 of Kick'n It which features the story about our programme with Paul Ralph. He has done a great job with this group. Please have a look. This was filmed about a month ago.

We feature about 11 minutes into the clip. The rest of the clip is also very useful for the whole family.
Alot of great soccer tips and talent in the football community.

Ricki Herbert Football Talent Centre
For further details contact the Head Coach - Sammy Negash on 022 657 9172 or email mr.negash11@gmail.com
Committee for 2017:
President - Anil Ranchhod
Secretary - Vasanti Ranchhod
Treasurer - Leona Devere-Ellery
Committee Members
Tracy Gillespie
Jitu Patel
Andrew Greenslade
Vikash Prasad
Matthew Allan
Need a DJ for your next event? Give us a call and checkout our website/Facebook and mention you're from Papatoetoe United and get a 10% discount.
Fetu Ah Young - Professional DJ
Website: www.sweetazdjs.co.nz
Facebook: Facebook.com/sweetazdjs
SPONSORSHIP
The club is looking for sponsors for this coming year as well as ongoing sponsorship for the future direction of the club.
If you know of any individual/organisation that may be interested, please contact Matthew or Tracy through our club e-mail papatoetoe_united@hotmail.com or club mobile 0274 201 720.
A big "Thank You" to the following Sponsors
The Cheesecake Shop Manukau - https://www.thecheesecakeshop.co.nz/ or e-mail manukau@thecheesecakeshop.co.nz
Wendy's Supa Sundaes Hunters Plaza
Sweet as DJ's
All Marine Glazing
Midas Manukau
Indo Spice World
Extreme Indoor Karts East Tamaki
Just Cabins South Auckland
Sutcliffe Matson Lawyers, Papatoetoe
Electron Solutions
Super Liquor Manukau
Paperplus, Onehunga
Sean Hart Photography
Shannon Corbett - Harcourts
For all queries - contact Anil Ranchhod 0274 201 720.