Profile
Forest Lake DRAGONs JAFC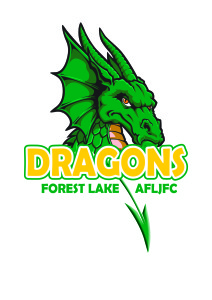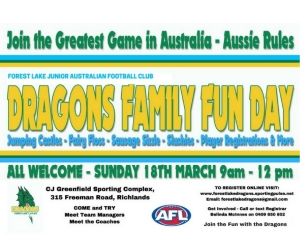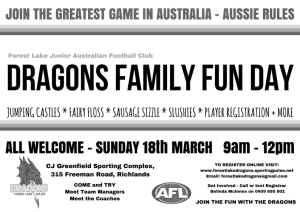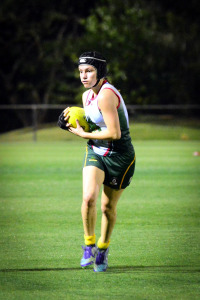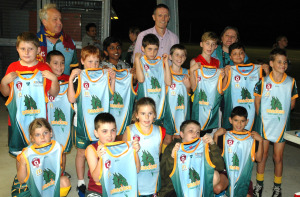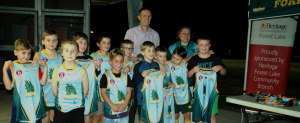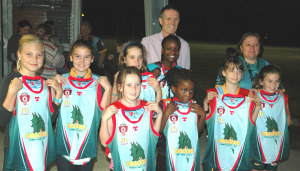 The Forest Lake Junior Australian Football Club Inc is a valued member of the AFL Brisbane Junior community and for the past nineteen years has played a very active role in developing young boys and girls for our sport in the Carole Park, Darra, Doolandella, Durack, Ellen Grove, Forest Lake, Forestdale, Inala, Oxley, Pallara, Richlands, Wacol and Willawong area.
We are a not-for-profit sporting organisation that promotes physical activity for children through coaching Australian Rules Football. The aim of the club is to engender a lifelong enjoyment of exercise in children. To do so the club provides a fun, friendly and safe environment with a real family atmosphere for all families to enjoy.
In 2018, the Forest Lake JAFC aim to field the following teams from ages 6 to under 17 in the AFL Brisbane Junior/Youth competition.
Roys Junior Football (Ages 5 & 6): Tuesday nights - 5:30 - 6:30pm (3 Teams)
Under 8's: Tuesday nights - 5:30 - 6:30pm (2 Teams)
Under 9's: Tuesday nights - 5:30 - 6:30pm (2 Teams)
Under 10's: Tuesday nights - 5:30 - 6:30pm (2 Teams)
Under 11's Girls: Tuesday, Wednesday and Thursday nights - 5:30pm - 6:30pm (2 Teams)
Under 11's Mixed: Monday, Tuesday, Wednesday and Thursday nights - 5:30pm - 6:30pm (2 Teams)
Under 12's Mixed: Monday, Tuesday, Wednesday and Thursday nights - 5:30pm - 6:30pm (2 Teams)
Under 13's Girls: Monday, Tuesday, Wednesday and Thursday nights - 5:30pm - 6:30pm (2 Teams)
Under 14's Boys: Monday, Tuesday, Wednesday and Thursday nights - 5:30pm - 6:30pm (2 Teams)
Under 15's Girls: Monday, Tuesday, Wednesday and Thursday nights - 5:30pm - 6:30pm (1 Team)
Under 16's Boys: Monday, Tuesday, Wednesday and Thursday nights - 5:30pm - 6:30pm (1 Team)
Under 17's Girls: Monday, Tuesday, Wednesday and Thursday nights - 5:30pm - 6:30pm (1 Team)