Home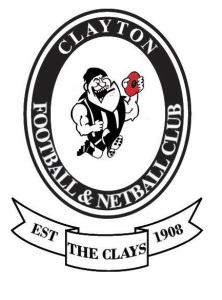 The Clayton Football & Netball Club (CFNC) is one of the oldest clubs in the league, established back in 1908.
Pre-Season training started for both Mens and Womens teams on Monday, 15th January 2018 at 6pm at Meade Reserve. Training sessions will continue every Monday and Wednesday at 6pm untill further advised.
While you are visiting Our site, please take some time to check out all the pages via the tabs above. There's photos, our Honour roll and much more. Hope to see you on the park in Black and White (and Pink) this season!
Home Ground
Meade Reserve (Clayton Oval)
356 Haughton Rd
Clayton, VIC 3168

Map

Like us on Facebook Follow us on Instagram
Social media:
#GoClays