2019 Team Photo & Gala Day Information - Sat Jun 15
The Bankstown Bulls Junior Rugby League Football Club 2019 Gala Weekend will be held on Friday 14 June and Saturday 15 June.
The Under 11D2 and Super 15 sides will play a Friday night double header against Greenacre Tigers and Berala Bears respectively.
Saturday will see 17 of the 21 teams at the club playing at Ruse Park.
Unfortunately our Under 17's will be playing away at Hammondville Oval - a decision out of the Bulls control despite offers that were put forward to put the 17's on Friday or Saturday night.
The Under 8 and Under 9 games will played before the Under 5 to Under 7 games.
The final game for the Saturday will kick off 6:35pm.
There will be rides (free of charge), food stalls and showbags on the day.
Player of the Match from both sides will receive a Bulls Gala Medal. The medals for Under 14 and Under 17 will be done at their next home game.
Raffle tickets will be on sale that goes towards end of season presentation with the prizes included being signed 2019 Bulldogs jersey, authentic 2018 Michael Lichaa playing jersey and meal vouchers from Canterbury Leagues Club.
All team photos will be held on Saturday 15 June. Schedule is attached. Please arrive at team photos at least 15 minutes prior to the photo time. Under 5's photos will be done after their game in agreement with their manager.
All photo orders will be done via the team manager.
Thanks to GS Imaging for the Team Photos and Abel Trophies for the Gala Day Medals - for all 21 teams at the Bulls.
FREE BULLS PLAYER VOUCHERS
1x Sandwich
Options: Sausage on a Roll or Chicken Sandwich (limited chicken)
Free add-ons: Onions and/or Cheese
1x Drink
Options: Water, Poppers, Pepsi Max (can), Lemonade (can), Solo, Sunkist or Ginger Cola
1x Packet of Chips
Options: Pretzels, Rice Crackers or Potato Chip varieties
All vouchers will be given to the team managers or coaches who will hand them to the players. All items must be redeemed at once. This is for all financial Bulls players U5 to U17.
GALA DAY ACTIVITIES
Rides (free of charge for all patrons)
Food Stalls
Showbag Stand
Bulls BBQ
Player of the Match Medals
and much more

MONSTER RAFFLE
Tickets $2 each, 3 for $5 or 8 for $10
Major Prizes include signed 2019 Bulldogs jersey, 2018 authentic game day jersey of Michael Lichaa & Canterbury Leagues Club meal vouchers
GALA DAY WEEKEND DRAW
FRIDAY 14 JUNE 2019
RUSE PARK (84 Stacey St Sth & Gartmore Ave, Bankstown)
Under 11 (Zahi) vs Greenacre 6:30pm 2*20m
Super 15 (Huss) vs Berala 7:20pm 2*25m
SATURDAY 15 JUNE 2019
RUSE PARK (84 Stacey St Sth & Gartmore Ave, Bankstown)
Under 8 (Marlon) vs Bank Sports 9:00am 4*8m
Under 8 (Bill) vs Berala 9:00am 4*8m
Under 9 (David.T) vs Milperra 9:45am 4*8m
Under 9 (Andrew) vs Revesby 9:45am 4*8m
Under 5 (Ameihn/Rachael) vs St Johns 10:30am 4*8m
Under 6 (Amanda) vs Bulls W 10:30am 4*8m
Under 6 (Samisoni) vs Bulls B 10:30am 4*8m
Under 7 (David.H) vs Greenacre 10:30am 4*8m
Under 10 (Rabih) vs Bank Sports 11:20am 2*20m
Under 11 (Chris) vs Milperra 12:10pm 2*20m
Under 12 (Brian) vs Moorebank 1:00pm 2*20m
Under 12 (Chady) vs Revesby 1:50pm 2*20m
Under 14 Girls (Amanda) vs Eaglevale 2:40pm 2*20m
Under 16 Girls (Carolina) vs St Christopher's 3:30pm 2*20m
Under 13 (George) vs Hinchinbrook 4:20pm 2*25m
Under 16 (Huss) vs Liverpool 5:20pm 2*30m
Under 16 (Stan) vs Berala 6:35pm 2*30m
BYE
Under 14 (Karam)
SUNDAY 16 JUNE 2019
HAMMONDVILLE OVAL (Heathcote Rd, Hammondville)
Under 17 (Max) vs Moorebank 10:00am 2*30m
TEAM PHOTO TIMES (SATURDAY 15 JUNE)
Under 8 Bill - 8:00am
Under 8 Marlon - 8:20am
Under 9 David.T - 8:40am
Under 9 Andrew - 9:00am
Under 7 David.H - 9:20am
Under 6 Amanda - 9:40am
Under 6 Samisoni - 10:00am
Under 10 Rabih - 10:20am
Under 11 Chris - 10:50am
Under 11 Zahi - 11:10am
Under 5 Ameihn/Rachael - 11:30am
Under 12 Brian - 11:50am
Under 14 Karam - 12:10pm
Under 12 Chady - 12:30pm
Under 17 Max - 1:00pm
Under 14 Girls Amanda - 1:30pm
Under 16 Girls Carolina - 1:50pm
Under 13 George - 2:20pm
Super 15 Huss - 2:50pm
Under 16 Huss - 3:20pm
Under 16 Stan - 3:40pm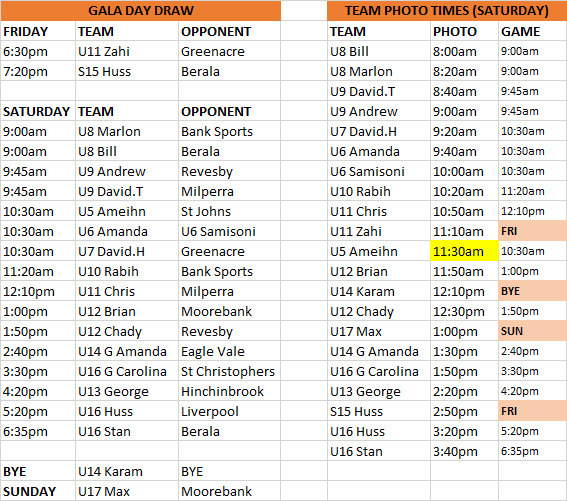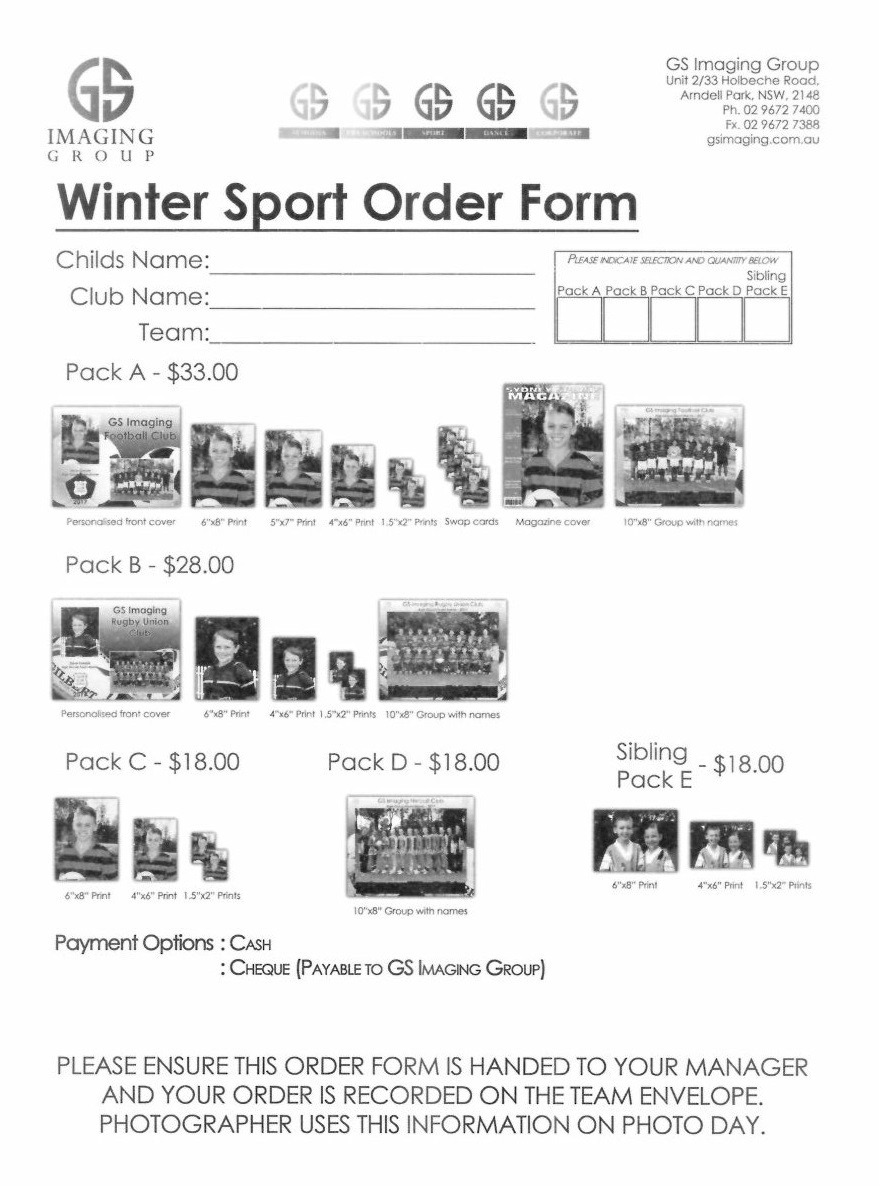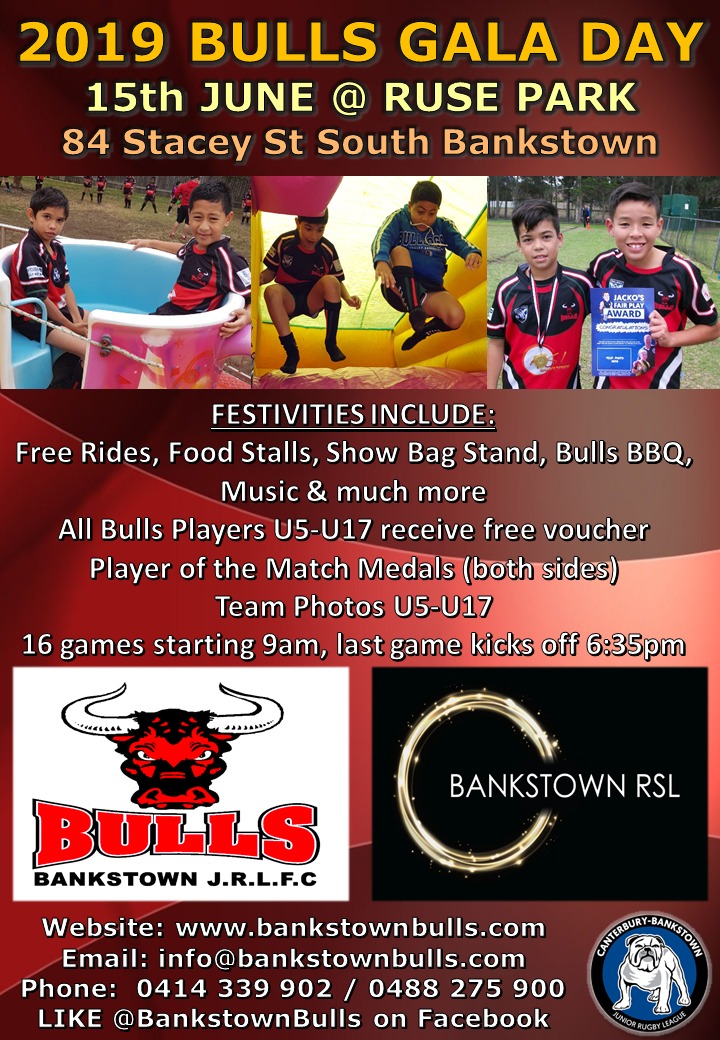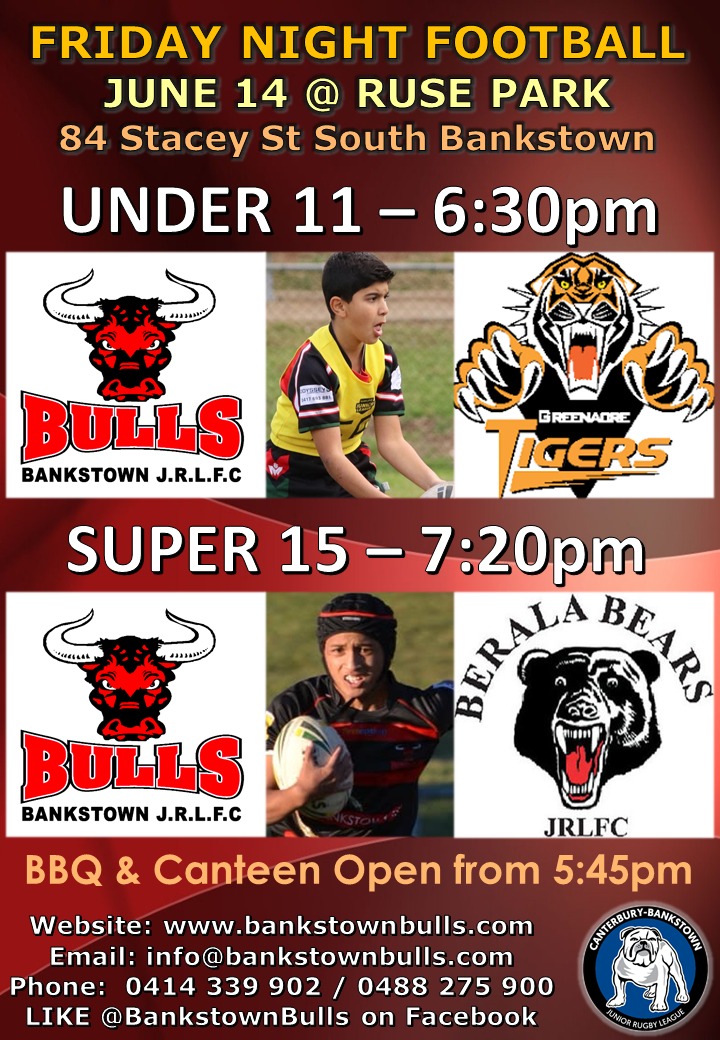 Bankstown Bulls Junior Rugby League Football Club Incorporated
Last Modified on 10/06/2019 22:05