Free school holiday Rugby League Clinic
Wednesday 10 & 17 July 2019 - 10am-1pm (2 sessions)
Would you like to try rugby league, or improve your skills these school holidays?
Active Canterbury-Bankstown has teamed up with the National Rugby League (NRL) to provide two FREE school holiday clinics for children aged 5-13 years;
Wednesday 10 July, 10am – Neptune Park, Revesby
Wednesday 17 July, 10am – Roberts Park, Greenacre
The rugby league clinic will run for approximately three hours. Please arrive at least 15 minutes prior to the start time.
All equipment is supplied, please wear comfortable shoes or boots and don't forget to bring a bottle!
For more information, call Council's Recreation Officer on 9707 9236.
Have fun, make friends and play rugby league!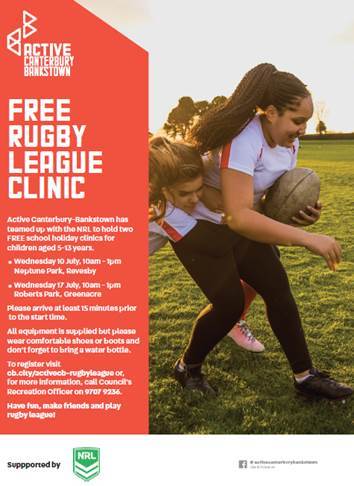 Bankstown Bulls Junior Rugby League Football Club Inc
Last Modified on 07/06/2019 13:47