1st Trial v Bankstown Sports - 2 March 2019
The Executives of Bankstown Bulls and Bankstown Sports are pleased to confirm the annual first trial game of the year will be played on Saturday 2nd March for all available sides in our respective clubs.
Last year the two clubs agreed to make the day in honour of the late Steve Folkes and both clubs have decided to continue to honour the legacy of Steve Folkes who played junior league with Bankstown Sports, won 4 premierships as a player with the Bulldogs, 1 as the clubs head trainer and 1 as coach as well as representing NSW at State of Origin and playing 5 Tests for Australia.
Steve Folkes is a true legend of the Bulldogs and Rugby League.
Training for all sides U5 to U15 including U13-14 Girls & U15-16 Girls commences on Tuesday 5th February at Ruse Park.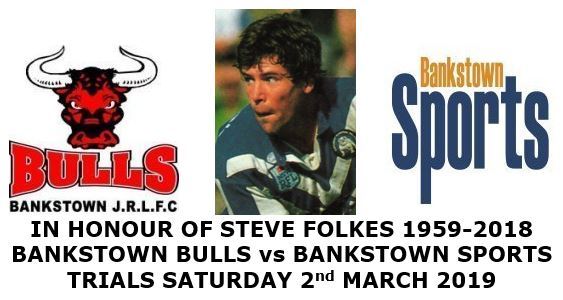 KEY DATES
Tuesday 5th February - 1st Training Session Saturday 2nd March - 1st Trial Bankstown Bulls & Bankstown Sports "In Honour of Steve Folkes"
Weekend 6-7 April - Round 1
Saturday 15th June - Team Photos
Weekend 15-16 June - Gala Day
Saturday 29th June - Bulls Fundraising Dinner
2019 Coaches - http://2019.bankstownbulls.com
2019 Registration - http://rego.bankstownbulls.com
Active Kids Voucher - http://voucher.bankstownbulls.com
2018 Yearbook - http://2018yearbook.bankstownbulls.com
Club Constitution - http://constitution.bankstownbulls.com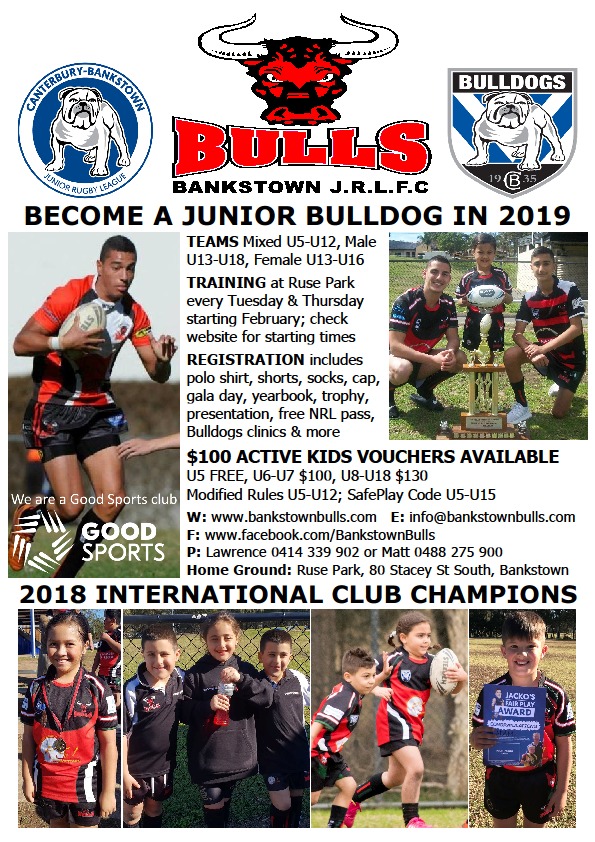 #BankstownBullsJRLFC #JuniorBulldogs
Last Modified on 01/01/2019 20:10