2019 Executive & General Committee and Life Members
The Bankstown Bulls JRLFC Executive for the 2019 season remains the same as the 5 Executives from the 2018 season following the clubs Annual General Meeting on 29 October 2018 with no ballot required.
Under the new constitution laws that govern the club the Executive tendered applications at the AGM for General Committee positions with 6 of the 7 positions being filled by appointment from the Executive on 6 November 2018.
Tania Mihailuk MP and George Coorey will once again serve as Patrons of the Bankstown Bulls JRLFC.
Three nominations were put forward for Life Membership with all three nominations successfully passed to be bestowed Life Membership of the Bankstown Bulls JRLFC.
George Farej, Stan Hetaraka and Amanda Nabhan have been added as Life Members of the Bankstown Bulls JRLFC.
Following the successful passing of the new constitution all Life Members from Bankstown Bulls and previous indentities Bankstown Cougars, Bankstown Juniors, Bankstown Catholic Collegians and Bankstown City have been included under the one Life Membership umbrella.
- 2019 Season Information
- 2019 Player Registration
2019 EXECUTIVE COMMITTEE
President: Michael Rodrigues
Secretary: Lawrence Karam
Treasurer: Matthew O'Neill
Senior Vice President: Stan Hetaraka
Assistant Secretary: Anthony Samuel
2019 GENERAL COMMITTEE
Junior Vice President: David Tarabay
Assistant Treasurer: Rhonda Elsayed
Registrar: Sandra Chahine
Canteen Manager: Marea Farah
Groundsman: Brad Whigham
Youth Liaison Officer: Ali Mehanna
DELEGATES TO CBDJRL & BULLDOGS
Lawrence Karam
Matthew O'Neill
CLUB PATRONS
George Coorey (Chairman Canterbury League Club)
Tania Mihailuk MP (NSW ALP State Member for Bankstown Labor)
BANKSTOWN BULLS JRLFC LIFE MEMBERS
*John Angove (Collegians)
+Peter Wagstaff (Collegians)
William Bellenger (Collegians)
*+Stan O'Dowd (Collegians)
*Warrick Shakespeare (Cougars)
John Edwards (Cougars)
Lynn Farah (Cougars)
*Ray Farah (Cougars)
Lindsay Roach (2010)
Najib Nohra (2010)
Lloyd Williams (2011)
Anthony Samuel (2012)
Romiz Barakat (2013)
Scarf Maroun (2013)
Norma Hadchiti (2014)
Abdul Nabhan (2014)
Michael Rodrigues (2016)
George Farej (2018)
Stan Hetaraka (2018)
Amanda Nabhan (2018)
* Deceased, + CBDJRL Life Member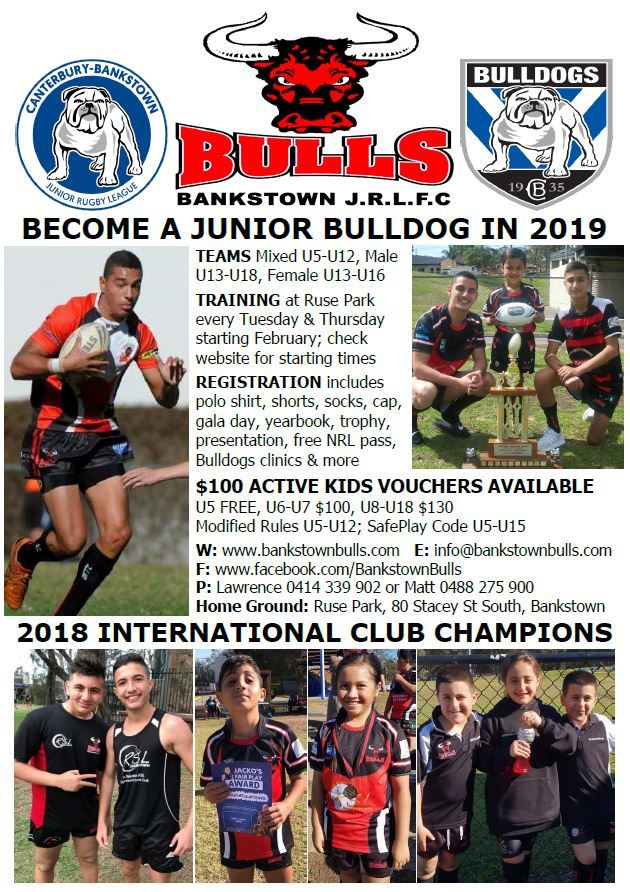 #BankstownBullsJRLFC
Last Modified on 17/12/2018 16:59