AUFC and RHFA Youth Development
Ricki Herbert Football Academy and Albany United FC
David 'Masters' the RHFA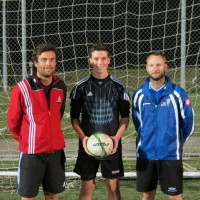 (Left to right): Jake Martens (Albany United Head Coach & RHFA CEO), David Masters, Mike McMurtrie (RHFA Auckland GK Coach & Albany United GK/Captain)
A question we get quite often is..."what do we get out of the RHFA"? Well there are numerous benefits and outcomes that can come from the RHFA, but young rising Goalkeeper David Masters has some good answers to give.

Coming through the RHFA system, David has become the first RHFA player to sign a senior contract. This means he is the first player in our short 2 year history to bridge the gap between the RHFA youth system and senior football. David has done this by being offered and then signing a first team contract at Albany United (coached by RHFA CEO Jake Martens). This has come through not just the RHFA partnership with Albany United, but the ELITE and Goalkeeper programmes David has been a regular member of.
When asked about David's experience at the RHFA, he had this to say, " The experience so far has been amazing. They are a very professional and well organized outfit". David first came onboard at the RHFA in December 2011 where he successfully trialed for a GK spot on the Victoria, Australian Tour. ". I was sent down to Wellington to join the touring squad where I met Jake Martens and Kale Herbert, who were really friendly and made me feel welcome. I was given a sports bag containing my kit, track suit, polo shirts, goalkeeper shirt, the lot." David then went on to be awarded player of the tour (picked from 33 possible candidates).
The link between the RHFA and Albany United is deeper than just the partnership for David. David now sits as second GK at Albany, behind Albany United captain and RHFA Auckland GK coach Mike McMurtrie. So now, he not only gets coached by Mike for the academy, but trains with him twice a week for the Albany men's team. This has no doubt helped David in his progress, "It's so much easier to progress from the academy to seniors, as they have the same management team and coaching staff. They know me; they know my strengths and weaknesses. Mike has been great in helping me step up to senior level" said Masters.

At 16 Masters is coming to an end of the academy pathway, but because of his experience he now has an external party to go on with. David had this to say about this chance, "Having been given the opportunity to play well above my age has helped with my development. The Academy and Albany coaching team have been very encouraging and supportive. They encourage players to always do their best, work hard and strive to achieve at the highest level."

Before his time is up at the RHFA however, David has one more experience to gain that has come of his time with the Academy. David has been picked as the #1 Goalkeeper on the upcoming RHFA U16 tour of Europe. This consists of 7 days in Barcelona and 5 days in London. "I am so excited about joining the squad again as I made so many friends last time, said Masters. Playing Spanish and English teams will be awesome. It will be amazing to compete with these teams and enjoy the experience".

David had these final words to say about the RHFA, "I wouldn't have been given the great opportunities had it not been for the Academy. I would encourage all kids, who love the game, to join. Work hard and rewards will come".

It is these words of 16 year old David Masters that the RHFA encourages and pushes. With the academy comes opportunity. David has not only developed further has a Goalkeeper, but he would have experienced 2 international tours and not to mention a first team senior contract at the end of his tenure with the RHFA. David is one for the future and we are glad that further opportunities have come for this player from his RHFA experience.
Last Modified on 17/05/2013 16:32