Latest News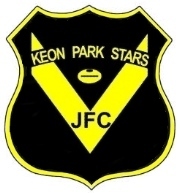 KEON PARK STARS JUNIOR FOOTBALL CLUB
REGISTRATION DAY
Sunday, 18th February 2018
11.00am - 2.00pm
Donath Reserve
Corner Wagga Road and Harmer Street
Boys and girls wanted for all age groups
No experience necessary
President: Terry Brooks - 0404 160 808
Club Honours 2017
| | |
| --- | --- |
| Life Member | Gary Moorcroft |
| Junior Life Members | Codie Kelly |
| | Jadon Atkinson |
| | Troy McGuinness |
| Michael Butterworth Trophy | Michelle Hall |
| Jay Waugh Memorial Trophy | Thomas Cauchi |
| Chris Keeble Memorial Trophy | Taj Jones |
Under 9s Trophy List 2017
| | |
| --- | --- |
| Best and Fairest | 1. Michael Bellissimo |
| | 2. Jacob Gorgovski |
| | 3. Carlo Spadoni |
| | 4. Zoe Serong |
| Most Courageous | RJ Welsh |
| Most Improved | Brandon Memmolo |
| Coach's Award | Joseph Bellissimo |
| Team Manager's | Jhye Martin |
| Goal Kicking | Jacob Gorgovski |
Under 12s Trophy List 2017
| | |
| --- | --- |
| Best and Fairest | 1. Sam Atkinson |
| | 2. Keith Tafolo |
| | 3. Joshua Camilleri |
| | 4. Jackson Hall |
| Most Courageous | Connor Camilleri |
| Most Improved | Alessandro Di Raimo |
| Coach's Award | Lewis Greagen |
| Team Manager's | Archie Greagen |
| Goal Kicking | Sam Atkinson |
Under 14s Trophy List 2017
| | |
| --- | --- |
| Best and Fairest | 1. Jon Magriplis |
| | 2. Noah Lucin |
| | 3. Lynton Martin |
| | 4. Abdullah Allouch |
| Most Courageous | Joel Kelly |
| Most Improved | Bailey Halliday |
| Coach's Award | Jadon Atkinson |
| Team Manager's | Rocky Gentile |
| Goal Kicking | Jon Magriplis |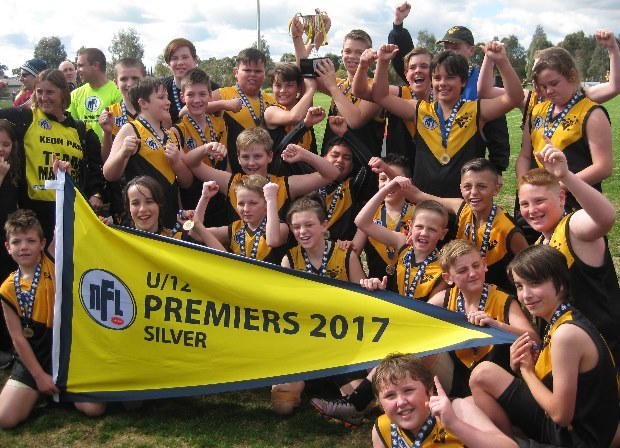 UNDER 12 PREMIERS 2017
Congratulations to: Kaleb, Joel, Dakota, Archie, Alessandro, Jackson, Ricky, Billy,
Jordan, Luke, Keith, Ricky, Rowan, Tyson, Xavier, Bennie, Connor, Caleb,
Trent, Abby, Thomas, Sam, Lewis, Joshua and Jacob.

JUNIOR CRICKETERS WANTED
Footy season finished!
Want to play sport over the Summer!
Why not give cricket a go!
Keon Park Cricket Club is looking for
boys and girls to play in its
Milo Cricket, under 11s + 13s.
Ian - 0439 314 353
Daryl - 0402 105 558

Keon Park Stars JFC on Facebook
THE SONG
Oh we're from Keon Park
A fighting fury, we're from Keon Park
In any weather you will see us with a grin
Risking head and shin
If we're behind, we'll never mind
We'll fight and fight and win
Oh we're from Keon Park
We'll never weaken til the final sirens gone
Like the Parkers of old
We're strong and we're bold
Oh we're the Parkers, YELLOW AND BLACK
Oh we're from Keon Park
PLEASE SUPPORT OUR SPONSORS
Yarra Avenue Fish & Chip Shop - 9460 4282
Reservoir RSL - 251 Spring Street - 9469 2759
Crown Pizza and Ribs - 281 Spring Street, Reservoir - 9469 5800
www.crownpizzareservoir.com.au
S.V.C. Products - 2 Chaffey Street, Thomastown - 9460 3813
www.svc.net.au
Zagames Hotel - 257 Edwards Street, Reservoir - 9460 5799
www.zagames.com.au
Oliana Foods - 255 Drummond Street, Carlton - 8347 4400
www.olianafoods.com.au
Fresh Food Centre - Summerhill Shopping Centre - 9470 6461
MP Jenny Mikakos - 319 Spring Street, Reservoir - 9462 3966
MP David Feeney - 159 High Street, Preston - 9416 8690
Keon Park Cricket Club - 0409 182 751
www.keonparkcc.com.au