A Welcome from New Coach Andrew Cadzow
Attention: Maroochydore Roo's AFC
Welcome Players, Supporters and the Roo's Family.
The whole Club has had a terrific 2016. Strong results and great outcomes both on and off the footy field.

We need to again work hard, enjoy the journey, add 10% to our endeavours, and put ourselves into a strong position to challenge and play in and win Finals.

2017 is nearly upon us. A new bigger,stronger and more challenging Competition for us all.
Senior training commences 6th December here at Fishermans Road, kicking off dead on 6pm. Five (5) sessions ( 6,8,13,15,20th ) prior to Xmas to blow out the cobwebs and set a base for 2017. Running/Body weights and boxing /Games component. We will be competitive in all that we do.
All senior, 18's'17's and new ( and old ) players are more than welcome.

With a whole new coaching and support structure in place we look freshly towards 2017.
Please drop note if playing in 2017, but committed (we understand) elsewhere prior to Xmas.

Xmas breakup is on the 20th December, Pie night, All Club welcome and expected.
2017 Pre season Commences 10th January.
"Winners do what losers don't."
Cheers
Cadz
Andrew Cadzow
Senior Coach
Maroochydore AFC
0422 947017
cadzowandrew@gmail.com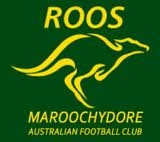 Last Modified on 16/11/2016 14:35