Home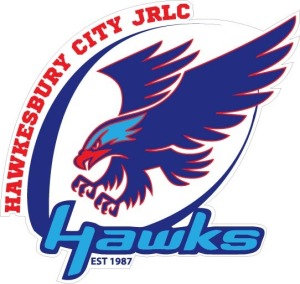 Hawkesbury City JRLC turns 30 in 2017!
Join now and become part of history. The club will be celebrating throughout the year hosting events, fundraisers and presenting rugby league at it's best. At Hawkesbury Hawks, we recognised past, present and new players. We welcome all players and their families and friends to become a part of our growing, inclusive rugby league family.
Registration fees have been reduced - JOIN NOW! Click on the registration tabs on the right hand side on this page.
Mini U6 - $60
Mini U7-U8 - $80
Mod U9-U12 - $150
International U13-15 - $160
International U16-U17 - $185
C Grade - $200
For any inquiries you can contact the club secretary or your team coach - All details found under the Coaches Tab and Committee Tab.
Sponsorships for 2017
There are numerous opportunities to become a sponsor for 2017. Packages to suit all budgets. All our sponsors are recognised as part of the hawks family and are invited to get involved with our teams and the club. For information, or to receive a Sponsorship Kit, please contact our team at hawkssponsorship82@gmail.com
Ground location
Home ground - Turnbull Oval, Terrace Road North Richmond.

Training grounds - Peel Park - North Richmond, Benson's Lane - Richmond

(Please contact your coach for details regarding commencement and location of training for your team)

Club Goals:

To provide a welcoming and friendly environment for players and their families.
To support a well organised competition with a safe environment for our children.
To provide our youth with the opportunity to grow as sports people, team players and as individuals.
To teach sportsmanship, discipline and a love for rugby league.
To encourage community and team spirit.
To recognise and respect life members of the club.
PLAY NRL AND BECOME A HAWKESBURY HAWK FOR LIFE!