Home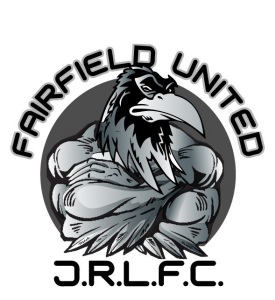 Welcome to Fairfield United JRLFC
If your looking for a great Club to play football with, then you've found it! Fairfield United prides itself on being 'The Family Club'. We have grown over the years and are pleased with the loyality we receive from our current players. We've had some amazing talent progress to the NRL from our Club with Shane Shackleton, Chris Keating, Matt Keating, and Nathan Gardner, Via Toutai and Joesph Ualesi, all playing for Fairfield United. We also have players that have gone on to play in the Toyota Cup and NSW Cup at present.
You can register to play on training nights. We are also looking for Coaches and Trainers so if you know someone that would be interested tell them we'd love to see them.
We are run by volunteers and are very grateful for all the time and effort that is put into this great Club, but without sponsors we are unable to buy new jersey's, training equipment, balls and stock our canteen. This year we have some great companies on board such as Samson Constructions, Gleam Cleaning, Accucom. A big thank you to all our Sponsors.
If you would be interested in playing Rugby league this year or just have a general enquiry we can be contacted at fairfieldunited@hotmail.com or click on the contact link. Be sure to look us up on facebook.
Our training nights are Tuesday and Thursday nights from 5.30 - 7.30, depending on age. Our home ground is at Ulverstone st, Fairfield. (Next to Fairfield swimming pools). We look forward to a great year and many more to follow...
We would like to congratulate our U10 Div 4, U12 Div 2 and U13 Div 2 on a great victory in the Grand Final for 2013. You have done our Club proud.
Fairfield United Committee