NORTHS 2019 SEASON DRAW
ANNUAL GENERAL MEETING
Please be advised that the 2017/2018 Annual General Meeting of Norths Rugby League Club will be held;
When: Sunday 4th November 2017 Where: Norths Rugby League Clubhouse - Peggy Banfield Park Time: 9am to 10am Renewal of Memberships from 10:15am Annual General Meeting
NOMINATIONS ARE NOW OPEN FOR COMMITTEE POSITIONS * PRESIDENT * VICE PRESIDENT * TREASURER * SECRETARY * PUBLICIST
See attached Information Statement and Nomination Form for more details.
Last Modified on 10/09/2017 12:58
CLUB MEMBERSHIP APPLICATION
Become a Devil today!!!
Club Membership can be obtained by completing the application form below. 2018 Membership is only $10.00 and can be paid by cash to the treasurer or by bank transfer:
Account Name: Norths Rugby League Inc
BSB: 034-668 Account No: 307438 (please use your Surname as a reference)
Get involved with local rugby league.
Last Modified on 10/09/2017 11:59
APPOINTMENT OF HEAD COACH

We are thrilled to announce that Norths Devils have appointed Mr Andrew Walters as our 2018 Head Coach. As well as holding the title of Head Coach, Andrew will be coaching our A Grade side for the 2018 season.
Andrew is a top candidate for this role, he is well-known to our club and he has served as part of the Blackhawks Coaching Squad in the 2017 season. Andrew has previously been part of Norths coaching team – coaching both in 2014 and 2015 for the club.
Based on our experience with Andrew, we know that he has a strong understanding of the values and behaviors expected throughout the Club and will be the key go-to person for the coaching team. He also has strong organisational, decision-making and administrative skills to complete the work required behind the scenes. Andrew will be a great administrator, mentor and coach for our club. We have an active and committed senior leadership group, who will be working with Andrew, to better ensure a smooth transition.
I would like to congratulate Andrew on his appointment.
Kim Smith
President - Norths Rugby League Inc.
Last Modified on 10/09/2017 11:33
2017 Presentation Night
Congratulations to all of the award winners!!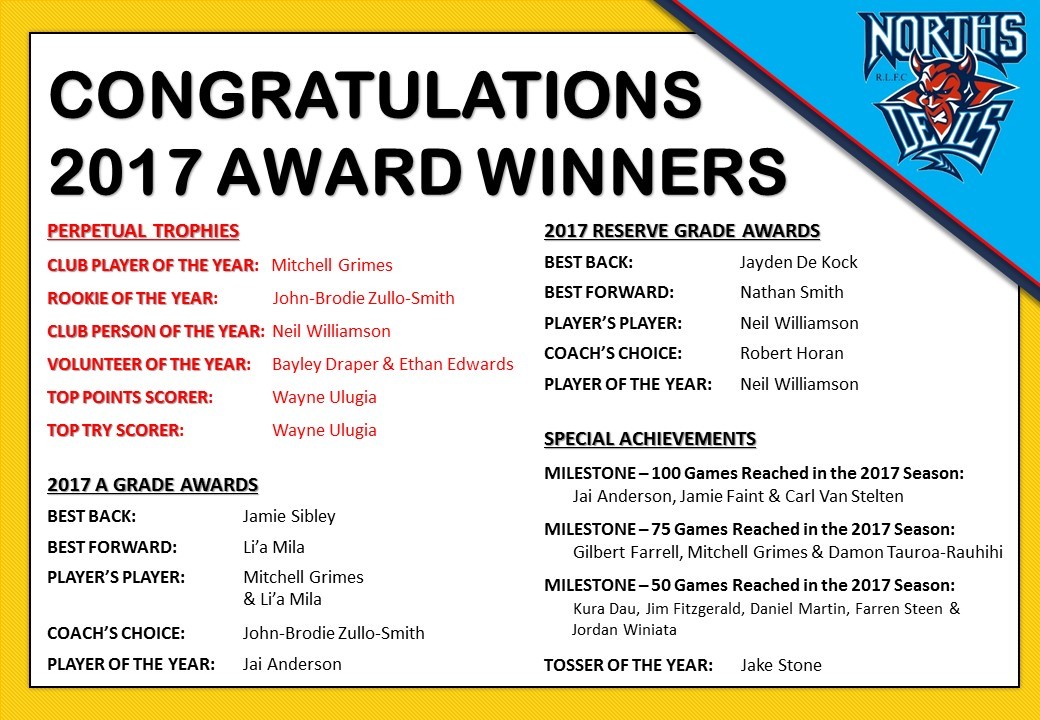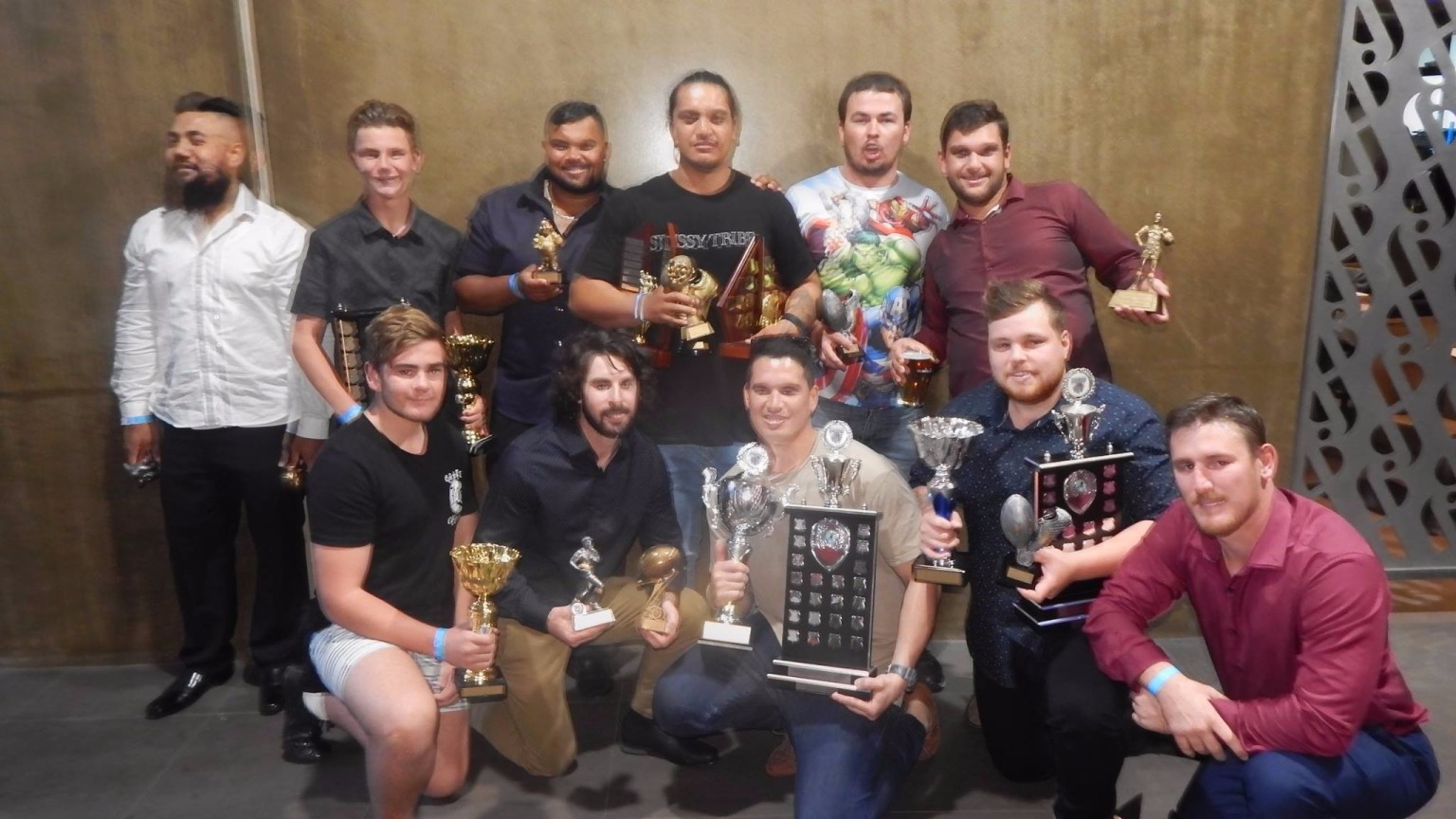 Last Modified on 10/09/2017 10:50
Find us on Facebook
Training

Training every Tuesday & Thursday
Peggy Banfield Park, from 6.00pm
UP THE DEVILS!!
Last Modified on 10/09/2017 10:38
WELCOME TO NORTHS DEVILS 2017 COMMITTEE
The club held their AGM this morning and saw a few changes to our committee for the 2017 Season. This is the team that will lead us into the future:
President: Kim Smith
Vice President: Josh Peters
Treasurer: Tracy Edwards
Secretary: Coryn Danes
Publicity Officer: Amanda Appleby
Coaching Staff will be announced over the next few days!!
A huge Thank You to Donna Condon-Hannam, for all the time and effort you have devoted to the Club. You will certainly be missed.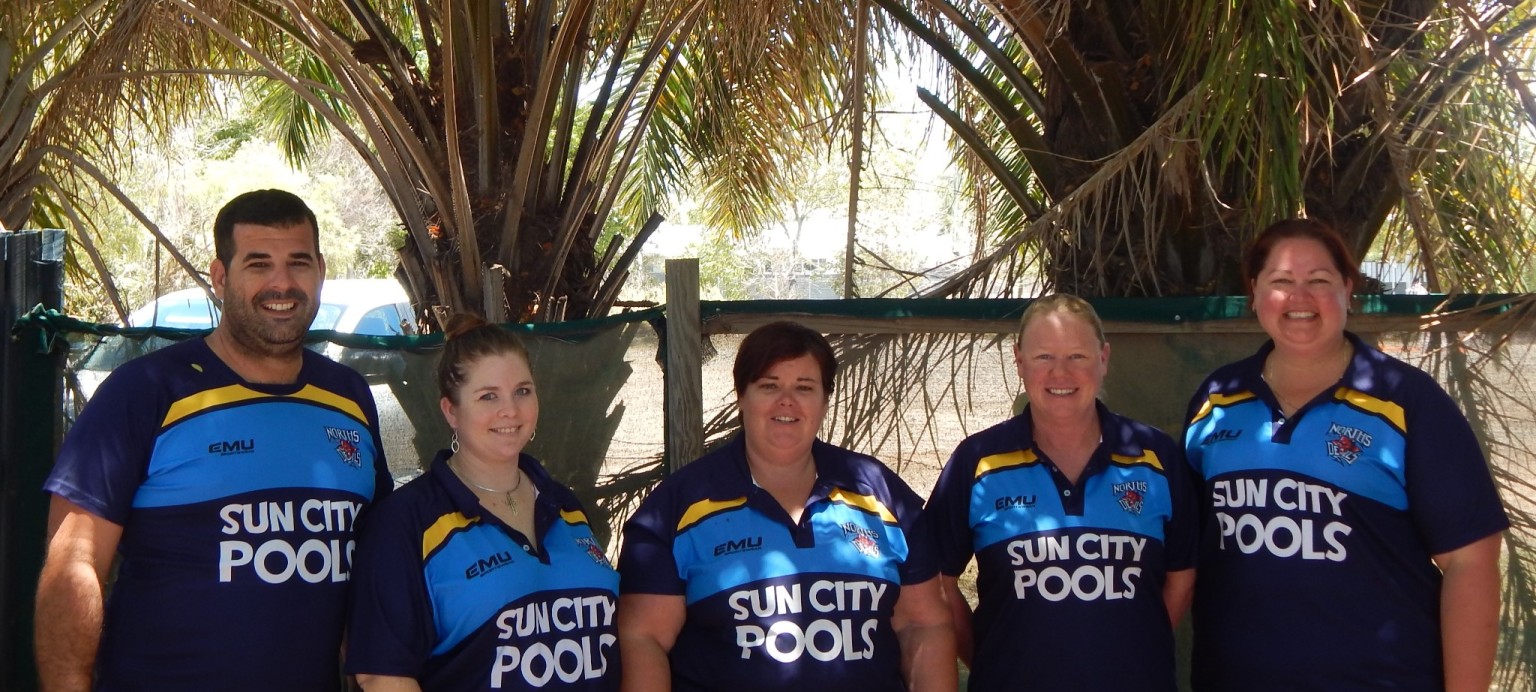 Last Modified on 06/11/2016 19:54
It's not JUST what you coach, It's HOW you coach
The NRL & QRL have launched "It's not JUST what you coach, It's HOW you coach" campaign, which aims to promote a positive approach to coaching.
It's only a short video voiced by Wayne Bennett, so please click on the link below to view the video.
http://tpdmedia.com.au/player/?url=TR7M3XV3
Last Modified on 21/08/2016 11:21
Peggy Banfield Park *NOW UNDER CONSTRUCTION*