Referee Courses
Last Modified on 19/02/2018 11:22
Training Schedule - Please check the PDF file below for training days and field location.
Registrations are still open!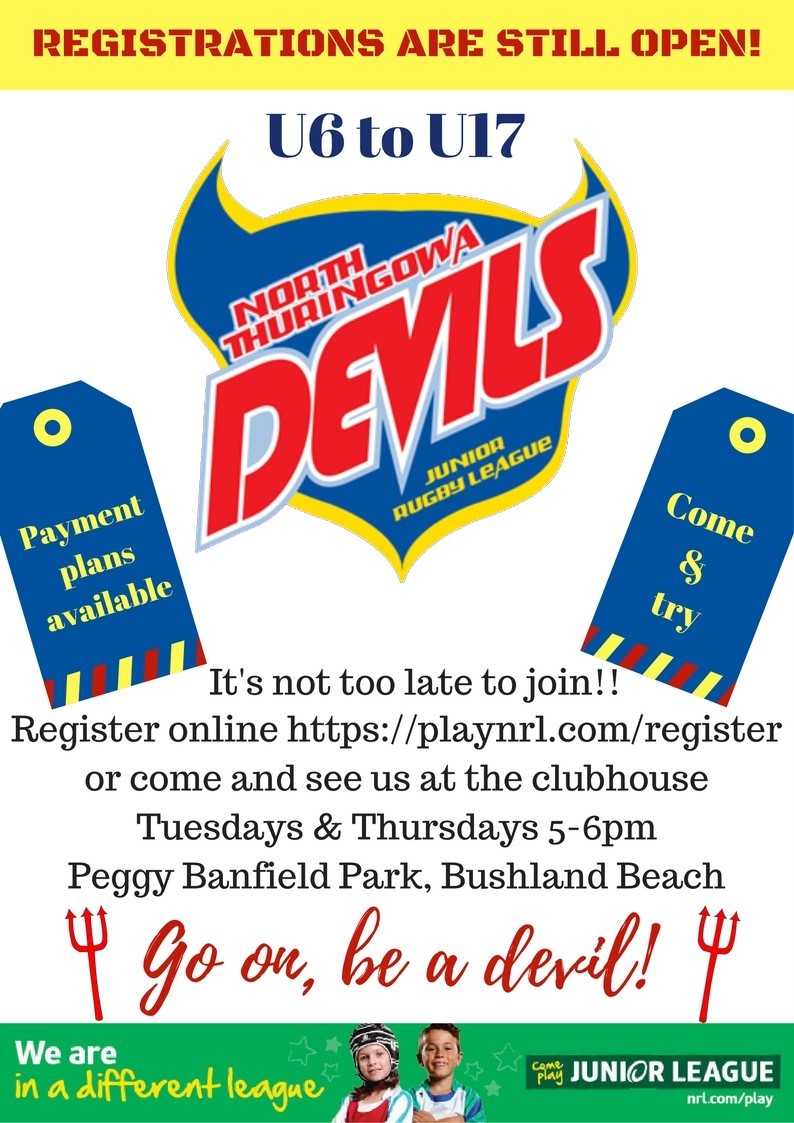 Last Modified on 24/01/2018 20:36
Coaches - please see the 'CONTACTS/COACHES' tab for information
on 2018 coaching courses, thank you.
Last Modified on 22/01/2018 17:31
SIGN-ON
Just a reminder that Norths Devils Juniors are now open for registrations - sign on is open for 2018 for U6 to U17 players! Link to sign on is https://playnrl.com/register. All players must be registered on line to participate in the TDJRL Competition.
All parents / carers of players are still required to complete a one sheet confirmation of medical and contact details update at the club house prior to commencement of the season. Without this being completed the player/s will not be able to take the field. This paperwork can be done at sign on day or shortly thereafter at training days, however, must be completed prior to season commencing. Season 2018 club shirt, shorts and socks will be given to players upon full payment of their fees.

Payment details for bank transfer are available on the registration page and you may also pay via eftpos or cash at the club office on sign on day or at the office on training days soon thereafter.
New players - please remember you will need to provide a copy of your birth certificate or passport to the club office on sign on day or soon thereafter - or upload directly on registration page.

Any problems with registrations or queries, please contact secretary@northsdevils.com.au.
Last Modified on 07/01/2018 10:20
Get Started Vouchers
The Get Started Program is due to open
24 January 2018. Get Started Vouchers assist
children and young people who can least afford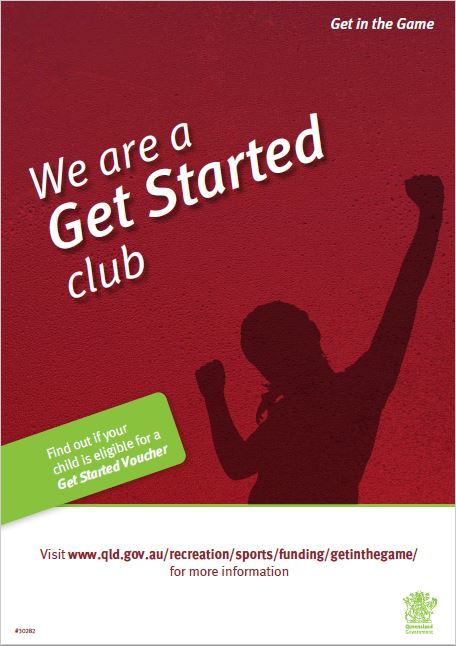 joining a sport and recreation club. Eligible
children and young people can apply for a
voucher valued up to $150 which can be
redeemed at a sport or recreation club that
is registered for Get Started Vouchers.
Please register quickly as these vouchers
generally are fully allocated within days –
get in early to ensure you don't miss out!
Click on the link below to find out more!
Last Modified on 12/01/2018 13:39
TEAM COACHING APPLICATIONS - 2018
TEAM COACHING APPLICATIONS - SEASON 2018
- Coach
- First Aid Officer (FAO)
- League Safe Officer (LSO)
- Manager
Please forward all completed forms to secretary@northsdevils.com.au. Any queries, please let me know.
Bring on Season 2018 - GO DEVILS!
Last Modified on 11/01/2018 07:09
2018 COACHES COURSES
Below are 2 Online courses that have been put online purely for coaches in 2018 that need qualifications.
The purpose of this is for the coaches to complete their online modules & sometime in 2018 we will complete their face to face component (Dates TBC).
The 2017 Senior Club Coach will be held on the following (Registration Link will be released once I receive it from the NRL Education Department.
VENUE: Nth QLD Cowboys - Townsville
DATES: 17th to 19th November
** PLEASE DISREGARD THE DATES IMPLIMENTED WITHIN THE ONLINE COURSE REGISTRATION **
IGC: https://education-nrl.sportingpulse.com/Entry/?EIDMC=396480&MenuID=%2f17038%2f0
MGC: https://education-nrl.sportingpulse.com/Entry/?EIDMC=686439&MenuID=%2f17038%2f0
STEPS
1. Register to the IGC Course
2. Pay the invoice
3. A link along with a password /username will be sent to the registered email address to complete 3 online modules
4. Once completed attend the Face to Face component (Disregard the Course date as it's for online module purposes – 2018 Courses will added down the track)
5. Online issues please contact: support@nrlleaguenet.zendesk.com
Any Q's give me a shout.
Thanks,
Ben
National Rugby League Ltd

Ben Jeffries

Lead Game Development Officer- Northern QLD

w nrl.com

North QLD Cowboys 1300 Smiles Stadium
Golf Links Drive

Kirwan QLD 4817
Last Modified on 30/08/2017 17:12
Coaches Corner
For all your coaching course and coaches handbook information please click on our Contacts / Coaches menu tab.
Last Modified on 29/01/2017 22:43
LATEST NEWS
Last Modified on 11/01/2018 07:14