About Us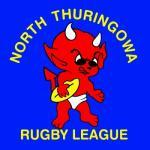 Started in 1988 at Bohlevale State School, Norths celebrated 25 Years in the Townsville District Junior Rugby League Competition in 2013. We currently have approx 300 players making up 19 teams.
In 2012, we started a touch football club under the same name which plays in the Townsville Competition after the League Season is finished.
Our grounds and clubhouse are situated at Peggy Banfield Park, Mt Low Parkway/Bushland Beach which is one of the fastest growing areas in Nth Qld. Norths are proud to be one of Townsville's continuously growing clubs and are committed to the development of all players of rugby league.
We pride ourselves on giving every child a fair chance in playing, learning and enjoying the game. So go on, BE A DEVIL!
________________________________________________________________
The Norths Story
In October 1987 a public meeting was held to form the Northern Suburbs Sports Association (NSSA) at Bohlevale State School.
Those present were Mr Charlie, Mrs Peggy Banfield, Peter & Sharon McCarthy (Peter chaired the meeting), Col & Carol Berzinski, Mr & Mrs Magill, Bob & Heather Ammon, Peter Brown & Bob Keen.
Office bearers elected at that meeting were:
PRESIDENT – Peter McCarthy
SECRETARY – Heather Ammon
TREASURER – Bob Ammon
ASS SECRETARY – Sharon McCarthy
FUNDRAISER – Col Berzinski

Brothers Junior Rugby League & Upper Ross Junior Rugby League both donated money while Centrals Junior Rugby League donated footballs to help enable the new club to compete in the first year.
The Bohle Barn Hotel was a great supporter for the club in the early years.
Peggy Banfield attended the first public meeting & was very active in fundraising. It was a common sight to see Peggy sitting in Woodlands Shopping Centre selling raffle tickets.
In the early years there was a netball & marching girls under the NSSA banner. The first U/7 Norths team to play under the NSSA banner was coached by Allan Rankmore. The players were:
Luke & Jared Green, CJ Stevens, Brad & Ben Bird, Shannon Rogers, Luke & Daniel Webb & Gareth Rogers.