Sign On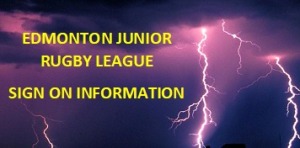 Club House Sign On
Saturday 3rd February 2018
Edmonton Junior Rugby League Club House
Cnr Petersen Road & Farmer Street, EDMONTON
2018 SEASON FEES
U6 $85
U7 - U17 $190
Fees include Registration, Insurance and Club Affiliation, First Aid Costs, Team Levies
Presentation Trophies & Team photos and Training Shirt (only on completion of Full Payment)
Club and Ground Maintenace (Lease/Electricity)
Please Note: No registrations will be taken without
full payment or part payment $100
All players need to register online

Please note: You will need an online members username and password to register , this will be sent to you if you have already registered an email address last season, if not your username and password can be obtained from the Club Registrar.
NEW PLAYERS to the club need to bring along their ORIGINAL Birth Certificate
Returning players must sign the QRL Player Re- Registration form (U13 - U17 ONLY)
Players transferring from other clubs will need to fill in a New Player Registration form and produce an ORIGINAL Birth Certificate.
U6's Introduction to Rugby League - A player MUST have attained the age of 5 before he/she can play
A player is NOT allowed to play in competition games until all Registation Documents have been completed and all fees are paid in full.

Training Shirts are only supplied once payment of account is complete in Full
All players are required to purchase club shorts and socks. These can be purchased from Intersport

58-80 Kenny Street Cairns, opposite the Bunnings Centre

. The club shorts are Navy colour with the "Q" Logo. Don't forget to use your 10%discount loyalty card which you will receive upon registration.
We Need Volunteers....
Volunteers are needed to keep the club moving forward and to be successful. We have many positions that need filling. Please contact the Secretary if you can help or come see us on Sign On Day. Any time you have available to help support us, your child's club, would be appreciated. Even if its only an hour of your time.
Training date commencement date Thursday 8th February
Training Days are Tuesdays and Thursdays 5.00pm - 6.00pm
(no training during the school holidays)
If you are looking at coaching again this year or becoming a coach please contact the club. Please fill out the required paper work and hand it in with your expression of interest. Click Here to take you to the paperwork required.
If you miss sign on, we will be taking registrations and payments at the canteen on training days.
For more information please contact the Secretary
email ejrlsec@hotmail.com