Club History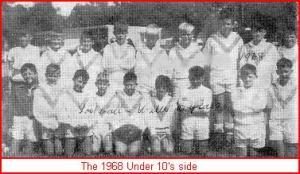 The Moss Vale Dragons Rugby League Football Club was originally formed in 1910 but never took part in competition until 1914 and where then known as the Moss Vale Blues due to the sky blue jerseys they wore. The club was made up of three entities, the minor league (7's-11's), junior league (12's-16's) and the Senior League with each having its own committee but operating as one incorporation.
The Junior Dragons have enjoyed a lot of success throughout the years winning plenty of premierships and Club Championships. All teams played for Grand Finals in the early days and every age group played the same game with the same rules, the Mini League (under 6,s,7's,8's and 9's) which we are so familiar with today was introduced in 1983 followed by Mod League (10's,11's and 12's) in 1985. The minor and junior leagues joined during the early 80's to form what was, The Moss Vale Junior Rugby League Football Club.
In 1991 the Junior League became its own incorporation to be known as the Moss Vale Junior Dragons Rugby League Club Inc. This new Incorporation was very successful in the nineties winning the Group 6 Club Championship in 93 and a couple of premierships.
The Moss Vale Junior Dragons has proven to be a good training ground for Rugby League talent over the years with players such as:
Chris Guider
Owen Saunders
Nathan Hindmarsh
Ian Hindmarsh
Scott Geddes
Darren Mapp
These past and present national rugby league (NRL), level players all played with our club as juniors and we are sure there will be plenty more in the coming years.
If you have any early history that you would like to share feel free to contact us.
Click on the download icon to and check out some newspaper articles from 1971.
Thanks to former Junior Dragons players Jim Bizjak and Terry Guider for the information, articles and photo's from the early 70's.
"GET FIRED UP WITH THE JUNIOR DRAGONS"