ABOUT US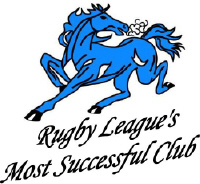 The Thoroughbreds are extremely proud of being the most successful Country Rugby League club in the history of the game, surmounting South Sydney's Grand Final total of 20 premierships in 1994. With a total of 29 1st Grade Premierships, the club won a Clayton's Cup Title in 1979 and an undefeated Premiership in 2003.
In 2018, four teams competed in the Grand Finals and all were successful - an amazing effort for the Club as a whole.
Our club is also proud to have produced past and present NRL players including: John Morris, Todd Lowrie, Dane Tilse, Luke & Adam Clydsdale and James Barker.
Darren Albert, Mick Tilse and David Adams, along with both Noel and Les Cleal have all pulled on Thoroughbreds' jumpers.
We also boast Rees Duncan who was a member of the 1952 Kangaroos and local legend Don "Bandy" Adams who was a member of the 1956 Kangaroos.
Premierships
1922,1930,1931,1932,1938,1940,1950,1951,1952
1954,1955,1958,1966,1969,1970,1972,1976,1979
1988,1994,1995,1996,1998,1999,2000,2003,2006,2016,
2018