Main page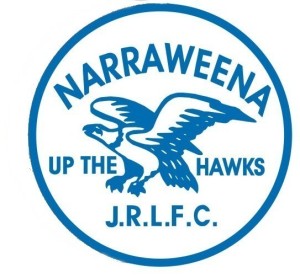 NARRAWEENA HAWKS
2018 Registration
3, 10 & 17 February
10 am to 2pm
Clubhouse
Beverley Job Oval
Or Register On-Line
1st - apply for your active kids voucher via Service NSW
You will need your email address & Medicare number
Click on the following link
https://www.service.nsw.gov.au/transaction/apply-active-kids-voucher
2nd -Then go to Play NRL and follow the instructions
Click on the following link
https://playnrl.com/register/player/
If you don't have access to computer on-line registration will be available at the clubhouse on all three Saturdays & the club will be more than happy to help you set up your account with Service NSW and Play NRL.
ANY QUERY PLEASE SEND EMAIL TO
narraweenarlfc@optusnet.com.au
or contact Frank Cridland 9982 1821
GO HAWKIES!!!!
Narraweena Hawks – Come & Try Day
Wednesday 14 February
4.00 pm to 5.30 pm
Beverley Job Oval
Come and meet some of our Sea Eagles Players who will be joining us in a fun filled afternoon where football clinics will be run by accredited coaches.
Light Refreshments will also be provided.
Look forward to seeing you there!!