Main page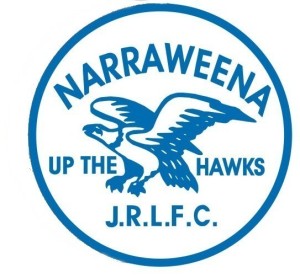 NARRAWEENA HAWKS
2018 PRESENTATION DAY
SUNDAY 23 SEPTEMBER AT BEVERLEY JOB OVAL
FROM 10 AM – 12 NOON
CONGRATUALATIONS TO ALL TEAMS WHO PLAYED IN GFs ON THE WEEKEND & ALL OTHER HAWKS TEAMS WHO PARTICPATED IN THE 2018 SEASON
AS THE SEASON COMES TO AN END IT'S ALSO AN IMPORTANT TIME TO THANK EVERYONE INVOLVED IN RUNNING NARRAWEENA JUNIOR RUGBY LEAGUE FOOTBALL CLUB. TO ALL THE COACHES, TRAINERS, MANAGERS, VOLUNTEERS & SUPPORTERS THANK YOU FOR ALL THE WORK YOU HAVE DONE THROUGH OUT THE 2018 SEASON & HELPING MAKE OUR CLUB SO SUCCESSFUL.
TO ALL THE PLAYERS WELL DONE ON A FANTASTIC SEASON & WE HOPE TOO SEE YOU ALL BACK FOR 2019!
ALL PLAYERS, PARENTS & CARERS ARE MOST WELCOME TO COME & CELEBRATE THE 2018 SEASON ON SUNDAY 23 SEPTEMBER
GO HAWKIES!!!!
Register On-Line
1st - apply for your active kids voucher via Service NSW
You will need your email address & Medicare number
Click on the following link
https://www.service.nsw.gov.au/transaction/apply-active-kids-voucher
2nd -Then go to Play NRL and follow the instructions
Click on the following link
https://playnrl.com/register/player/
ANY QUERY PLEASE SEND EMAIL TO
narraweenarlfc@optusnet.com.au
or contact Frank Cridland 9982 1821