#RESPECT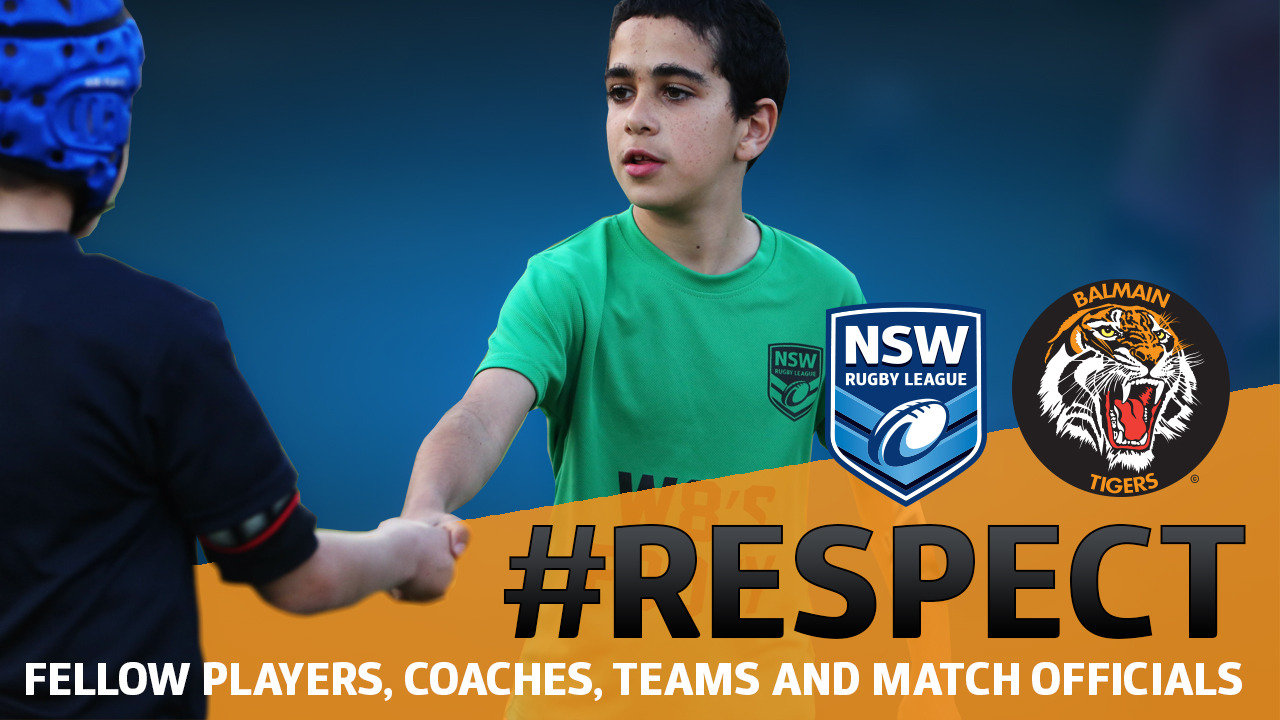 Last Modified on 28/04/2017 13:01
New Merchandise
Congratulations U11s
We Want You!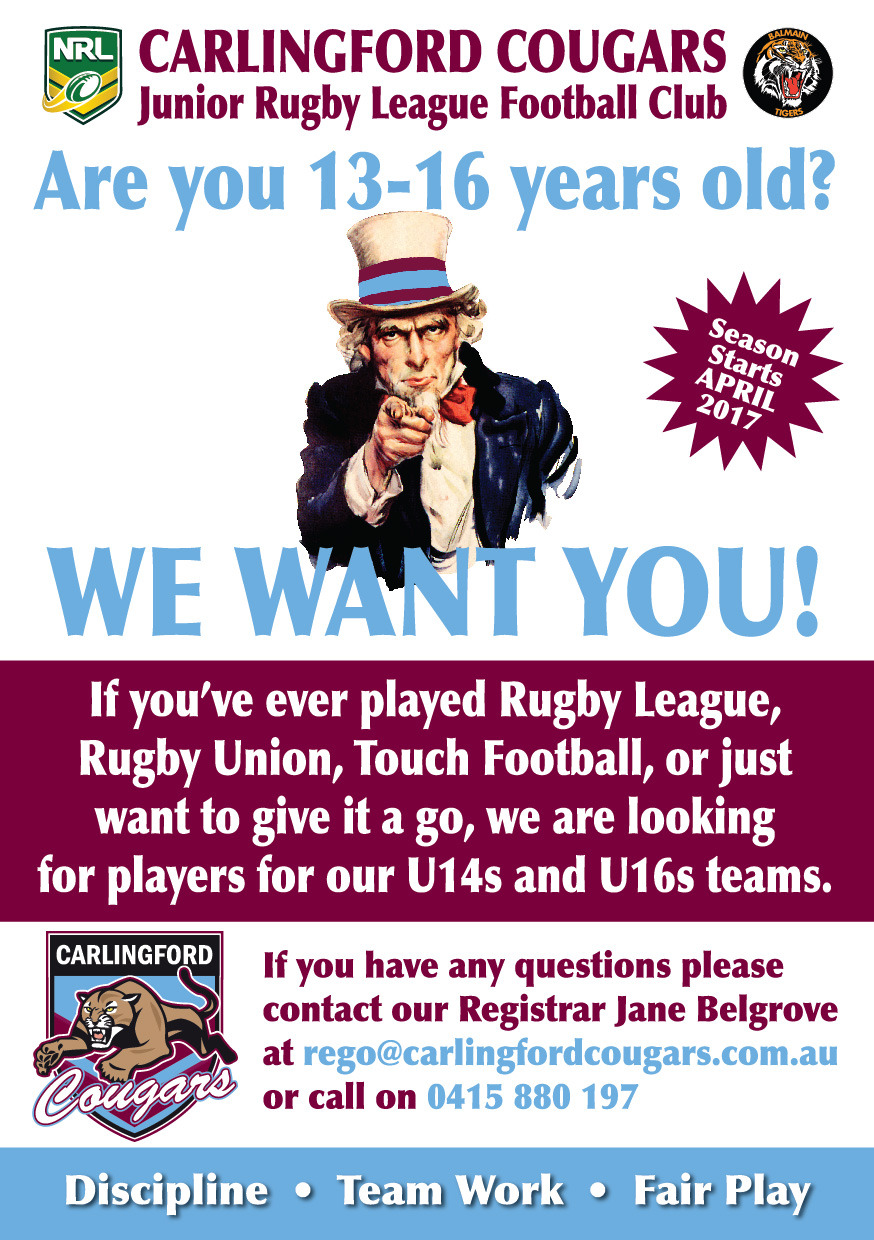 Last Modified on 21/03/2017 13:09
Wests Tigers Kids Coaching Clinic and BBQ
PLEASE NOTE: This event has been cancelled due to wet weather.
Wests Tigers Kids Coaching Clinic and BBQ
Wednesday 22nd March 2017 - Leichhardt Oval 4pm - 5.15pm
A clinic with the NRL First Grade Squad in attendance.
This is a great opportunity for your brand new players and returning players to run with the NRL Squad in a Clinic
We would like to see as many kids as possible attending to participate and join in the fun.
A BBQ will follow at 5.30pm for the kids participating in the Clinic.
RSVP to Melissa on 0407 294 373.
Last Modified on 22/03/2017 16:22
Players Wanted!
If you are interested in playing Junior Rugby League in the Balmain District the Carlingford Cougars still have spots available in the Under 9, 10, 12, 13, 14, 16 & 17.
If you have any questions please call – Ph 0415 880 197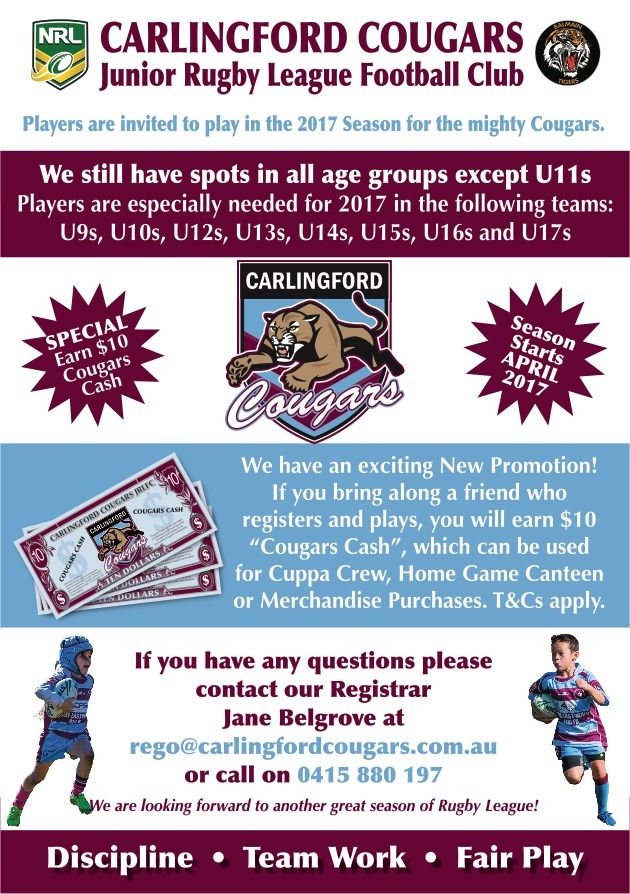 Last Modified on 17/03/2017 11:46
NRL Coach Development & Education
New Merchandise
Cougar's Bogan Bingo
April 29
6:30pm–9:30pm
Dress up in your best bogan gear for a night full of laughs, bingo, air guitar competition, raffles and lots lots more!
Tickets on sale for $20 Bookings essential . Includes Bingo book, dabber and of course a great fun night out. Strictly tables of 10 only.
Carlingford Bowling Club Cnr Pennant Hills & Evans Rds Carlingford
Sorry no tin lids (kids)
Please contact Kathy 0416140767.
NB NO grub or grog can be taken into the Club . Strict dress regulations apply (no singlets for men unless under a flanny)
Last Modified on 08/03/2017 16:45
Video - Carlingford Cougars Coaching Clinic
A short video and photos from the Cougars Coaching Clinic held on January 22, 2017.
Last Modified on 24/01/2017 11:38
2017 Referees Accreditation Course
Last Modified on 18/01/2017 14:24
New Carlingford Cougars Logo
The Carlingford Cougars are proud to present our new logo for the 2017 season and beyond!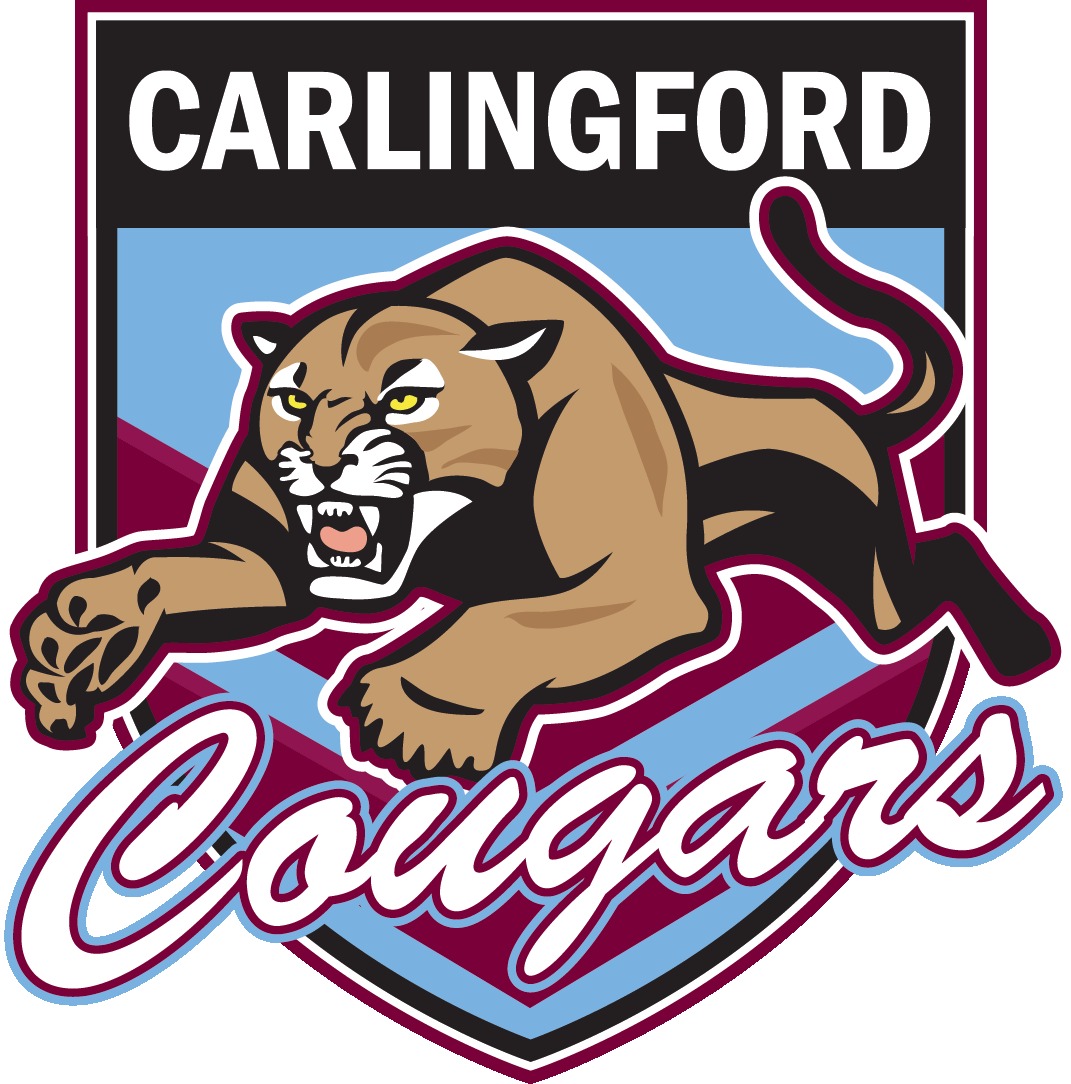 You can download the new logo as a background wallpaper for your phone or tablet. Here are a selection of sizes below:
iPhone 6 Plus/7 Plus
iPhone 6 and 7
iPhone 5 and SE
iPad Retina
iPad
Last Modified on 16/12/2016 13:32
2017 Player Registrations Now Open
PLAYERS REGISTRATIONS FOR CARLINGFORD COUGARS 2017 ARE NOW OPEN
CLICK ON THE PLAYERS ONLY REGISTRATION LINK
Or you can go to www.playnrl.com/register
If you paid Early Bird Registration you still have to register online, just stop when it asks you to pay.
If you have any questions you can call our Registrar Jane Belgrove on 0415 880 197
We are looking forward to seeing you all for another great season of Rugby League!
Last Modified on 07/12/2016 13:59
Our Facebook Page
Click here to visit our Facebook Homepage.
Follow us on twitter@CougarsJRLFC
Last Modified on 02/11/2015 07:52
Wet Weather Numbers and Web Sites