League Safe Course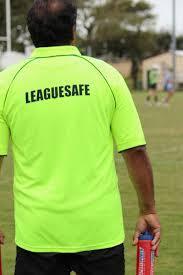 To be able to play each week EACH TEAM must have at least one registered League Safe Person present at the game.
The League Safe Person runs the water to the players, passes on the messages from the coach and checks on the players during the game.
They do not provide the first aid to the players.
To become a League Safe Person for your childs team it is pretty easy, and doesnt take long:
Complete your Working with Children Check
Register with our club as a volunteer.
Go to playnrl.com and click on the "Trainer" tab
Click on LeagueSafe tab to get started.
Once you have completed the course, print out the certificates and bring them to training one afternoon, or email them to magpies.secretary@gmail.com so they can be added to your file.
This course does cost $20. Please give us your payment receipt and we will reimburse you for the cost of the course.
The course take approx 20 minutes to complete.