North Queensland Football Ltd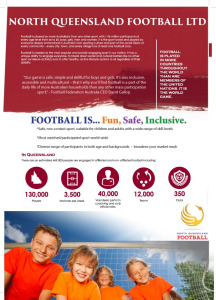 North Queensland Football Ltd is an amalgamation of Townsville Football Inc and NQ Football Inc and occurred at the beginning of the 2015 season.
Townsville Football Inc. was a not-for-profit organisation and was been established in Townsville in 1966.
During 2005, Townsville Junior Soccer Association, as we were formerly known, amalgamated with the former North Queensland (Senior) Soccer Federation to form Townsville Football Inc.
The Townsville, North Queensland Zone consists of 14 Clubs which are a combination of Junior and Senior players.
Currently, the combined Junior and Senior membership for North Queensland stands at more than 4,500 players who come from Townsville, Ingham, Ayr and Charters Towers.
Our grounds are also used by Primary and Secondary schools for weekly interschool fixtures on Thursday and Friday afternoons, as well as for School Representative Competitions and trainings.
The North Queensland Referees Association is also based at Brolga Park and utilizes our grounds for training.
The army also regularly use Brolga Park for training and fixtures.