GET YOUR RED ON!
The Kawungan Sandy Straits Jets were formed in 2013 as a result of a merger between Kawungan FC and Sandy Straits FC. The Jets have a strong supporter base with representation in:
Miniroos (U6-U11)
Competitive Juniors (U12-U16)
Youth
Men's
Women's
The football Season traditionally starts in March each year with competitions being played on the following days.
Miniroos: SATURDAYS
Competitive Juniors: SATURDAYS
Youth: TUESDAY NIGHTS
Men's: SATURDAY
Women's: FRIDAY NIGHT
Jets UPDATE Training Schedule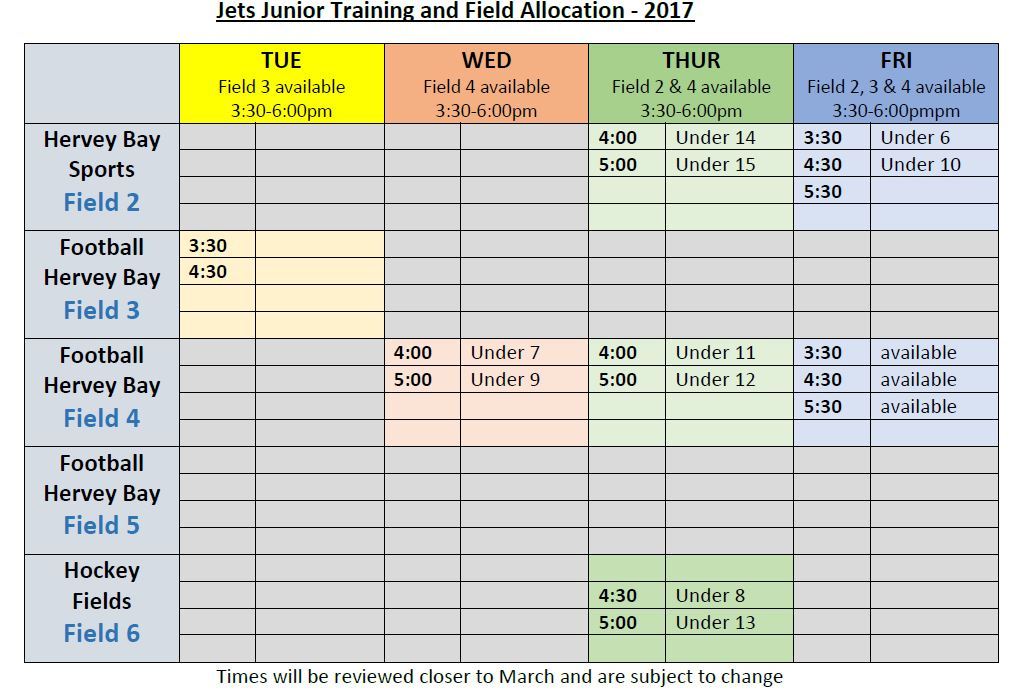 DELAY TO MINIROOS SEASON START
The start of the Miniroos season has now been delayed to 18 March 2017. This decision is based on two important considerations.
1. High temperatures: With the recent hot weather and predictions of severe weather conditions, it was agreed that delaying the start of the season would ensure we were starting at a cooler time.
2. State of the fields: Due to lack of rain, the conditions of the fields have deteriorated. The extra time will provide an opportunity for them to rejuvenate. PLEASE NOTE: Hervey Bay Football Fields are now closed for Junior and Miniroos training until further notice.
MANAGING HEAT AND CHILDREN
With higher temperatures now occurring more frequently, consideration must be given to the effects of heat and humidity on elite and amateur athletes, and particularly children involved in football activities.
New guidelines have been implemented by Football Queensland. Players, parents and coaches should take the time to read the Beat the Heat fact sheet (http://sma.org.au/wp-content/uploads/2011/03/beat-the-heat-2011.pdf).

REGISTRATIONS FOR 2017
Registrations for 2017 are now open online. Most age groups are now full with limitted space in under 6s and under 7s.
Over the past few years, Football Queensland has been moving to an online registration system. This year, clubs will not be able to manually register players. The good news is that the registration system is very simple and easy to use.
The below link has been prepared to help with the online registration system. If you have any concerns, please conatct the FFA support centre on (02) 8020 4199 or email kssjets@hotmail.com.
http://websites.sportstg.com/get_file.cgi?id=36085676
JUNIOR LEADERS
The KSS Jets Junior Leaders have been selected for the 2017 year and are looking forward to what will be a fantastic year.

CONNECT WITH FACEBOOK
Most of our information is posted directly to Facebook. CLICK HERE to join us on Facebook for up to date information.