About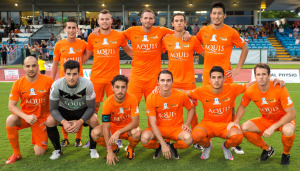 Welcome to FNQ FC Heat, competing in Playstation 4 National Premier Leagues Queensland.
Info on our 2018 Program coming soon....
FNQ FC Heat is a football club representing the Far North Queensland region of Australia in the inaugural National Premier League (Queensland Conference). The majority of our playing members are between the ages of 11 to 20 years that are within the FNQ Academy with a squad of 20 players registered to play in the National Premier League. The focus is on the personal development of our players, with a community focus culture and to be at the frontline of Australian football enabling competition at the highest level.

What We Believe
We believe that competitive sports provide discipline, structure, and great opportunities to instil respect and leadership qualities in our youth.

Who can be involved?
We are based in Cairns but anyone can gain selection to our club and play on our teams. We are open to youth both Boys and Girls between the ages of 11-20 as well as senior Men.
Age Programs
Boys and Girls 11-20years. Senior NPL Squad. Competition allows players to play with their peers, which promotes safety and solid development in sports. Our philosophy is supported by Football Australia.
Our Parents
Our commitment to our parents is to maintain a quality program. We do this through constant communication with parents/guardians and our community members, as well as elected officials. We believe engaging parents promotes their involvement and increases the success of our participants.