2017 Registration and Assessment Info
CLICK HERE TO REGISTER ONLINE

Please note that registering with Chelsea FC is a 3 step process

Registration online / FULL payment of fees

Attending assessment dates where possible to be placed into a team best suited to your skill set and needs

Registering with FFV for insurance purposes and to get you out on the pitch (this step comes later but is mandatory - this does not involve additional payment as the club pays insurance on your behalf however it must be completed before you can hit the pitch in round 1.

In 2017 we are again running the registration process completely online. We know you will have a few questions - especially if you are new to the club. Hopefully we can cover off most of them here. Read on...


2017 Registration FAQs
Do I have to register online?
Yes - we have implemented a 'paperless office' for 2017 - no more mis-keying email addresses or phone numbers when trying to read handwritten registration forms. The online registration process allows all players to keep their information up to date. It also creates a membership number for the player which will entitle them to discounts on further training programs throughout the year.
There will still likely be the traditional early February registration dates but we cannot guarantee all age groups will still have positions available by then. It is probable they will but it is also possible they won't if that make sense.
Why are player numbers capped this year?
Actually player numbers have been capped every year based on the number of coaches we have. This year we are actually accepting more players than ever before with our wonderful new home grounds at Edithvale Common so don't feel like we are squeezing players out. If certain age groups show a high increase in registrations we will endeavour to increase teams accordingly. We HAVE capped team numbers this year to ensure we don't over-commit numbers per team based on current coaching figures - we have had issues with this in the past and have improved the process accordingly.
What team am I registering for?
During the registration process you will see what age group you need to register with based on year of birth (eg if you are born in the year 2004 you will have to register with the Under 13s). All teams Under 9 and below are mixed teams and while the Under 12s, 14s, 16s and 18s have female only teams, girls are more than welcome to register in the predominantly boys teams in these age groups if they choose.
Fees? Discounts? Tell me more...

Click on the register now link and all that information is covered. You can run through the process and test it all out. The payment process is right at the end so you don't need to commit to payment until the very last step.
Excellent. That all makes sense. I am ready to register now. Click HERE.
But wait, I have another question! No problem at all - email us at chelseafootballclubaustralia@gmail.com and we can help you out.


---

2017 Assessment Information

Assessment dates can now be found below. Please note that attending assessments does not guarantee your place in a team - payment of registration fees does this.

Whilst Assessment is not mandatory, the club places a very high priority on correct team formation as per FFV guidelines. These assessments are just one of the tools the club uses to formulate season teams, and as such, all players are encouraged to attend - especially new players to the club.

Each player must participate in their own age group session.

All players are to be appropriately dressed in proper shorts, boots, drink bottle, shin pads. Wearing items such as Jeans, school shoes, etc. may prevent your child from being able to be assessed. Balls will be supplied as will numbered bibs.

Please arrive 10 minutes before your allocated time, as each player must check in at the receiving desk and obtain a numbered bib.

A short warm up will be followed by small sided games in which assessments will be made by qualified coaching personnel.

Each age group has at least three sessions. Please make EVERY effort to attend at least two of these sessions.

Girls are encouraged to trial alongside boys in their own age group, but also have their own single gender trials. There fore girls can attend up to 5 trials if they so desire.

Players will be assigned to teams, taking a number of factors into account including friendship groups.

In Sub Juniors, Team formation can be changed right up to the third game of the season as per FFV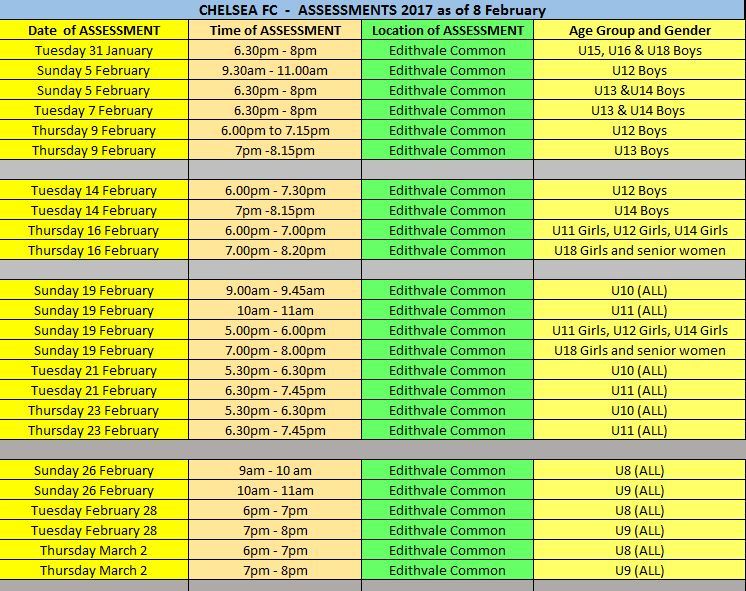 Any further questions please email us at chelseafootballclubaustralia@gmail.com and we can help you out.