MiniRoos Kick Off Program

MiniRoos Kick Off program is mainly for children and first time players aged from 4-9 years old to be held at Banyul Warri Reserve. Season Start Date will be Saturday 22nd April. The club has moved from Friday nights due to lack of volunteers. The program will now run for 16 weeks this year instead of 12 weeks. http://www.miniroos.com.au/
We already have three confirmed coaches for the 16 week program including a coach specifically for the Junior Girls Age Groups (Micka).
The coaches recently completed their grassroots coaching certificate to assist them run the program and will have coaching drills planned out for each session.
The focus is on enjoyment, we will have each group practice basic skills with fun drills each week and end with a game for FUN!


It is important that players turn up at the correct time based on Year of Birth, currently we have two kids playing earlier or later due to other committments, however if everyone turns up at 8.45am due to convenience we run the risk of 9 year olds mixed in with 4 year olds and this is a safety issue and impacts on the kids enjoyment.
The sessions will go for 60 minutes.

Brand new bibs, balls, cones and goals have been purchased for the program.
SHIN GUARDS
Children are asked to wear shin guards for their protection caused by accidental kicks to shins by over excited players!
They can be purchased for less then $8 at Rebel Sport here
Can also be purchased for $5 at Amart in Waurn Ponds here
BOOTS
Soccer Boots are encouraged but not compulsory.
PACKS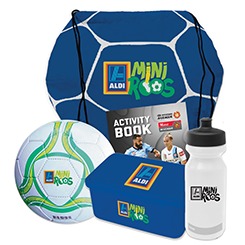 Those registered already (13th April) we have requested for the ALDI MiniRoos Participant Packs to be sent out so the Club can distribute packs to children/parents on the 22nd of April.
We will have a list of registered and paid children to hand out the packs to (all participants are required to sign in to check names off our list)
Anyone registering after 13th of April will have the packs requested by the Club but may not arrive until the second week, every child will get a pack when they register so please do not worry if you do not get yours in week one due to late registration.
What each child gets can be found here


Below is the dates for the season - we have no program on Queens Birthday weekend in June and then again over June/July school holidays. The variation of Grass or Artificial Pitch at Banyul Warri Reserve is due to other games being played on that day, it does not impact our time or ground space by alternating where required so the program will not be impacted in any way
| | | |
| --- | --- | --- |
| SESSION | DATE | GROUND |
| 1 | 22nd April | Artificial |
| 2 | 29th April | Grass |
| 3 | 6th May | Artificial |
| 4 | 13th May | Grass |
| 5 | 20th May | Artificial |
| 6 | 27th May | Artificial |
| 7 | 3rd June | Artificial |
| 8 | 17th June | Grass |
| 9 | 24th June | Artificial |
| 10 | 15th July | Artificial |
| 11 | 22nd July | Grass |
| 12 | 29th July | Artificial |
| 13 | 5th August | Artificial |
| 14 | 12th August | Grass |
| 15 | 19th August | Artificial |
| 16 | 26th August | Artificial |

Hope this information helps and if you have any questions then please do not hesitate to contact us at surfcoastminiroos@gmail.com
Thanks
Micka
Aldi MiniRoos Program Coordinator