US Nationals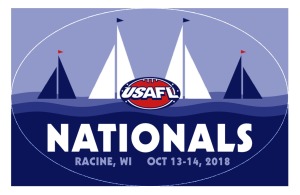 What?
The biggest Footy tournament outside of Australia. There are 4 men's divisions and 1-2 women's divisions. Teams from all over the USA come to play in this exciting event. The Kooka's won the whole tournament in 2008 and won Division 2 in 2015. In order to qualify for Division 1 this year we will need to send a full side to Wisconsin (16 players are the very minimum). Our goal is not only to qualify for Division 1 but to WIN IT in 2018!
When?
Saturday and Sunday, October 13th and 14th, 2018. Travel takes a full day so plan to book off the Friday and Monday (and probably Tuesday so you can stay and party with the team for the "Mad Monday" tradition).
Where?
Racine, Wisconsin. This is the first time the tournament has been in Wisconsin. The field location is the Soccer Complex of Racine (SCORe) & Franksville Park is located at 9509 Dunkelow Road, Franksville, WI 53126. Located a straight 5 miles East of Interstate 94.
Cost
You are responsible for your flight and spending money in Wisconsin. Depending on how the team does for fundraising, our goal is to have the club pay for hotels (Fri-Sun) and for ground transportation to and from games. So please direct any fundraising ideas to calgary.kookaburras@gmail.com
Registration
Anyone who wants to go to US Nationals needs to register with USAF here. This NEEDS to be done at the BEGINNING of the season in order to collect points. Any games played before your register will NOT count in your point collection. Please note, registering for the Calgary club is NOT the same as registering for US Nationals.
Points
All players need to earn 6 points in order to be eligible to play at Nationals.
Metro games (Hawks vs. Fishers) = 1 point/game (you can earn a max. of 2 metro game points).

Alberta League games vs. Edmonton = 2 points/game

Tournaments = 2 points/tournament
We will monitor your points but it is your responsibility to ensure that you play enough games to earn 6 points.
More details and updates will come throughout the season. Caity Kidd is your go-to person for this incredible tournament, she has attended every single US Nationals tournaments and we have her to thank for getting the women's Mad Monday tradition started (as well as always having an AMAZING costume).