About the Club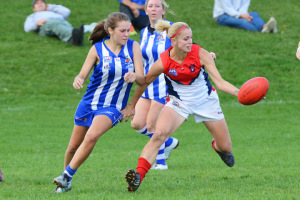 Etobicoke Kangaroos
Australian Football Club,
Toronto, Canada.
The Etobicoke Kangaroos are an Australian Football Club competing within the AFL Ontario in Toronto, Canada.
We are a proud member of our local community, west of the downtown core and before Mississaugua, and provide a great place for people of all age groups to meet and participate in the fantastic and unique sport of Australian Football. We are a proud club made up of varing cultural and sporting backgrounds of all ages and abilities.
Our football club comprises of a Men's Division 1 Senior team, Women's Division 1 Senior team and a Men's Division 2 Senior team. We value the strong traditions and culture inherent to Australian Football within the socio-cultural Canadian context. We are a Club that has a strong social cohesion at club level, in the league and stretching into our local community. We aim to provide to all of our players, parents and supporters the best possible experience of Australian Rules Football in Toronto, Canada and North America.
We proudly contribute to both the Canadian Men's Northwind team and the Canadian Women's Northern Lights' team and are proudly represented by players who have gone on to play Australian Rules Football at an International Level for Canada at the International Cup in Australia.
We currently train indoors at Lakeshore Colliegate College, and commence training outdoors in May at Humber College, Lakeshore Campus at Kipling and Lakeshore. Our season typically runs from late May to late September.