Game Day Info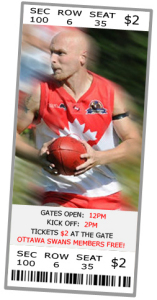 The Swans play all home games at the Manotick Polo Club on Bankfield Road in Ottawa.
Game Day Information
When:
Click to see the Ottawa Swans Schedule
Concessions:
Throughout the season on specific fudn raising games/dates, food, drink (inc. Alcohol) and merchandise will are available for purchase
We reqest all patrons to respectful of the Polo Ground and discard all waste in the supplied bins
After the Game:
Why not head back to the Fox and Feather on Elgin Street after the game to join the players, coaches and support staff for a meal and few drinks while you watch the day's awards.
Where:
Tickets:
Free entry in 2016.
Ottawa Swans Members FREE
Note: Kids participating in junior football are entitled to free entry!