Welcome
AN ALLIANCE BETWEEN SOUTH BELGRAVE FOOTBALL & NETBALL CLUB AND LYSTERFIELD JUNIOR FOOTBALL CLUB HAS BEEN CREATED
To All Members, Players & Supporters,
In an effort to ensure the future growth of football in our local area and to also assist with the continued development of our local footballers, the South Belgrave Football & Netball Club commenced discussions last year with the Lysterfield Junior Football Club with the view to creating a pathway for the LJFC players.
As of last season our junior pathway from the South Belgrave Junior Football Club didn't extend beyond the Under 12's, and the medium-term future of fielding our Under 19's is severely under threat.
Currently, LJFC is the largest junior club within the Eastern Football League, fielding 23 junior teams and growing each season. Many former SBJFC players who were unable to continue playing at SBJFC due to lack of numbers are currently playing at LJFC and geographically - Lysterfield is closely located to South Belgrave.
LJFC under 17 age group is the highest level that the LJFC current competes and in season 2019, one of the teams will be competing in Premier division.
After many months of meetings, discussions, undertaking due diligence and considering a variety of options, we are very pleased and excited to announce that the LJFC has agreed to trial an alliance with the SBFNC in season 2019.
As part of the alliance for season 2019, our Under 19's will be known as South Belgrave/Lysterfield (SBL) playing under the SBFNC name.
The colors & jumpers will remain the current SBFNC strip with the intention of targeting two Under 19 SBL sides – one known as Black and the other Red. This will be subject to numbers and we expect to confirm this by mid-March 2019.
This is an extremely exciting time for the future of both clubs and I know everyone involved at SBFNC will make a concerted effort in welcoming all LJFC officials, players & families, confirming that they have made the right choice in deciding that SBFNC is the destination club for LJFC players.
We will continue to keep all members and supporters posted on developments as they occur, and if anyone has any feedback or concerns, please don't hesitate to contact me to discuss on 0448 102 009 or email at dblomeley@gmail.com
Yours in Football
Danny Blomeley
President
South Belgrave Football & Netball Club
WOMEN'S SENIOR FOOTBALL IS COMING TO SOUTH BELGRAVE IN SEASON 2019
The South Belgrave Football & Netball Club is proud to announce the launch of our inaugural Women's Senior Football team in Season 2019.
We welcome any women who have an interest in playing Women's football in our great supportive club environment.
Development of all players will be a priority, and everyone given plenty of resources and opportunities to play the best football they can!
With the ultimate Premiership success already achieved at several junior levels within our junior affiliated clubs, now is the perfect time to get involved in Senior Women's Football, and be part of a new wave of footballers at South Belgrave!
If you would like further information or to express interest please contact coach Simon Mehegan on phone 0428 866 681 to discus further, or send a direct message to this account with your details and we will contact you.
Check out the tabs accross the top for all your important club information & news

More information on the SBFNC Team App can be found on the news tab of the menu bar or click here to be taken there directly.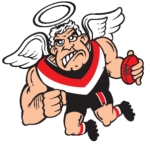 United We Play!