HOME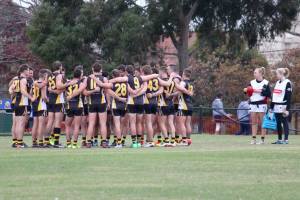 Practice Matches
This Saturday 23 March
v. Greensborough
at War Memorial Park, Henry Street, Greensborough
Seniors 2pm, Reserves 12 noon
All welcome to come and have a look at the 2019 Tigers!
Next week 30 March - no games
Saturday 6 April, Round 1 v. South Croydon (away)
Good Friday 19 April, Round 2, v. Blackburn (home)
---
Yellow & Black Luncheon 2019
Season Launch – Calcutta
Friday 12th April
at
BALWYN PARK
SOCIAL CLUB
WHITEHORSE ROAD, BALWYN
from 12.30pm
Our first official function in our brand new venue!
$100 per person – all inclusive -bookings essential
(tables of 10 available)
SPECIAL GUEST SPEAKER
BALWYN FC SENIOR COACH - RODNEY EADE
Along with Other Special Guests
RSVP BY TUESDAY 9 APRIL
To – Jo Tregear, Football Manager, 0412 172 183 or tregear1@bigpond.com
---
Pick One Competition.
Entry to the Pick One Competition closes at 6.00pm Thursday night before the start of AFL Round 2.
Entry $25.00
Contact Don Priestly
---
FOLLOW US:
FACEBOOK: Balwyn Tigers Football Club
Don't just barrack for your club - Support Us! Whether you be a Sponsor, member, volunteer, parent, partner, family ... it takes many and varied efforts to keep this great club going and to be able to enjoy the rewards of success ... how are you going to be involved this season?
Sponsorship - Link your company with the professional and successful Balwyn Tigers brand. Let us design a package to suit your company (and your budget). Contact President Richard Wilson - 0407 949 178
Player Sponsorship - do you have a favourite player? Someone that you love to watch play, or would just like to support? Packages are available for $650 or $1,100 (additional benefits). This is your opportunity to take a Tiger under your wing and get significant branding and exposure for your business, or personally. Contact Football Manager, Jo Tregear, 0412 172 183 to secure your player.
Volunteers - we're always happy to hear from anyone who wants to get involved, or who has some special skill that you think might be able to assist the club.
---