HOME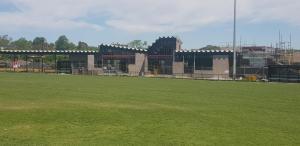 All players welcome at Balwyn FC!
Please come along and get involved!
Pre-Season Training resumes 21 January 2019 with sessions on Monday and Wednesday nights from 6pm at Balwyn Park and also on Saturday mornings (varying locations and formats).
Players are getting right into it as our legendary senior coach Rodney Eade puts his expert touch on our list!
Numbers have been fantastic with plenty of senior and also U/19 players on the track.
We are all looking forward to a very exciting year ahead, with our New Social Club on track for completion for our season start.
Any queries to Football Manager, Jo Tregear, 0412 172 183 or balwyn@efl.org.au
2019 UNDER 19s
We are very excited to announce that our U19 Coach in 2019 will be Kris Pendlebury.
"I'm very excited to coach the next generation of Balwyn players, and at the same time, start my own coaching journey."
"Since I joined in 2014, the Balwyn FC has been fantastic for me. I feel I've been given opportunities to improve both as a player and a person, enjoyed success and made lifelong friends, so I'm really looking forward to giving back to the U/19s and help them develop as players and as young men."
"Krita" will also have the support of a new Specialist U19 Coach, former Hawthorn, Western Bulldogs and Richmond champion, Paul Hudson (245 AFL games), who will work closely with the group during 2019.
Any players interested in joining Balwyn FC and experiencing superior coaching and facilities, along with our full U19 development program (including our senior coach Rodney Eade), please contact Kris on 0401 875 831 OR just come along to training to meet us all and have a run, Balwyn Park on Monday and Wednesday nights from 6pm
*Note - Kris will also be continuing as a senior player
KRIS PENDLEBURY - STATISTICS AND HONOURS
VFL player 2005-2013
Collingwood VFL captain 2010-2012
VFL Collingwood Best & Fairest 2012
VFL team of the year 2012
Two time VFL state representative
Balwyn Premiership player 2015 & 2016
Balwyn Team of the Century
Balwyn Best & Fairest 2016
Balwyn best finals player 2015
Balwyn peer voted Paul Johnson Medallist 2014 & 2016
EFL Team of the Year 2014, 15, 16, 17, 18
FACEBOOK: Balwyn Tigers Football Club
Don't just barrack for your club - Support Us! Whether you be a Sponsor, member, volunteer, parent, partner, family ... it takes many and varied efforts to keep this great club going and to be able to enjoy the rewards of success ... how are you going to be involved this season?
Sponsorship - Link your company with the professional and successful Balwyn Tigers brand. Let us design a package to suit your company (and your budget). Contact President Richard Wilson - 0407 949 178
Player Sponsorship - do you have a favourite player? Someone that you love to watch play, or would just like to support? Packages are available for $650 or $1,100 (additional benefits). This is your opportunity to take a Tiger under your wing and get significant branding and exposure for your business, or personally. Contact Football Manager, Jo Tregear, 0412 172 183 to secure your player.
Volunteers - we're always happy to hear from anyone who wants to get involved, or who has some special skill that you think might be able to assist the club.
---