HOME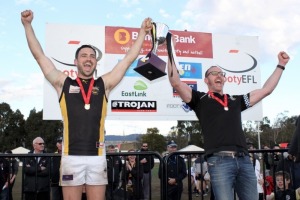 GRAND FINAL
---
The Balwyn Football Club has great pleasure in announcing Marty Pask as the Senior Coach for season 2017.
Following a lengthy process of interviews by the coaching sub committee, there was unanimous support for Marty and we are excited to have him join our club for the upcoming season.
Marty has played at the highest level with Brisbane Lions & then joined the Western Bulldogs, playing with their affiliate VFL club Werribee Tigers. His career also had him playing stints at University Blacks and Keilor FC.
He currently operates a sports management business, including AFL player management and media.
Marty has coached at the B Grade Amateur Club AJAX for the past three seasons.
'I'm excited by the challenge of stepping up to Eastern Football League Division 1 and to further myself in my coaching career. I have a real passion to see players improve and my challenge is to work with the current group, give the seconds players every opportunity to play senior football and continue to introduce new players into the club" Pask said.
All of us at Balwyn wish him and the team continued success in season 2017.
---
A fabulous night was had by all of the 130 strong crowd at the Balwyn FC Social Club on Saturday night for our B & F Presentation Night, winding up our 2016 season, and saluting our retiring champions Rod Crowe, John Milhuisen and Ben Wise.
It also bought the curtain down on the five year coaching tenure of Daniel Donati at Balwyn FC, who we farewell with every good wish for the future with his family and business endeavours.
For the record, with Daniel Donati at the helm - here's some statistics ...
We won 4 Premierships in 5 years (2012, 2013, 2015, 2016)
We played in 5 straight Grand Finals - twice back to back champions
We played in 17 finals over that period
14 times we played in a 'win or the season is over' final.
We won 13/14 of them
We were beaten twice in a row only once in five seasons
What a time to be with Balwyn FC!
But as always with life, the future beckons ... and we will be doing all we can to ensure that these kind of results continue.
Stick with us.
Go Tiges!
---
Congratulations to all our award winners in 2016!
Here is the full list below
For all the photos of the night click on the "Photo Shop" tab at top of page
SENIORS
BEST & FAIREST – KRIS PENDLEBURY
RUNNER UP – SHAUN CROSS
THIRD PLACE – JEFF GOBBELS
MOST CONSISTENT – JARRAD WRIGHT
BEST TEAM MAN – JOHN MEESEN
MOST IMPROVED – JAYME GOTTLIEBSEN
RISING CUB AWARD – SHAUN MACDONALD
SHAUN BERGIN BEST FINALS PLAYER
Tied – RENNIE GILCHRIST & JASON KENNEDY
RESERVES
BEST & FAIREST
Tied – MATT NORTH & DANNY BAGLAVA
RUNNER UP – JACOB PYLKA
MOST CONSISTENT – MATT DALBOSCO
BEST TEAM MAN – KEN THOMAS
CLUB AWARDS
MEMBERS MOST VALUABLE PLAYER – KRIS PENDLEBURY
BEST CLUBMAN – ADAM LENARCIC
MILESTONES
100 GAMES – JEFF GOBBELS
100 GAMES – CRISTIAN SANFILIPPO
100 GAMES – MARC O'REGAN
100 GAMES - COACH DANIEL DONATI
100 CLUB GAMES(Snr & Res) - ANGE SOLDATOS
---
WE ARE THE PREMIERS!!!
Balwyn defeated Vermont
10. 10. 70 to 7. 16. 58
Blue Ribbon Medallist Best on Ground - Nathan Gordon (5 goals)
---
RECRUITING 2017
Balwyn FC is always keen to welcome new players to our club.
We have a strong club, with an emphasis on success, but with a firm belief that football revolves around mateship and enjoyment.
A new Senior coach will be selected and announced soon, as Daniel Donati finishes his very successful 5 year tenure to spend more time on his business and with his family.
Reserves Coach Adam Lenarcic will continue, after successfully coaching the Twos to a premiership in his first year 2015 and working hard with a very young group in 2016, who will all benefit from another year of experience.
A new U19 Coach will also be selected and announced shortly.
If you would like to enquire or discuss joining us at Balwyn, please contact Recruiting Manager, Justin Cosgrove on 0419 105 687 or justin.d.cosgrove@team.telstra.com
---
The Tigers centenary story will be told in a new book, 'Tiger Time 100' by Kevin Fox, to be published in September. It documents the people, events, triumphs and stories of Balwyn's 100 years on and off the field.
To pre-order email foxwords@hotmail.com or call 0408 304363.
---
FOLLOW US:
FACEBOOK: Balwyn Tigers Football Club
Don't just barrack for your club - Support Us! Whether you be a Sponsor, member, volunteer, parent, partner, family ... it takes many and varied efforts to keep this great club going and to be able to enjoy the rewards of success ... how are you going to be involved this season?
Sponsorship - Link your company with the professional and successful Balwyn Tigers brand. Let us design a package to suit your company (and your budget). Contact President Richard Wilson - 0407 949 178
Player Sponsorship - do you have a favourite player? Someone that you love to watch play, or would just like to support? Packages are available for $6500 or $1,100 (additional benefits). This is your opportunity to take a Tiger under your wing and get significant branding and exposure for your business, or personally. Contact Football Manager, Jo Tregear, 0412 172 183 to secure your player.
Volunteers - we're always happy to hear from anyone who wants to get involved, or who has some special skill that you think might be able to assist the club.
---
BALWYN JUNIOR FOOTBALL CLUB
Balwyn JFC - U15 & U17 (amalgamated with Boroondara Hawks JFC)
Contact - Glenn Ryan - 0414 765 118 / secretary@boroondarahawks.com.au
Balwyn Juniors U9 - U14 - Kate Tassiopoulos 0412 514 531 / ktassiopoulos@hotmail.com