HOME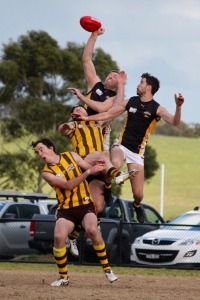 Finals! Exciting! Back at Bayswater Oval.
A venue that has become familiar to us over the last few years and a place where we have made some very special memories!
The home and away is done, we've finished second, grabbed the double chance and, despite the disappointing result last Saturday, we are in a great position to mount our finals campaign. Two wins and we'll be in the Grand Final again!
Hope to see a good contingent of Tiger supporters along with us!
Saturday 27 August, Balwyn v. Rowville, Baywater Oval, Bayswater Road @ 2.10pm
Go Tiges!
Note: No dogs or alcohol allowed into Bayswater Oval.

---
Applications are invited for the following positions for the 2017 season:
The Balwyn Football Club is seeking applications from interested candidates with the desire and ability to work with and further develop a talented group of senior players to achieve their full potential and continue on from achievements and success of recent seasons.
We also seek an U19 coach with a passion for working with, teaching and developing young men.
We are a strong club, with an emphasis on success, but with a firm belief that football revolves around mateship, inclusion and enjoyment.
Enquiries and Applications in writing via email to
Paul Johnson, Football Director
Applications close 30 September
---
RECRUITING 2017
Balwyn FC is always keen to welcome new players to our club.
We have a strong club, with an emphasis on success, but with a firm belief that football revolves around mateship and enjoyment.
A new Senior coach will be selected and announced soon, as Daniel Donati finishes his very successful 5 year tenure to spend more time on his business and with his family.
Reserves Coach Adam Lenarcic will continue, after successfully coaching the Twos to a premiership in his first year 2015 and working well with a very young group in 2016 who will all benefit from another year of experience.
A new U19 Coach will also be selected and announced shortly.
If you would like to enquire or discuss joining us at Balwyn, please contact Recruiting Manager, Justin Cosgrove on 0419 105 687 or justin.d.cosgrove@team.telstra.com
---
The Tigers centenary story will be told in a new book, 'Tiger Time 100' by Kevin Fox, to be published in September. It documents the people, events, triumphs and stories of Balwyn's 100 years on and off the field.
To pre-order email foxwords@hotmail.com or call 0408 304363.
---
PICK ONE 2016
(after AFL Round 22)
One round to go and all entries still alive! 4 weekly entries and Jeff Gobbels with his 3 x Yearly. Unless there is a big upset this weekend, looks like we'll have multiple winners! Stay tuned!
YEARLY - JEFF GOBBELS X 3
WEEKLY 4
TERRY BUX, BART MERRALL, TOM ROACH, JACKSON WEATHERALD
---
FOLLOW US:
FACEBOOK: Balwyn Tigers Football Club
Don't just barrack for your club - Support Us! Whether you be a Sponsor, member, volunteer, parent, partner, family ... it takes many and varied efforts to keep this great club going and to be able to enjoy the rewards of success ... how are you going to be involved this season?
Sponsorship - Link your company with the professional and successful Balwyn Tigers brand. Let us design a package to suit your company (and your budget). Contact President Richard Wilson - 0407 949 178
Player Sponsorship - do you have a favourite player? Someone that you love to watch play, or would just like to support? Packages are available for $6500 or $1,100 (additional benefits). This is your opportunity to take a Tiger under your wing and get significant branding and exposure for your business, or personally. Contact Football Manager, Jo Tregear, 0412 172 183 to secure your player.
Volunteers - we're always happy to hear from anyone who wants to get involved, or who has some special skill that you think might be able to assist the club.
---
BALWYN JUNIOR FOOTBALL CLUB
Balwyn JFC - U15 & U17 (amalgamated with Boroondara Hawks JFC)
Contact - Glenn Ryan - 0414 765 118 / secretary@boroondarahawks.com.au
Balwyn Juniors U9 - U14 - Kate Tassiopoulos 0412 514 531 / ktassiopoulos@hotmail.com