Home Page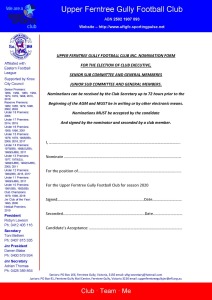 UPPER FERNTREE GULLY F.N.C.
Est.1948
---
"2020 AND BEYOND"
With the AGM being held on the 28th of October the club is holding a 2020 Planning Meeting on Friday the 21st of October to get everyone together so we can attack the 2020 season early to build on the momentum the club has after another successful season in 1st Division.
This meeting is a week before our AGM and a chance for interested people to come and discuss the future...
ALL committee positions will be declared vacant
INCLUDING executive….President Secretary and Treasurer
We need to discuss what we need and
How were going to get it and
How were going to sustain it
We need sponsorship growth …
MAJOR Sponsor/sponsors to commit for minimum 3 years so that we can brand our apparel playing jumpers/shorts/polos/hoodies/jackets etc
WE NEED TO ALL POOL OUR TALENTS, CONTACTS, EXPERTISE,
Sponsorship Committee….dedicated to managing Sponsorship….including King Club, Game Day VIP etc
Bar Manager: Ordering, operating
Canteen Manager: Ordering/operating
Grants Committee: Source, apply and follow up Grants/Submissions/other avenues of revenue
Function/Event Coordinator/Committee
Coordinate/Manage/Oversee Major functions such as
$5K Draw
THF Lunch
Presidents Lunch
Sportsman's Night
Presentation Night
Major Raffles x 2 (beginning and end of season)
Players:
2 or 3 Player driven functions
2 x Barrow Raffles
AGM - 7.30pm Monday 28th October 2019 (Clubrooms)
---
AGM 2019
Monday 28th October
at Kings Park Clubrooms 7.30pm
see attached Nomination form.
to be completed and returned to Committee.
email: uftg-secretary@hotmail.com
with completed signed form.
---
JUNIOR CLUB REGISTRATION DAY
17th November 2019
11am -1pm @Dobson Park
BBQ
---
Womens Registration And Information
Link and ERWFL Womens
---
@UFTGFC is on Twitter Click Here
---
We are on FACEBOOK - Search for and follow us
Click Link -> Upper Ferntree Gully Football Netball Club

Click Link -> Upper Ferntree Gully Junior Club
Click Link -> Upper Ferntree Gully Football Veterans
Click Link -> Upper Ferntree Gully Juniors Auskick Centre
Click Link - > Upper Ferntree Gully Womens Football Club
Click Link - > Upper Ferntree Gully Netball Teams
---
We are now on Team APP
Click Here UFTGFC

Click Here UFTG JUNIOR FOOTBALL CLUB
---
We are on Instagram UFTGFC
---
---
Youtube Site
UpperFerntreeGully Football Club Click Here
---
Good Luck in 2019 Upper.....
Go the Red and Blue!
Thank you to all our SPONSORS for 2019,
INTERESTED IN SPONSORING THE CLUB 2020
please contact uftg-secretary@hotmail.com with your contact details and we will contact you.
The club is compiling a database of email address so that we are able to communicate to as many people as possible the latest news and events happening around the club more efficiently. With this in mind could you please forward the email address of any Upper Gully people you may know to uppergullynews@hotmail.com

UFTG Football Netball Club Committee 2019