Home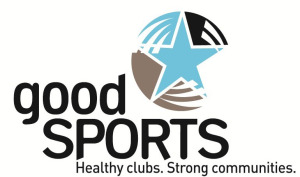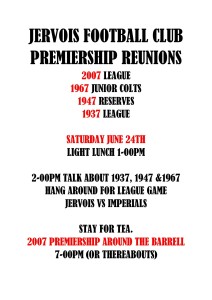 The Jervois Football Club has registered for the Community Lottery which is now open for ticket purchases online at our unique page:
http://www.peopleschoicecu.com.au/jervois-football-club-inc
IGA Swanport Captains Tea's
U13, U15, U17.5s Junior Football and Netball Captains Tea, 23rd March 2017, 6.00pm
U7, U9, U11s Junior Football and Netball Captains Tea, 30th March 2017, 6.00pm
Thank you IGA Swanport for sponsoring our Captains Tea and bringing the Junior Football & Netball players together. IGA is known to our club for their fantastic community spirit, great quality & friendly customer service.
JUNIOR NEWS FOR 2017 HAS BEEN UPDATED
2017 PROGRAM AVAILABLE UNDER RMFL SITE - NEWS TAB
COME ALONG FRIDAY DECEMBER 16TH AT THE SWANPORT HOTEL FOR THIS YEAR'S CHRISTMAS TEA. CATCH UP WITH CURRENT PLAYERS AND MEET THE NEW GUYS. 6-30PM
WE ARE SAD TO ANNOUNCE THE LOSS OF 3 PAST PLAYERS - IAN AND BRUCE HATELEY AND BOB REHN. MAY THEY REST IN PEACE.
WE ARE PLEASED TO WELCOME NEW COACH TO THE CLUB RYAN WILLITS AND NEW PLAYERS JUSTIN HARDY AND MATT KEMP.
BRING ON 2017
***PHOTOS FROM THE 90 YEAR CELEBRATION WEEKEND ARE IN THE PHOTO GALLERY AT THE BOTTOM RIGHT OF PAGE***
A great morning at Jervois BLUDS Sunday morning with enthusiastic Auskickers.
Wonderful to see so many parents and kids enjoying footy skills.
After session of skills the kids went into the club for the raffle draw, receiving a small gift bag and sausage sizzle.
Hope you all enjoyed your time at Jervois FC. It would be great to see you become part of our BLUDS family.
***PHOTOS FROM THE DAY ARE IN THE PHOTO GALLERY AT THE BOTTOM RIGHT OF PAGE***
JERVOIS FOOTBALL CLUB CELEBRATES 90 YEARS IN 2016
SATURDAY 18TH & SUNDAY 19TH JUNE
SATURDAY 18TH JERVOIS V RAMBLERS
Celebrating the 1986 & 2006 League & U17 2006 Premiership side reunions
Finger food lunch provided to players and officials of these sides, tea Saturday night after the game and on the couch stories from the 1986 & 2006 League sides
SUNDAY 19TH
Memorial service at 11am, where we remember those Jervois players, members, supporters, sponsors that have passed away. Lunch to be served at 12.30pm. At 2pm we share our 90 year stories, featuring the 1936 & 1966 League premiership sides.
We will also launch our 90 year book on this day which is a book you just cannot afford not to purchased.
We have a few memorbilia items for sale to remember our 90 year birthday, one of them is the board you see on the left of this page, selling for $60.00 each, a valuable item for any good pool room. You can order one now by emailing us and pick it up on the reunion weekend.
For any questions please emial - jervoisfc@sanflcfl.com.au
Hi BLUDS Supporters,
Re: Jervois FC Shorts & Socks
This is an important note to let you know about the supply of JFC Playing Shorts and Socks for the upcoming Season. Nelson Teamwear has recently entered into an agreement with our Club as both a Sponsor and Official Supplier of Club Apparel and Merchandise. One of our long standing Sponsors, Sportscene Murray Bridge, will sell the Nelson Teamwear branded Jervois FC Shorts and Socks in their store at Murray Bridge Green Shopping Centre.
As a Club we wish to support our loyal Sponsors as much as possible so please, when you are purchasing your Shorts and Socks for the 2016 Season, please visit David Gotch at Sportscene Murray Bridge. Stock will arrive towards the end of March so we ask that you hold off buying these items until then rather than purchasing other brands from elsewhere.
SUPPORT THE SPONSORS THAT SUPPORT YOUR BLUDS!

Under an arrangement through SA Community Football the National Australia Bank Introducer Program allows for the Jervois Football Club to earn cash for any home, investment or business loan that we refer to NAB. For introducing a loan to the NAB, JFC can receive a commission on the loan amount. For example: $250,000 loan can equate to $1000 commission to the club or $400,000 loan = $1600 commission. Anyone connected with the Jervois Football Club can refer a loan. For more information contact the Club's NAB represntative - Claire Richards. Claire.N.Richards@nab.com.au or 0885391200