Home
FREELING

FOOTBALL

CLUB
TEAM - CLUB - COMMUNITY
EST 1890
---
The Annual Long Lunch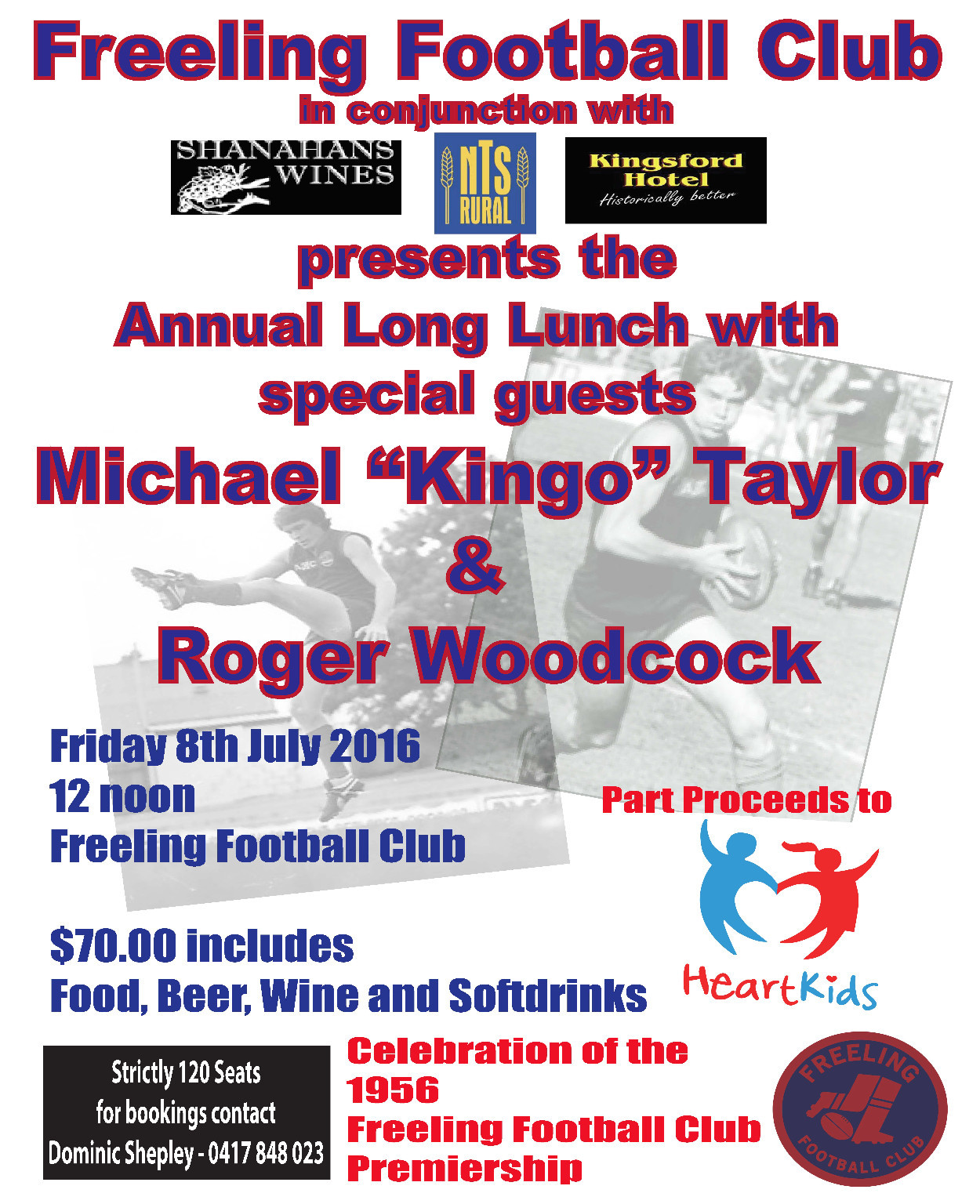 This year will be the 10th year the club has run the annual long lunch and for this year we have not one but 2 speakers for the day.
Norwood Legends Michael "Kingo" Taylor and Roger Woodcock will be joining us. Also its been 60 years in the making but we wil have the members of the 1956 Premiership team in attendance for the day.
Once again part proceeds from the day will go the Heart Kids SA
Numbers are striclty limited to 120
Further details from Dominic Shepley, 0417 848 023
MATCH REPORTS



Freeling v South Gawler

The Under 9's and Under 11's headed to South Friday night and the recent weather held off for us all. Both Under 9's teams continue to improve and played excellent team footy with positive results The Blue's kicked 8 goals, despite playing short in numbers, while the Reds bagged 10. Both teams constantly impress and the young players coming through are really showing what they are picking up at training. Riley King kicked 3 for the Blues, while his brother Tyler kicked 2 and on the Reds Ayden Colbourne led the way with 3. Lachlan Turner also kicked his first goal. Best for the Blues were Elijah Murch, Riley King and Jesse Paul, while the Red's best went to Riley Diener, Hamish Hanley and Lachlan Turner, with a special mention to Oscar Leske for his movement on the field.
The Under 11 Blue's played a very tough match, going down 2 goals to 1. Jaityn Rogers got himself a goal, while Best for the 11 Blues went to Jett Hutchinson, Tyson Wagner and Jaityn Rogers. The Under 11 Red's had a bye, but met early on Saturday morning at Freeling second oval for a scratch match between themselves and a sausage sizzle.
Our Under 13's played a tough, occasionally spiteful game where we had our chances but did not capitalize upon them. We struggled at times with South's physicality and could not get our running game going but when we did we played quite well, and went down by a point.
Best players Aussie Poulton, Alex Ramsey, Tom Daff, Mitch Lovell and Hayden Lyall. .
The 15's continue to never give up the fight, and showed some good passages of play throughout the day, despite the results this year, the team shows a great attitude and look forward to the challenge against Kapunda this week.
Best went to Seth Rigney, Tom McInerney and Jamie Clarke.
The Senior Colts made a solid start and played a competitive first quarter, with all the lads working for each other. A lack of concentration and momentum allowed South to kick away, and we found ourselves chasing jumpers for most of the game. A good effort put in by our four fill ins from the Under 15's, showing they are capable of mixing it with the bigger lads, time to regroup and focus on next weeks game against Kapunda.
Best were Marshall Stuart, Tom Taylor and Ben Massey.
The Reserves went into the game knowing they were up against a tough opponent. With four Under 17's up due to injuries in the A's and some late withdrawals, the match would always be a challenge. Despite the result there was some positive footy played, especially by the young lads coming up. Tom Fryer showed his skills are at a higher level and Clem heath relished his first shot in the Seniors, while Corey Coleman never gave up and played to his usual tenacious best. Looking for a good week on the track and a positive mind set to take on the Bombers this weekend,
Best went to Corey Coleman, Tom Fryer and James Priebbenow.
The A's welcomed Adam Haseldine and Haydn Amery into the fold, and both played positive footy for their debut in the top flight, with Adam taking some good grabs and getting a goal. A late withdrawal from Jack Hancock and an early injury to Joel Vaneveld limited our structure and costly turnovers, and a lack of run let South break out all over the field. Despite this we played some good footy in the last quarter, and again managed to show what we have if we put four quarters together.
Best on the day went to John Boxer, Ashley Selleck and Jacob Wright.
#riseabove
Membership
The online registrations will also have the availability to become a general memnbership, or take out a family membership for two adults and two Junior Footballers at a reduced price.
General membership will cover you gate entry for home games for the season, as well as provide you with voting rights at club AGM's and more importantly, support our club. We currently have a small membership number, and if you take out the players, this falls well below an acceptable number. I can say it is below 100 (by a fair distance). Please consider taking a general membership this year when they become available. Let's see if we can crack the ton for General Members at the Redlegs.
A club cannot survive without a strong member base, please speak to one of our committee members if you would like to become a general member of Freeling Football Club.
2016 Events
Events calender now available. Keep an eye on the the Freeling Redleg Social page on Facebook to find out more.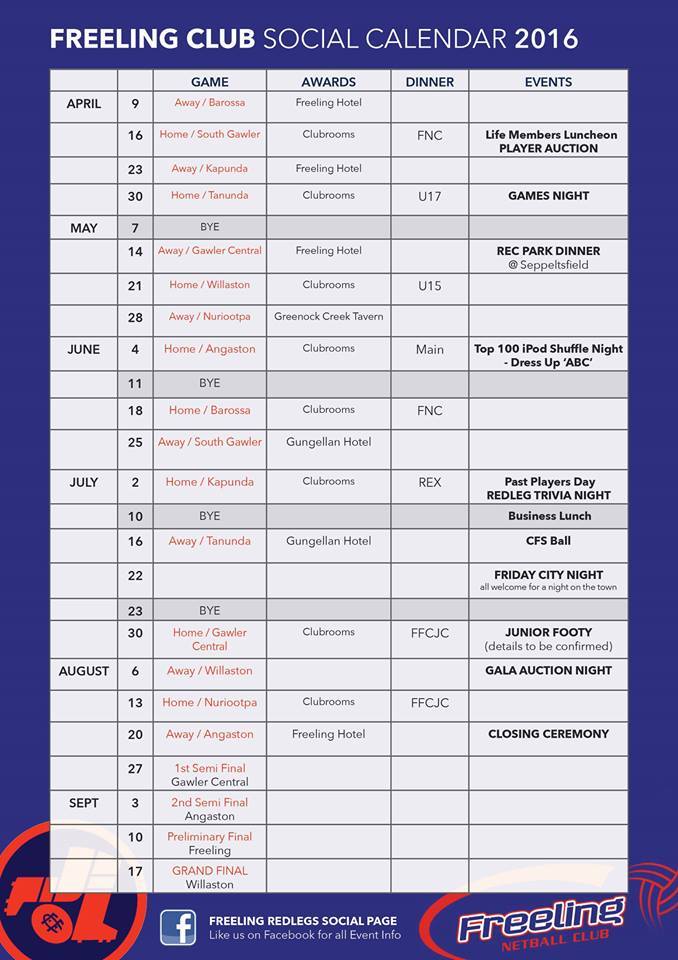 Find us on Facebook
We now have a facebook site which will keep you up to date throughout the pre and off season, please feel free to utilise this but keep in mind that this page is accessable by all Senior and Junior footballers and their families. Keep it footy related.
https://www.facebook.com/FreelingFC?fref=ts
---
Go the Redlegs!!
Proudly Sponsored In 2016 by
STERLING HOMES
ADELAIDE TIMBER & BUILDING SUPPLIES
EMMETT'S
AGPOINT AUSTRALIA - FREELING HOTEL
SHANAHAN WINES - JT JOHNSON'S
SUPPORT THE SPONSORS THAT SUPPORT THE REDLEGS!

Make sure you check out our sponsors and please utilise their services whenever you can. Without there support our club would not function.
---
Freeling Football Club proudly associated with