All Girls Teams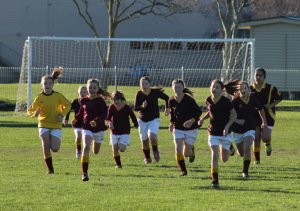 ALL-GIRLS TEAMS
A new initiative commenced in 2011 was the fielding of three all-girls teams in the main winter football competition.
These teams, which competed against mixed gender, all-girls and all-boys teams at 8th, 9th and 10th grades, were formed mainly in response to the high attrition rate we have traditionally had with girls leaving football as they move through the grades. This initiative has been extended to the point at which we ran seven all-girls teams in 2014, and staged our own Girls Development Academy.
This move has been very successful overall, with greater player retention and our the girls' teams making massive strides in their play. In 2015 our 14th grade all-girls team finished runners-up in section two of the 14th grade winter league, and our 11th grade girls did the same at 11th grade. A dozen of our girls at were selected as Otago representative squad members for the season.
if you have further specific questions that you would like answered, don't hesitate to email us at