Welcome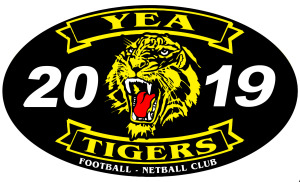 TIGER 

NEWS >>>

 
Welcome to the Yea Football Netball Club Website.
The Yea Football Netball Club welcomes you to the 2019 season.
In 2019 we will be fielding junior football teams from under 10s to under 16 girls. Junior netball teams from under 11 to under 17.
Key Contacts
Sam Porter -Jnr President
Sarah Cunningham-Jnr Netball
Deb Schickerling- Jnr Footy
We also field 4 senior netball teams led by coach Melissa Martinov.
Senior Football will be coached by Ash Walsh and Dan Belsten Reserves by Ed Nielson and Ben Broadway.
We look forward to another successful season in 2019. Registration can be obtained from using the links included.
Brad Watts Sue Spagnolo
YFNC President YFNC Vice President
0417892396 0438924257
bjwatts5@bigpond.com mick_sue3@bigpond.com
The Club now has its own app. Download the Yea FNC App to keep up to date with all the news around the Club including juniors and seniors.
Click on the team app logo below to check it out and register for Yea FNC updates: