Welcome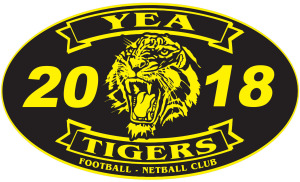 TIGER 

NEWS >>>

 
Welcome to the Yea Football Netball Club Website.
Welcome to the Yea Football Netball Club for season 2018. Over the off season the club executive have been very busy planning for a successful and enjoyable 2018 season.
This year we are looking to build on our strong local foundations for both seniors and juniors.
Our junior football will again field sides in the SDJFNL in under 10 12 14 and 16 competitions as well as our affiliation with Auskick for the youngsters.
Our junior Netball will change to under 11 13 15 and 17 and again we also have our affiliation with Net Set Go. Junior Registration day is Friday Feb 23 at 6pm at the Netball rooms. A number of coaching and support roles are still vacant so please contact me if you are interested.
We are pleased to announce Ash Walsh back to the Yea Tigers as Senior Coach. Ash was a junior player with us before heading to Seymour to further his development and we are thrilled to have him back. He will be assisted by AJ McCarthy Mark Beattie and Brian Darcy. AJ will be a playing assistant and his long tenure at GVFL level will be invaluable for our young players who remain focused on success at Tigerland. We look forward to an exciting year.
We also have great pleasure in welcoming Melissa Martinov to Yea as Senior Netball Coach. Mel has a strong family connection to Yea and is an extremely talented and experienced netballer at higher levels. We also welcome Gabby Duncan back and Sam Coppinger will be an exciting recruit for our entire squad to learn from. These girls will compliment our young local girls who are getting better each year.
We thank The Royal Mail Hotel, ABD Constructions and Foodworks Yea for their continued support into 2018 and are looking for other sponsors to jump on board the Tiger train.
Membership information is included here and I hope to see all of you down at Tigerland to enjoy the forthcoming 2018 season.
Regards
Brad Watts
Club President
#20yeateen.
Brad Watts Sue Spagnolo
YFNC President YFNC Vice President
0417892396 0438924257
bjwatts5@bigpond.com mick_sue3@bigpond.com
The Club now has its own app. Download the Yea FNC App to keep up to date with all the news around the Club including juniors and seniors.
Click on the team app logo below to check it out and register for Yea FNC updates: