About our coaches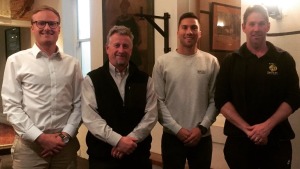 It is with great delight that we welcome back former Tigers Ashley Walsh and Adrian McCarthy, two of our most talented local exports in recent years.

Ash and AJ will take on roles as Senior Playing Coach and Playing Assistant Coach respectively, sharing duties with Mark Beattie (Assistant Coach) and Brian D'arcy (Assistant Coach).

Ash and AJ played together at Old Scotch in the A-grade Victorian Amateur Football Association before spending several seasons with Seymour in the Goulburn Valley Football League, where each were regular senior players and part of the leadership group for multiple years. AJ played over 100 Senior Games with several finals appearances at the Lions, while Ash shifted to the Wandsworth Demons in the AFL London competition, coaching premierships in the Reserves (2016) and the Seniors (2017).

Mark took over the Senior Coach role at Yea in 2016 after coaching the Under 16s to a premiership in 2014. He was joined by Darce midway through the season, who was the Senior Coach of the Eastern Devils in the VFL women's competition for four years. The pair did a great job mentoring a young Tigers outfit and are looking forward to adding some experienced senior heads to the coaching and playing ranks.

"We've got a really strong coaching team and we're all looking forward to building on the fantastic work done last year with such a young, talented group who love playing together," said Ash.

"We are doing plenty of work on recruiting, looking at both former Yea players and new recruits to try and add some senior heads into the mix. With a big pre-season planned, can't wait to get stuck in and hopefully make an impact in next year. It's an exciting time at the footy club."

On behalf of the Yea Football Netball Club, we would like to thank our loyal sponsors, committee members and volunteers who do so much work behind the scenes to ensure the club continues to operate each year. We are looking forward to building on the foundations of these efforts and striving for greater success in 2018 and beyond.