Est.1888. 1st. Newspaper Articles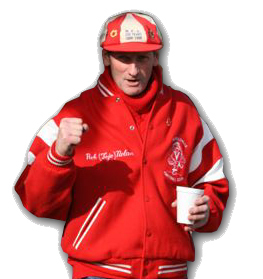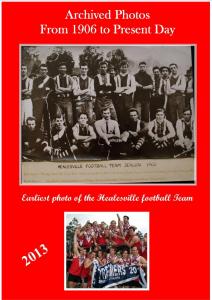 HEALESVILLE FOOTBALL CLUB has a proud History that goes back to 1888 when the club was formed. A huge THANK YOU to our Club Historian Robert (Tojo) Nolan who has been Collecting, Storing & looking after our history.

1st. RECORDED ARTICLE

The Lilydale Express, Wednesday April 4 1888
The Healesville Football Club played their first match on Easter Monday, (writes our correspondent) Healesville v Corranderrk. Great interest was taken in the match, and there were a good many spectators present. The game was pretty lively, and the blacks were very swift. The game resulted in a draw, five goals being kicked on either side.
Wednesday April 11th. 1888
The Healesville Football Club played the Corranderrk Club on Saturday last (7/4/88) and the Healesville team got a beating, five goals to nil. I believe the Corranderrk are the only black club in existance, and with a little coaching they will make splendid footballers. They are very swift on their feet, and play well together and watch their oppotunity to give marks.
Next Saturday the Healesville club will play the Wanderers, made up of Building trades,(carpenters, bricklayers and plasterers) all working at present in Healesville. This will be an exciting game, as there are some good players amongst the Wanderers.
Wednesday April 18th. 1888
A match was played by the Healesville and Wanderers Clubs, on Saturday April 14th.(writes our correspondent). There were between 300 and 400 spectators present. The supporters of both sides were very enthusiastic. The game was very fast, and resulted in a win to Healesville by two goals to one. The Wanderers had some dam fast players, but not having any practice together they were rather disadvantaged. A return match will be played in about three weeks time.
Thursday 17th. May 1888
Lilydale v Healesville at Healesville. Lilydale team conveyed to Healesville by Drays decorated with colours of the club. 300 spectators attended. Lilydale's Captain J Baynes and Healesville's captain Jury fought out a hard game, Healesville 4 goals 2 behinds to lilydale 2 goals 8 behinds
NOTE* Lilydale were playing against such clubs as Camberwell, Heidelberg, Mitcham and Surrey Hills.
Lilydale Express December 1st. 1888
A Grand concert will be held in Daly's hall on Friday 7th. December 1888. The object of the concert is to raise funds for the erection of a substantial pavillion on the Recreation reserve. Front seats 3 Shillings, Back seats 2 Schillings. J Cornish Secretary.
Wednesday May 22nd. 1889
The Healesville and Union Jacks (Second 20) Football Clubs will play a game on the Healesville ground. The Jacks hail from South Melbourne. Tom Trezise was Captain this year.
Saturday May 3rd. 1890
The Lilydale Football club will open the season at Healesville by playing the local club this afternoon. The Lilydale team are requested to assemble at the Railway station, not later than 1.15pm. The election of Captain for Lilydale club will be taken previous to the match. The Healesville team will lose the services of A Rowan, who had his foot sevely injured during the week through a log rolling over it. Typical Healesville names were Baird, McNeil, Cook, Jury, Sheehan, Trezise (capt) Harvey, Lannigan, Christie, McClosky, Wilson, Marshall, Holland, White, Wallace, Lindupp, Dunolly, Rowan, McLellan, Campbell, Russell, Phillips and Manton. This year Healesville, Coldstream, YarraGlen & Lilydale played against each other. There is no mention of who won for the year but Lilydale seemed strong. These teams also played against Melbourne clubs.
Lilydale Express 1891,92,93
Once again these 3 years Healesville was playing against Lilydale, Coldstream & Yarra Glen with occasional games against teams from Melbourne. There is no mention of which Clubs took the points but Lilydale seemed stronger than the rest and certainly won more games than they lost in this period.
1894
A committee meeting at the Mechanics Institute with Mr. W. M. Sweeney President, Mr. Harvey Secretary and Mr.H Christie Captain. It was suggested that Healesville play Narbethong club at that place on Saturday the 28th. April. A letter was received from Cheltenham to play Healesville at home on the 23rd. June. (How long would the trip be?). It was also suggested that Healesville, Yarra Glen, Lilydale and Corranderrk secure 25 football caps to be played for as a Premiership trophy called the Irvine trophy.Conditions and rules were drawn up and improvements to the grounds surface were discussed, namely filling in holes and removing brambles.R Wandin was goal umpire for healesville.
Healesville played Narbethong at St. Filians. The majority of players proceeded in two conveyances, whilst a party of Ladies and Gentleman rode on horseback. During this season the Guardian was printing a ladder, games were generally starting after 3.00pm and home crowds were usually between 300-400 YarraGlen were premiers this year and received 25 caps from Healesville Draper W Montgomery. This season the clubs colours were described as yellow and black. The Goal posts were also painted in the same colours. 50 Membership tickets were printed this year.

1895
This year only 3 clubs were competing in the Williams-Burt trophy competition. Yarra Glen, Lilydale and healesville. A draw was made up from May 18th. throught to September 14th. Umpires from the VJFA. Some typical players for Healesville side were Atkinson, Burnside, Barker, Christie (Capt), Cullen, Foster, Harvie, Hodgkinson, Davis, McSweeney, Donnolly, Smith, Wandin, Woodford, Farrell & Russell. A photograph was taken of he players on 8th. June 1895. * Does anyone know if a photo exists today? It is interesting to note that because at this time there was only three teams in the competition, organised games against other clubs were arranged. Frequently clubs from Melbourne or occasionally country clubs. Healesville played a scratch match against Warburton at Launching Place, and were easily beaten. Footscray played Lilydale & District, with 8 members being chosen from the Healesville team.If a scheduled game between a Melbourne club and healesville was called off a scratch match would take place, Brass band and all !! Lilydale won the Williams- Burt trophy this year.

1896
A Healesville team travelled by DRAG? to Warburton. The return fare was 2 schillings and sixpence. Mr Sheehans Drag came from Harts shop. The local bootmaker Mr Harley donated a pair of boots for the most improved player of the season, This year 4 teams Lilydale, Yarra Glen, Healesville and Corranderrek competed for the Allan-Russell trophy. A team from the district was also picked to play Port Melbourne this year.
1897
This year Healesville, YarraGlen and Lilydale competed for the Healesville Hotel Trophy. The President was C.M Roberts and Healesville colours were Blue and White. There was no outcome this season as the Trophy was withdrawn by the Hotel. proprietor because Lilydale wouldn't agree to some of his conditions.
1898
There was not a lot of football coverage in the Guardian or indeed played, on account of ill feeeling between clubs over previous seasons incident.
1899
This year there didn't appear to be a Trophy competition. A meeting was called of interested persons in forming a club at Boone's Hotel. It was resolved that a club would be formed called Healesville and Corranderrk combined. Mr T. Boone-President, Mr A Boone-Secretary and Mr.A Mcrae-Treasurer. Subscription fee would be 2 schillings and 6pence for the season. The colours are to be Red and Blue. This combined side played a number of matches against Yarra Glen and Lilydale throughout the year.
1900
Teams competed for the Henry Football Trophy this year. Healesville, Lilydale & Yarra Glen. 4 points were given for a win and 2 points for a draw. The healesville side that year comprissed Atkinson, Becker, boone, Bull, Burnside, Cummings, Evans, Garlick, gibbs, Hall, Harrison, Kerrigan, Moffatt, Mcsweeney, McCallum, Sloss, Smith, Wandin, wenster and Wilson. Mr mathews was president this year. "Red and blue Boys" describing healesville's colours. The Trophy was won by Lilydale and the season went till mid October because it didn't start until June.
1901
The same 3 teams competed for the Henry Trophies which were gold medals. Games were still not starting until after 3.00pm but as yet there has been no mention of the duration of the game. very good quarter by quarter coverage of the games in the Guardian. Healesville won the Trophy this year and were referred to as the Blue and Whites. The winning team is as follows.: Atkinson, Becker, Bull, Cummings, Evans, Fitzpatrick, Garlick, Harrison, Kerrigan, King, Lang, Mallett, McDougall, Mcsweeney, Wandin, Webster, Wilson.
1902
This season there wasn't any mention of a Trophy Competition at all. Lilydale couldn't muster a side and Healesville played a few friendly matches with Corranderrk and Yarra Glen.
1903
A meeting was held at Con Dwyer's Healesville Hotel. Delegates from Healesville, Yarra Glen, Lilydale and Coldstream were there to discuss rules and conditions of the DWYER COMPETITION. Healesville colours were Blue and White, Coldstream all Blue. There is mention that teams like Warburton, East Warburton and Launching place are playing friendly games against each other. Lilydale defeated Healesville at Healesville to decide the winner of the Dwyer Trophy and Premiership. J Dennehy was in that Lilydale side.
1904
This year there is no mention of Healesville being involved in any organised Competition. It appears Lilydale has joined a Melbourne Competition and Emerald, Monbulk, Worri Yallock and Macclesfield have formed a competition for a CASH TROPHY OF 4 POUNDS.We understand several medals have been donated by admirers of the game for presentation to the best all round players during the season. Healesville seems to be playing odd games with West Warburton, Brunswick and others.
1905
There is absolutely no mention at all of Healesville participating in any kind of Football Competition this season.
1906
This year 4 clubs, Healesville, Lilydale, Yarra Glen and Badger Creek competed for a Trophy donated by the proprietors of the 3 district papers- The Evelyn Observer, The Lilydale express and The Guardian. Lilydale went through the season undefeated and easily took out the trophy. Some typical Healesville players names were G and M Cummings, Barry becker, Brown, Chandler, Evans, Harris, Heritage, Danks, Potter, Martin, Wilson, Lang and Tevlin.
1907
The Gascoigne Trophy Competion, Upper Yarra Football association, consisted of four clubs. Woori Yallock, Warby, East Warby and Millgrove. Once again there is no mention in the Guardian of a Healesville Team playing in an organised competition, but Woori Yallock appeared strong in their's.
1908
Four teams, Healesville, Yarra Glen, Lilydale and Badger Creek are playing for the Stevens Trophy.Warburton, Woori Yallock, Britannia and Millgrove are playing for the Lauder trophy. Yarra Glen defeated Lilydale for the Stevens Trophy. The gold medals were were presented at a Gala Ball in Yarra Glen. Millgrove undefeated all season, beat Worri Yallock for the lauder Trophy. 28/8/08 - Proposed new association-. A meeting of delegates from all clubs which played in the Stevens and Lauder competitions is to be held to endeavor to form a Competition next season between the eight (8) clubs.
1909
The Yarra Valley association was formed.The Presient of the association Mr C.J Mitchell is presenting a flag for the premiers anda set of gold medals donated by Mr R Stevens of the Olinda Hotel. Twenty fiddleback walking sticks are to be presented to the runners up. The teams competing are Healesville, Lilydale, Millgrove, Warburton, Yarra Glen and Woori Yallock. Yarra Glen 6.9 defeated Lilydale 4.10 at Yarra Glen for Premiers.
1910
Healesville, Lilydale, Yarra Glen, St. Huberts and Badger Creek teams competed for the TymmsTrophy. All players to be under 23. Players for Healesville were Phillips,Tucker, Wilson, Mountjoy, Spooner, Reid Bros. Duddy, Condon, Rowan, Tevlin & M. Smith.Lilydale were very strong this year and took out the points.
1911
Healesville Club reformed. A very large meeting was held at the Lewis Healesville Hotel. Mr W. Holland was voted to the chair. Mr G. Potter moved that the old Senior Club be re-formed and the colours to be blue Guernsey with white stripes, blue knickers and blue and white stockings.(Healesville East Boys Football Club formed). Teams competed for the Stevens Trophy. Lilydale, Yarra Glen, Healesville, Corranderrk and Coldstream. There was no finals series, they just played for points. They played under the rules of the Victorian Junior Football Association.100 members tickets to be printed.Some typical players for Healesville were Phillips, Hocking, Heatherton, L. Reed, W. Reed, Smith, J.Harris, W.Harris, Bretherton, Cummings (Capt.), Tevin, Tucker, Potter, Heritage, Parry, O'King, Brann and Hunter. Corranderrk defeated Healesville at Lilydale for the Premiership 5.7 to 2.4. A gold medal to Fred Hunter for Best all round Footballer, and Murray Tucker most unselfished player. Len Phillips was best Goal Kicker. There is also mention of Upper yarra Association with Yarra Junction, Woori yallock, Millgrove & Warburton.As the council had no money to improve the ground at Queens park, Healesville football Club donated 5 Pounds toward the cost of drainage.

1912
Three teams, Coldstream, Yarra Glen and Healesville competed for the Coldstream, Yarra Glen, Healesville District Competition Pennant under the VJFA rules. Mr George Potter was the Healesville President. George Potter won the Guardian medal with Cummings runner up. Healesville players were Pettit(Capt.), Cummings, heritage, Cook, Patterson, Pennefarther, Reid, King, Brann, Potter, Chandler, Hunter, Tevlin, Pilfoot, Harris, Blackwood, Holland, Laing and Heatherton.Healesville Premiers for 2012. This year there was also mention of Junior Football getting underway.A maroon and white Pennant flag existed and was draped on stage at the 1920 end of year ball at Cherry's hall.
1913
Four teams, Yarra Glen, Healesville, Lilydale and Coldstrem competed for a Pennant flag in the Yarra Flats Association. Healesville President was Mr. george Potter. Names of some of the players in the team who were referred to as the Maroon's, Reed, Heritage, Taylor,Duddy, Reilly,Brann, Harris,Pettit(Capt.) Bretherton,Ryan,Tucker,Hunter,B.Ockwell,P.Ockwell,Pendlebury,
O'dea,Briggs and Wandin. Lilydale defeated healesville to decide the Premiership at Lilydale, 2.7.19 to 2.3.15.
1914
A new association formed called the Yarra Valley Football Association.Six clubs, Healesville, Lilydale, Coldstream, Yarra Junction, Millgrove and Yarra Glen will compete for 25 gold medals. Umpires were used from the VJFA. President for healesville was Mr. George Potter, Fred Stock was Coach and O. Pettit Captain. Healesville's colours were again mentioned as maroon. Healesville players were Bretherton, Briggs, W.Wandin,McMahan, Pettit,Reid,Hunter,Harris,Brann,Sexton,C.Saunders,Holden,McQuinney,P.Ockwell, Jenkins,Murchbank,Johnston,Heritage,Duddy,Garlick,Keizer,Hussey,Mays and King.Coldstream had to pull out of the competition mid season. Millgrove defeated Healesville at lilydale for the Premiership, 8.3.51 to 6.10.46
1915
Seven Clubs in the YVFA to compete for Gold Medals, for the Premiership. Umpires came from the Victorian league. Teams are jarra Junction,Seville,Healesville,Millgrove,Lilydale,Wandin and (Coldstream,Lilydale combined).Healesville President was Fred Stock. Colours still Maroon. Lilydale defeated Yarra Junction at healesville, 3.12.30 to 3.1.19 in a shorten season due to the War. Yarra Junction protested as they had the most amount of points for the season.
1916, 1917, 1918
There was no Football in these years due to the 1st. World War.
1919
In the YVFA four clubs competed. Healesville,Lilydayle,Wandin and Yarra Glen.Players for Healesville were W.Wandin(Capt.) F.Hunter (V.Capt) J Wandin,Rowan,McAllister,Stock,Bates,O'Connell, Chandler brothers, Smith,Brown,Johnston,Bonner,Terrick,Hetherton,Houghton,Winnell,Foats,Lindupp,Black,Kelly F.Wandin,Reid,Crook,Furmston,Duddy,Messenger,Sheridan and McDonald. Lilydale 4.4.28 to Healesville 3.9.27 at Yarra Glen for Premiers.
1920
Five clubs competing in the YVFA, Lilydale, Croydon,Healesville,Yarra Glen and Wandin. There is referance to the club colours being Maroon and White. The club is to purchase and issue a numbered uniform to each player before a match.Notible recruits for the season are L.Phillips from St.Kilda and A Mawhinney from Melbourne.F.Johnstone to play centre. President was A.R.Taber, Secretary/Treasurer was G.Cook, Captain- A.Mawhinney, Coach L.Phillips. Healesville defeated Lilydale at yarra Glen for Premiers- 3.7.25 to 2.11.23.Healesville was nicknamed the Ramblers.Presentaion of the Premiership Pennant was presented at Cherry's hotel along with the 1912 Premiership Pennant.
Saturday May 14. 1921
Today Healesville will be at home to Wandin, who after their runaway victory, over Croydon last Saturday, have great hopes of lowering the colours of last years Premiers. Prior to the match the Pennant won by Healesville last year will be unfolded at 2.30pm by the president of the local club Mr. A.R Taber
1921
Eight clubs competed in the YVFA this year, Lilydale,Wandin,Croydon,Seville,Yarra Glen,Silvan,Healesville and WooriYallock. The games were still starting after 3.00pm. There was mention of Healesville team colours being Red & White.Also mention of Yarra Junction and Powelltown fielding sides but what competition.UYFA? A Mr Smedley was President of the YVFA with Arthur Jones Secretary. Yarra Glen defeated Healesville at Lilydale for premiers 9.14.68 to 5.9.39. Some typical Healesville players this season, Wise,Bates,Reid,Ellis,Phillips,Lockhart,Mawhinney,Langham,Harvey,Chandler,Ecclestone,Johnstone and Maloney.
1922
Seven clubs competed in the YVFA this year, Healesville,Lilydale,Yarra Glen,Wandin,Woori Yallock,Montrose and Silvan. Mr. A.R.Taber was President for Healesville this year. Lilydale defeated Healesville at Yarra Glen for premiers 9.14.68 to 7.7.48. Typical players names for Healesville were Mawhinney,Phillips,Bates,Gray,Glass,Long,Patterson,Terrick,Bonner,Murphy,King,Hunter,Footes, Ecclestone,Harvey,Christie,Taylor,Warren,Johnstone and Hort.
1923
Five teams competed in the YVFA this year being Healesville,Yarra Glen,Wandin,Lilydale and Kilsyth/Montrose. Lilydale defeated Healesville at lildale to be Premiers 4.9.33 to 4.8.32.
1924
Seven clubs competed in the YVFA this year, Montrose, Yarra Glen,Healesville,Croydon,Woori Yallock,Lilydale & Wandin. Healesville president C.M. Graham. Healesville kicked a record score this year against Wandin at Healesville, 39.33.267 to 4.0.24. There is mention of Finals games being played between Millgrove, Warburton, Yarra junction and Powelltown in the Upper Yarra Association. Lilydale defeated Montrose at Healesville to be Premiers- 9.14.68 to 6.15.51.Typical names for healesville were McGretton,Knowles,Dalton,Mawhinney,Maloney,W.Wandin,King,Trask,Chandler,Edwards,Hinkley,Thomas,lalor,Hunter,Sturzaker,Bates,Willis and Peters.
1925
Nine clubs competed in the YVFA, Silvan,Healesville,Millgrove,Croydon,Wandin,Yarra Glen,Lilydale,Montrose and Worri Yallock. Millgrove defeated Croydon at Lilydale to be Premiers 8.13.61 to 7.10.52. Healesville finnished 3rd. Typical names were Thompson,Carter,Anderson,Simpson,Hinkley,Lalor,C.Tolby, King,Paul,Lindupp,Wallace,C Tolby,Postlethwaite,Kelly,Sellars,Gilbert,Hull,E.Mawhinney,Burke,Edwards,C.Smith,Christie.
1926
Ten clubs competed in the YVFA this year, Wandin,Yarra Junction,Healesville,Warburton,Lilydale,Millgrove,Powelltown,Croydon,Montrose and Yarra Glen. Croydon defeated Lilydale at Healesville to be Premiers- 14.11.95 to 10.18.78. Healesville finnished 6th. Typical names were Thompson,kelly,Calder,Thomson,W.Hinkley,Christie,J.Hinkley,O'Brien,Ward,Anderson,Paul,Phillips,Hull,Edwards,Mawhinney,Warden,Glasson and King.
1927
Only six clubs competed in the YVFA this year, Healesville Millgrove,Yarra Glen Lilydale, Warburton and Little Yarra Rovers (Powelltown/Yarra Junction combined). Little yarra Rovers defeated Millgrove at Warburton tobe Premiers 13.3.81 to 9.7.61. Healesville players included McLaren,Wallace,Bloom,Anderson,Christie,Smith,Peters,Hull,O'brien,Crabtree,V.Sellars, McFeeters,Mawhinney,Burke and E.Sellars.
1928
Eight clubs competed in the YVFA this year, Warburton,Yarra Junction,Powelltown,Wandin,Lilydale,Yarra Glen and Healesville. Millgrove defeated Warburton at Healesville to be Premiers- 13.11.89 to 8.11.59.Healesville finnished 3rd.* Footnote. It appeared that the team finishing on top of the ladder after the home and away matches could challenge again if beaten in the Grand final. Healesville players- Anderson,Bates,Robinson,Bloom,Golden,Christie, G.Leeder,Peters,Simpson,Lalor,Hall,Saunders,Madden,Paul,Burke, Mawhinney,McMahon,L.Leeder,Freeman,Houghton and King. Captain was Bert King
1929
The same clubs competed in the YVFA as last year. Yarra Junction defeated Lilydale at Warburton to be Premiers- 14.14.98 to 14.8.92. Healesville players were L.Phillips,E.Obrien, Saunders,Houghton,G.Leeder,Milroy,Robertson,King,W.McGregor,Peters,R.McGregor,J.O'Brien,Burke,Crabtree,
A.Chandler,G.Bladen,L,Leeder,Freeman,Simpson,Mawhinney and Nixon. A.Mawhinney was the Leagues Best and Fairest that year.
1930
Nine Clubs competed in the YVFA competition that year, Powelltown,Lilydale,Millgrove,Woori Yallock,Yarra Junction,Warburton,Wandin,Yarra Glen and Healesville.Mr H.R.Horsey was President of the Association. Healesville finished well down in seventh place. Millgrove were Premiers this year defeating Powelltown at Warburton 9.11.65 to 7.8.50. Healesville players were O'Brien,Dennehy,C.Miller,Sheehan, G.Houghton,Lalor,Townsend,G.NashnT.Miller,Bell,L.Leeder,Dornom,Martin,Marshall,V.Mclaren,A.McLaren,F.Houghton,F.Nicholls,J.Postelthwaite, L.Leeder,L.Potter,M.Donovan,W.Brown,W.Graham
1931
Only seven teams competed in the YVFA this year, Lilydale,Millgrove,Woori Yallock,Yarra Junction,Warburton,Wandin and Healesville. Healesville finished in sixth place and Yarra Junction were Premiers defeating Millgrove at warburton 12.7.79 to 9.13.67. Some typical players names for Healesville were L.Phillips(Capt.) L.Leeder,G.Leeder,N.O'Brien,A.Martin,B.Townsend,G.Batt,A.Dennehy,M.Yachlan,T.Miller,C.Miller,V.Peters, Hort,Houghton,Wilson,Paul,R.Dennehy,A.Dennehy,G.Nash and J.Wandin.
1932
YVFA. This year again 7 teams competed, Millgrove, Powelltown,Yarra Junction,Wandin,HealesvilleWarburton and Worri Yallock. Healesville finished in 4th. place. Millgrove were Premiers defeating Warburton at Yarra Junction-14.10.94 to 10.14.74. Healesville's players names were-L.Phillips (Capt.),L.Leeder,G.Nichols,W.Marshall,H.Downs,V.Peters,T.Miller,G.Nash,N.O'Brien,J.Wandin,A.Dennehy,F.Dennehy,A.Martin,P.Piccone,G. Saunders,G.Dornom,Becker,F.Harris,B.Cahill.
1933
YVFA Nine teams competed this year, Yarra junction, Warburton, Seville,Woori Yallock,lilydale,Healesville, Milgrove,Powelltown and Wandin. Healesville finished in sixth place. Warburton defeated Yarra Junction at Warburton to be Premiers- 16.11.107 to 15.6.96.
Healesville Guardian 28th. October 1933. The Healesville Football Club's annual ball,again a very successful function, was held in the Palais on Friday night.Decorations were carried out in the clubs colours-Red and white-giving a festive appearance. From the centre of the hall streamers were fasten to the wall,the lights were covered with matchinglampshades and the windows with mock curtains. On the walls were branches of eucalyptus and wild cherry,with hugh bunches of lillies. It was estimated that between 250 and 300 were present,either as dancers or onlookers.
1934
YVFA This year 9 teams in competition,Millgrove,Warburton,Yarra Junction,Powelltown,Woori Yallock,Lilydale, Wandin,Healesville and Seville.Healesville finished well down in 8th. position. Premiers were Yarra junction who defeated Powelltown at Lilydale-10.20.80 to 5.4.34. Some Healesville players at this time were Phillips(Capt.),Dennehy(2), R.Christie,Harris,Wandin,Joubert,Becker,Peters,Saunders,Leeder,Turner,paul,Marshall,Downs,Fisher,J.McCrohan J.Schultz and Racher.
1935
YVFA This year 12 teams competed. Same as last season plus Silvan, Yarra Glen and Little Yarra Rovers.Healesville again finished well down in 7th. place. Premiers were Yarra Junction who defeated Powelltown at Warburton-13.15.93 to 13.13.9. Healesville players were C.Sinclair(Capt.),W.Marshall,H.Down,C.Miller,B.Fisher,V.peters,S.coates,Roy,Ron and W.Thomas, W.Cowley,V.McLaren,A.Thompson C.Marriot,J.Jefferies,A.Dennehy,B.Townsend and E.O'Brien.
1936
YVFA 11 teams competed this year,Silvan,Lilydale,Wandin,Powelltown,Warburton,Yarra Junction, Seville,Healesville,Millgrove, Woori Yallock and the Yarra Rovers.Lilydale defeated Silvan at warburton to be Premiers-9.14.68 to 8.19.67.Some of the Healesville players were W.Marshall,Stewart,Etteridge,Layton,Thomas,Miller,Fisher,Hepburn,C.Allen,J.Jefferies,V.Peters,Jackson,A.Hornbuckle and V.Mclaren
1937
YVFA 12 teams competed this year, Lilydale,Warburton,Powelltown,Yarra Rovers,Yarra Junction Millgrove,Healesville WooriYallock,Wandin, Monbulk,Seville and Silvan.Warburton Defeated Lilydale at Healesville to be premiers-17.19.121 to 11.12.78. Healesville players that year were,F.Dennehy,V.Peters,A.Martin,G.Leeder, C.Marriott,W.Marshall,Jackson,Sheffield,B.Geninon, Wally Brown,Ron Thomas,V.McLaren,J.Crawley,B.Fisher,Clinch, A.dennehy and Etteridge.
1938
Teams competing in the YVFA competition were exactly the same as the previous year. Lilydale defeated Warburton at Yarra Junction to be premiers-17.15.117 to 13.15.93 Healesville players were R.thomas,Marshall,Fisher,Etteridge,Brown,Jenkins,Patterson,Peters,Jackson,McClaren,Clinch,Taggart,Anderson,Boone,Marriott(Referred to as Redlegs) Roberts and F.Dennehy
1939
YVFA had 10 teams competing,Woori Yallock,Powelltown,Yarra Glen,Lilydale,Millgrove,Wandin,Yarra Junction,Warburton,Silvan,Seville and Healesville.Millgrove defeated Warburton at Yarra Junction to be the Premiers-16.9.105 to 5.16.46. Players for Healesville included L.bell,l.Etteridge,F.Crawley,Ruddle,Marshall,Marriott,F.Dennehy,Ron and Roy thomas,Peters, E.barry,Goninon,Taggart,Patterson,Miller,Stevens,Ablett,L.Clinch,I.Anderson,V.McLaren,Murray,Herritage,Bert fisher and W.Jenkins. Captain was Peters,Vice Captain Thomas and Coach was H.Vaughan.
1940
YVFA was still playing Football despite War breaking out. 9 Teams competing, Healesville,Powelltown,Woori Yallock,Millgrove,Warburton,Yarra Glen,Wandin,Yarra Junction and Silvan/Evelyn. Millgrove defeated Yarra Junction to be premiers -12.19.91 to 10.16.76. Healesville players were L.Leeder,C.Marriott,F.Crawley,V.McLaren,I.Anderson,M.Heritage,C.Miller,V.Peters,L.Bell,J.Barry,A.Fisher,R.Thomas,

N.Roberts,L.Clinch,R.Chandler,N.Chandler,W.Marshall,Howart,Etteridge,Ayres,Taggart,Jackson and Olney.

1941
Due to the break out of War only 5 teams competed in the YVFA competition this year, Yarra Junction,Healesville,Woori Yallock,Powelltown and Warburton. Yarra Junction defeated Warburton at Healesville to be Premiers- 13.21.99 to 9.11.65.Healesville players that year were E.Taggart,V.McLaren,Bennett,E.Andrews,G.Taber,N.Roberts,I.Anderson,E.Barry,E.Dignam,N.Cassidy,
M.Heritage,V,Regan,W.Olney,L.Clinch,H.Hunter,E.Shields,N.Chandler,F.Hunter,C.Miller,M.Lowne,J.Greatorex,R.Schrader,O.Aitkenand W.Marshall
1942, 1943, 1944 No Competition these years account of World War 2
1945
This year 8 teams returned to the YVFA competition. Teams competing were Healesville,Warburton,Powelltown,Lilydale,Woori Yallock,Yarra Junction,Wandin and Millgrove.Healesville defeated Lilydale at Warburton to be Premiers-11.18.84 to 6.13.49.Healesville President was J.Supple,Secretary K.Hodges, Coach Roy Gardiner and Captain J.Ayres. Players were Taylor,J.Ayres,Aitkin,Peters,Partridge,T.Ayres,B.Thomas,Le.Strange,Barry L Gardiner,C.Love,R.Chandler,Hollow,Cochran,N.Hunter,L.Taggart,Fry,F.Hunter and W.Marshall.
1946
This year it increased to 10 teams in the YVFA competition. They were Powelltown,Woori Yallock,Wesburn,Lilydale,Millgrove,Wandin,Warburton,Yarra Junction,Healesville and Mt.Evelyn. Woori Yallock were Premiers. Healesville Players were K.O'Connell,B.Thomas,Peters,Haddrick,E.Taggart,Ablett,W.Taylor,Aitken,(2) Bates,W.Plozza, E.Andrews,Cochrane,T.Ayres,Exelby,R.Richards,O.Partridge,W.Christie,R.Chandler.
1947
YVFA Teams this year were the same as last year except for Yarra Glen in and Lilydale out. Woori Yallock defeated Healesville at Warburton for the Premiership-12.15.87 to 11.17.83. Players were C.Thorpe,Peters,A.Ayres,R.Bates,W.Taylor,Plozza,Cochrane,K.O'Connell,W.Hunter,R.Chandler,
W.Christie,Partridge,K.Bates,Pollard,K.Lestrange,W.Christie,A.Plozza,L.Gardner and C.Love who I believe was playing his 100th. game.
1948
Teams competing in the YVFA competition were Powelltown,Woori Yallock,Wesburn,Yarra Glen,Millgrove,Wandin,Warburton,Yarra Junction,Healesville and Mt.Evelyn. Warburton defeated Healesville at Yarra junction for premiers-15.13.103 to 7.7.49. Healesville players were K.O'Connell,E.Andrews,R.Richards,O.Partridge,G.Cochran,R.Chandler,B.Thomas,G.Peters,H.Peters,A.Hamilton,B.Young,E.Barry,W.Taylor,R.Bates,F.Hunter,J.Pollard,K.Strange,W.Christie,A.Plozza and L.Gardiner Captain/Coach was Alan Williams.
1949
YVFA had 10 teams in the competition this year. They were Powelltown,Woori Yallock,Wesburn,Marysville,Milgrove,Wandin,Warburton,Yarra Junctoion, Healesville and Mt.Evelyn.Warburton defeated Healesville at Yarra Junction to be Premiers-14.13.97 to 12.19.91.It was also the 1st. year of RESERVES Competition. There were 4 teams, Healesville,Yarra Glen, Mt.Evelyn and Warburton. Healesville defeated Yarra glen at healesville to be the Premiers-9.15.69 to 9.13.67. Jim Wandin was Best and Fairest in the Reserves competition and also Leading Goalkicker. T.Taggart was the 1st. year reserves captain.
1950
YVFL had 10 teams competing againthis year. Yarra Junction defeated Warburton at Healesville to be premiers-7.16.58 to 6.14.54. There were 5 Reserve teams this year, Healesville,Yarra Glen,Mt.Evelyn,Warburton and Seville. Healesville defeated Yarra Glen at Yarra Junction to be Premiers-12.12.84 to7.4.46. Captain/Coach was W.Marshall.
1951
YVFL had 8 teams competing this year. They were Warburton,Healesville,Marysville,Woori Yallock,Millgrove,Mt.Evelyn,Wandin and Yarra Junction.Healesville defeated Millgrove to be Premiers in a replay of a Drawn Grand Final-11.7.73 to 7.14.56. The Reserves had 6 teams this year, Wesburn,Powelltown,Healesville,Yarra Glen,Seville and Warburton. Powelltown defeated Healesville at warburton to be premiers-20.18.138 to 8.14.62.
1952
YVFL had 8 teams competing this year, Warburton,Healesville,Marysville,Woori Yallock,Millgrove,Mt.Evelyn,Wandin and Yarra Junction. Warburton defeated Marysville at Yarra junction to be Premiers 11.11.77 to 5.11.41. The Reserves this year had 8 teams competing, including TOOLANGI,Powelltown,Wesburn,Healesville,Seville,Warby,Coldstream and Yarra Glen. Powelltown defeated Warburton to be Premiers-11.13.79 to 6.9.45.
1953
YVFL had 10 teams, Warburton,Healesville,Marysville,Woori,Yallock,Millgrove,Mt.Evelyn,Wandin,Yarra Junction,Lilydale and Upper Yarra Dam.Warburton defeated Healesville at Yarra junction to be Premiers-12.15.87 to 12.12.84.Players for Healesville, L.Parish,J.Mullane,R.McLaren,E.Andrews,W.Christie,F.Patterson,G.Nelson,S.Leslie,J.Ure,L.O'Neil,L.Leslie,G.Miller,M.LeLeivre, J.Pollard,T.Ayres,W.Morse,W.Wandin,R.Richards,Captain was J.Mullane. Reserves had 8 teams in the competition this year, Healesville, Toolangi,Warburton,Seville,Yarra Glen,Lilydale,Wesburn and Coldstream.Warburton and Seville played off in the Grand Final.
1954
YVFL had 8 teams competing this year.Healesville,Lilydale,Warburton,Millgrove,Marysville,Powelltown,Woori yallock and Upper Yarra Dam.Healesville defeated Lilydale at Warburton to be premiers-11.18.79 to 10.9.69. Jim Wandin won the Leagues Best and Fairest this year. Jim Wandin was also Captain/Coach. The Reserves had 10 teams competing this year, more than the 1st's. Wandin,Coldstream,Yarra Junction,Lilydale,Seville,Wesburn,Warburton,Yarra glen,Healesville and Marysville. This was the first year that Marysville fielded 2 teams.
1955
Eleven teams competed this year in the YVFL competition.Yarraburn for the first time,Coldstream,Healesville,Marysville,Millgrove,Warburton,Woori Yallock,Powelltown,Lilydale,Seville and Yarra Glen. Yarraburn defeated Marysville to be Premiers-13.11.89 to 12.16.88. Reserves dropped to 5 teams this year. Warburton,Lilydale,Healesville,Yarraburn and Marysville.
1956 Melbourne Olympics
YVFL Seven teams competed this season. Valley United, Yarraburn,Healesville,Millgrove,Warburton,Marysville and Powelltown.Millgrove defeated Healesville at Yarra Junction to be Premiers-6.15.51 to 6.5.41. Gurney,Crook and Len Phillips became Life members of the YVFL. Healesville players that year were J Wandin (Captain/Coach) J.Collis,R.McLaren E.Andrews,F.Patterson,K.Hay,F.Hunter,J.Ure,E.Wandin,L.Eler,H.Peters,W.McKenzie,T.Ayres,E.Cooper. Christie,W.Wandin,N.McConnell,L.Parish(V.Capt), 19th. A.Lalor, 20th. J.Cooper.Healesville v Warburton at Yarra Junction in a Semi Final Healesville won 14.19.103 to 15.7.97. There were 5 teams playing Reserves, Yarraburn,Valley United, Marysville,Healesville and Warburton. Marysville played Yarraburn in the Grand Final.

1957