Michael "Spud" Firritto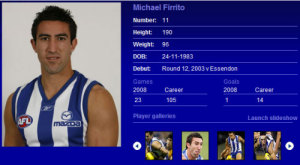 Michael played with the Gembrook Juniors and was voted Best & Fairest in 1993, 95, 97, 98 and 99.
DRJFL Runner Up B & F 1993
DRJFL's Best & Fairest in 1995 & 1999.
2000 - played for Gembrook Cockatoo Senior club and Eastern Ranges U/18's TAC Cup competition.
2001 - Eastern Ranges as team captain and won Ranges B & F. This was his last year to be eligible to compete in the U/18 competition.
After spending time with both St Kilda and Richmond in an attempt to gain a spot on the Rookie list, he was on the verge of joining Essendon's VFL team as a top up player.
2002 - Decided to play for VFL club Box Hill Hawks, and won the Fothergill - Round medal for Rookie of the Year.
2003- Moved to VFL club Port Melbourne, where he proved himself in the senior side. Made the rookie list for AFL club, Kangaroos. Played his first game for the senior squad on June 13th wearing no 42. He acquitted himself extremely well in this game, and should have a great future in AFL.
2003 - Makes AFL Debut with the Kangaroo's after been promoted from the rookie list.
2004 - AFL Rising Star nominee 2004, played 16 senior games.
2005 - Played 22 home and away games plus the Elimination Final
2006 - After winning promotion from the rookie list mid-2003, he has steadily established himself as a senior player. Usually a tagger, he has played a total of 46 games to date and put the shutters on some of the biggest names in the game.
2008 - a former tagger/defender, Firrito transformed into a key back-man and has become a formidable opponent for the games best forwards.
Defensive coach Darren Crocker has put plenty of time and effort into Firrito and his reputation as a reliable, tough and unforgiving defender was ultimately endorsed going into the 2008 season. Club legend and Shinboner of the Century Glenn Archer chose Firrito to wear his famous number 11 guernsey.

Firrito signed a three year deal with North in 2008 and was selected to represent Australia during the International Rules Series against Ireland at the end of the season. He was the main goal-keeper for the hybrid game.

Mick has current played 105 AFL games for North Melbourne, what a great effort.
Neil and Carl Firrito
Brothers Neil and Carl Firrito played with both Gembrook Junior and senior clubs. Neil's career was cut short through serious injury. Carl is a legend at the club, playing 231 senior games. He trained with St Kilda in 1987, won Best Finals player in 1991 & Most Consistent; captained the senior side in 1993 & 1994; won B & F in 1995. He also played in the 2000 Premiership team, has been a committeeman and Sports Ground delegate.
Well done.
The Firrito Boys - a great success story for our club and we are proud of you all.